Mikey February, Mikey Wright, Ramzi Boukhaim and Josh Moniz are looking the goods.
Despite fighting a stomach bug that had taken down his entire family, Jordy Smith surfed in the morning and came in second to Miguel Pupo in round three. Fortunately Jordy only had to surf once today, as the contest was called off before his round 4 heat.
Meanwhile another South African, young Mikey February, was blowing up all over the peaks of Ballito. In a loaded round 4 encounter against former CT surfer Keanu Asing (Hawaii) and the dynamic Brazilian goofy-footer Krystian Kymerson aka KK Airlines – for his penchant of making simply massive airs – Mikey launched and made one of the biggest airs of the day with a tricky landing, to make sure that he advanced through to the next round and remain in contention for his biggest QS result thus far.
There were a lot of eyes on Ryan Callinan, and there are so many people who are great fans of the former CT surfer, and his prowess. It seems, however, that Callinan just can't get it right in a competitive surfing scenario these days. In the past many decisions were extremely close in the Championship Tour, but he seems to not be able to nail it down at the end. Richard 'Dog' Marsh has been his coach for a number of years, but he seems to consistently underperform and underwhelm. When he gets some space he knows what to do and how to do it, but at times he seems constrained in a heat vest. When he fell on the last wave, that might have provided enough opportunity to progress, there was an audible groan. It's a pity. When he gets his backhand airs going, they are heatwinningly ridiculous.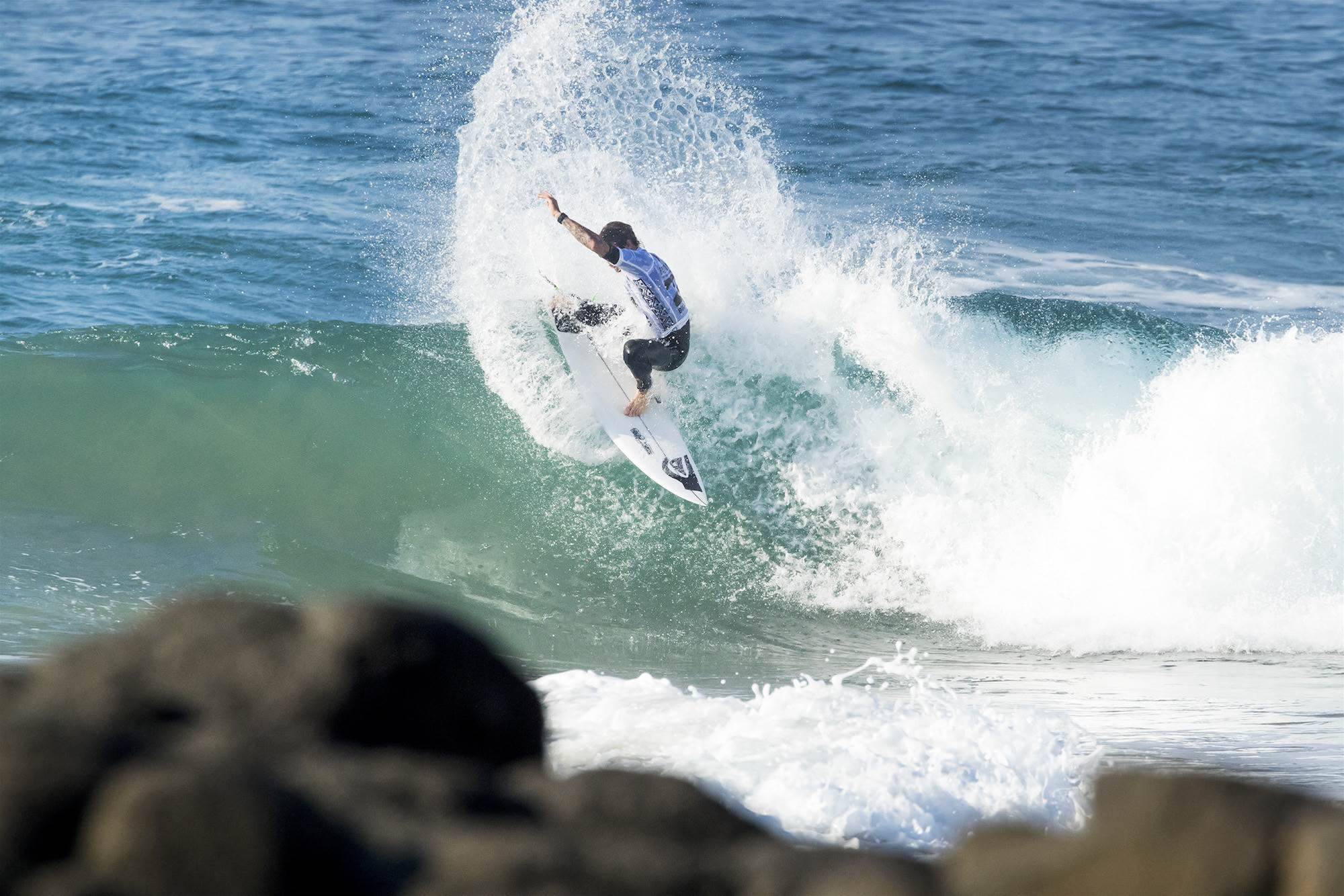 Mikey Wright is gaining momentum in his quest for WCT qualification. Photo: WSL/Cestari
With three days left in the waiting period, and some decent surf still to come, Commissioner Logie didn't see the need to push much further than 2 pm, especially after the 7 am start. The event has enjoyed a great run of contestable waves at Ballito, with the light and variable morning winds eventually falling to the onshore push from the east every afternoon. There have been some barrels, loads of giant airs and a couple of broken boards. To state the obvious, a good result in a QS 10,000 could be the one that gets you onto the CT, and there are people out there who are desperate to climb onto that tour. Out of the performances thus far at this event, it looks like Mikey February, Mikey Wright, Ramzi Boukhaim and Josh Moniz are looking the goods.      
The first heat of the day tomorrow will be an all-African affair, with Jordy Smith and Davey Van Zyl from South Africa coming up against the powerful Moroccan goofyfooter Boukhaim. 
Tracks