Epic photos from the recent Kirra swell and Kelly Slater, Joli and Damon Harvey interviews.
| | |
| --- | --- |
| | Epic photos from the recent Kirra swell and Kelly Slater, Joli and Damon Harvey interviews. |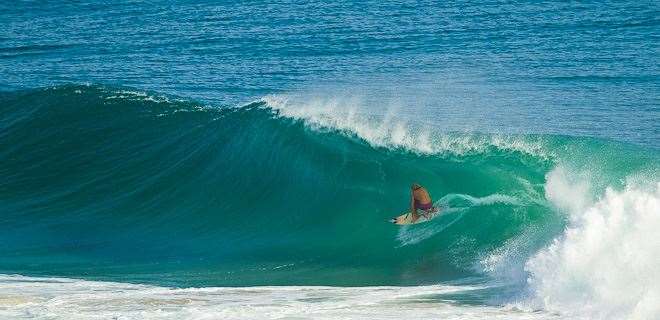 Asher Pacey draws the line of a guy who knows the waves idiosyncrasies better than most. Pic: Joli


'Return' and 'glory'
are two words surfersthe world over have eagerly been waiting to hear used in reference to Kirra for over a decade. While the odd swell has tickled the heartstrings of the Kirra faithful, not since the nineties has there been a run of swells consistent enough to resurrect her majesty.
False starts aside, over the weekend of the 16
th
and 17
th
of January, Cyclone Vania, and the strong swell patterns it produced, put a glint back into the collective eye of Kirra regulars. But was it enough for 'Glory' and 'Return' to make sweet sentence love again?
They say photos don't lie, and Peter 'Joli' Wilson's images here certainly present a convincing case in the positive. But let's look at some facts first. The big difference in a possible shift in confidence to a return to glory in 2011 – compared with anytime over the last ten years – is that Eastern Australia is now in the grip of a La Nina phenomenon. What does that mean? Well, similarly to the early seventies, La Nina means cooler than average sea surface temperatures in the Pacific Ocean, above-average rainfall and most importantly (for surfers at least) multiple summer cyclones.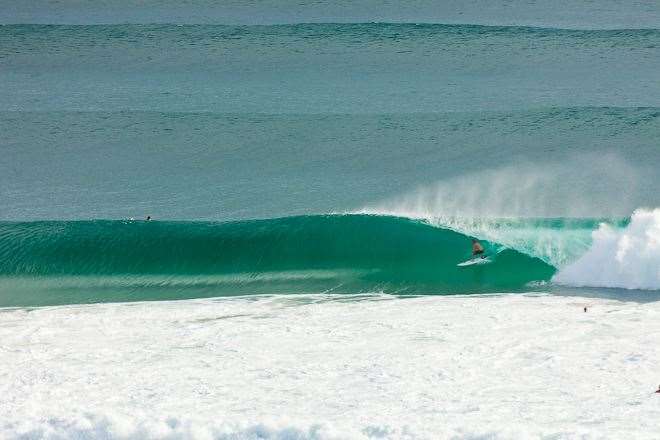 All aboard the Kirra express: Scotty Wilden got some of the best barrels over the weekend bar none. Pic: Joli

When you hear old timers talk about the great waves they had on the eastern seaboard in the early seventies, it's not just the wacky weed talking, you can bet cyclones like Wanda and Ada were partly responsible. As Australian Meteorological and Oceanographic Society president Neville Nicholls stated in The Australian recently that, "the current La Nina phenomenon was at least as strong as that of 1974." Verifying this statement is of course the recent flood disaster in the state of Qld (and Northern NSW). These destructive rains occurred almost 37 years to the day from that last great flood in '74.
Not that I'm an expert, but as far as I can tell predicting weather is part science, part art. Like all things unpredictable, nature too serves up curve balls and wrong-ens. But if the latest update from the Bureau of Meteorology predicting La Nina will persist well into March and as possibly as far as June – then wet conditions and the threat of flood isn't going to let up anytime soon, nor is the prospect of cyclones.
Okay, so let's assume we may have the necessary swells coming our way, has the sand dredging from the Tweed Bar and subsequent dumping of this sand outside Snapper Heads ruined any chance of a, wait for it, return to glory for Kirra?
I spoke with three Kirra nuts of varying age, stance and profesion to see what they reckon...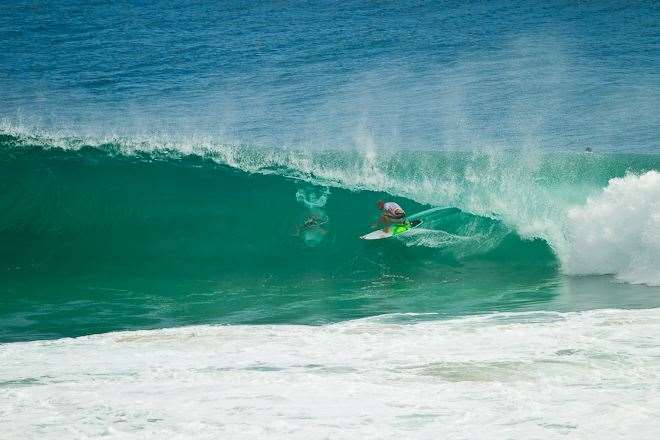 Two time world champion and Kirra Boardriders team captain Mick Fanning got some screamers over the weekend. Pic: Joli


Kelly Slater fell in love with Kirra in 1992, has listed it as his favourite wave (along with Pipe) ever since, has won 10 x world titles and owns property ten minutes away from big groyne.
Tracksmag.com: You've been surfing Kirra since '92-'93, was it better back then?
Kelly: "I think the wave at Kirra did used to better, but the sand bar wasn't always there and lined up! The swells that got into Kirra were pretty rare – and a lot of times it just wouldn't be right anyway. There'd be a few at big groyne then that's it. Then there'd be another section down the line maybe out the front of the little shed they call Butterbox."
So, fickle, but still better back then?
"I've had some great waves there in recent years... But I've always felt Kirra was a little better back in the day, but I think that the Super Bank is so much better overall (in my eyes). Kirra was good every once in a while, but the Super Bank breaks can be good almost everyday."
So perhaps we're remembering the good old days of Kirra through rose coloured glasses?
"People remember the good days and forget the rest."
What did you hear about these latest sessions?
"My friend Trevor Hendy [ex iron man champion and keen local surfer] text me and said it was 6-8 feet and perfect. He knows what he's talking about. It must have been good."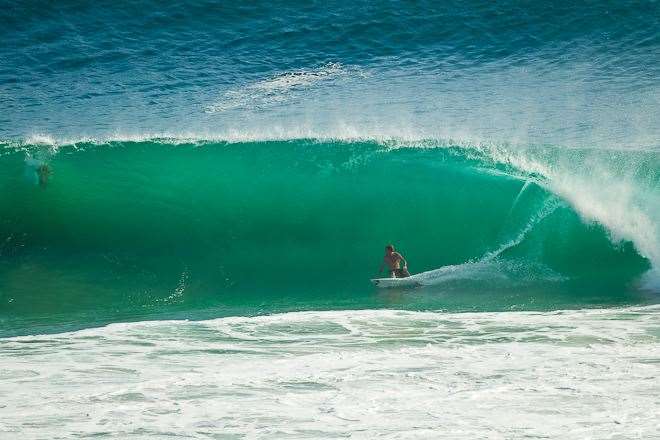 Our final expert to give his two cents, Damon Harvey, guiding all goofy's in a how to botton turn at Kirra clinic. Pic: Joli
Peter 'Joli' Wilson has been shooting photos since the late 70s, and has been watching Kirra closely through the lens since the early 80s and still makes sure he's onto whenever it breaks.
Tracksmag.com: How did this weekend stake up in the grand scheme of thing, Pete?
Joli: "I spoke with Mick [Fanning] yesterday and he said it wasn't perfect Kirra, it was too sectiony. The last ten years it's been weird with only one or two sections, but that's now improved at least because it has three or four sections."
What's holding it back from being perfect then?
"Wayne Dean [legendary local] says the Kirra reef [where the wave used to ledge up to the left of big groyne] is still covered with sand. This means no specific take of ledge. A lot of the sand has gone from the boardwalk (which is goo) so it's grinding along the groyne, but it [the sand] is still covering the reef."
Sounds like (other than swell) this ledge [reef] being clear of sand could be the key ingredient?
"The take-off ledge would be a full suck up behind big groyne! You'd be taking your life in your hands to paddle out there. A lack of sand there [on the reef] allowed waves to come from deep and hit the reef suddenly and jack up. The extra sand we have now means there is a more gradual depth contour, which as wave technology engineers will tell you, slows the wave down and reduces wave height increase on impact with a point shallow enough to make that wave break."
When was the last time it was working properly?
"The cyclone I judge Kirra on is Cyclone Bettsy. Kelly [Slater] was there for that swell in '92 and surfed it then. It was around when he won the Pro Junior. That's the one I rate as the bench mark."
What about even further back?
"My earliest memory was in 1984 and they were holding the Australian titles. It was lined up nicely, like it was this last week, but as I said, the reef off big groyne towards surfers would nearly suck dry. It wasn't doing that last weekend "
It was a tougher wave to surf way back then?
"Back then these old guys with old boardies and boards would set their line and get barrelled for hundreds of metres. They knew how to surf the wave, unlike many others. You'd never go to the top of the wave! Or the bottom of the wave! Or you'd be gone… drift either way and you'd get flipped."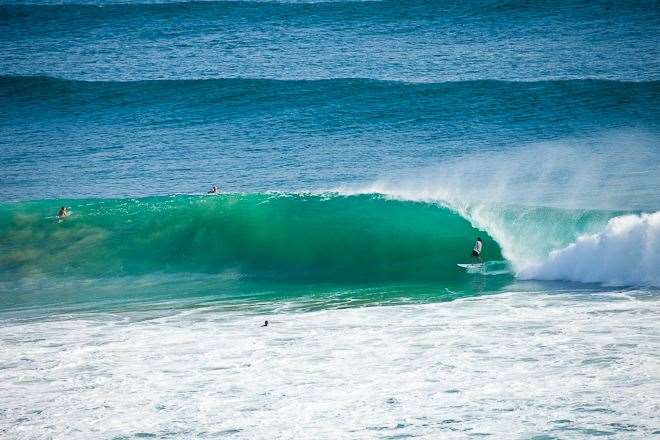 Unknown on a bomb set at Kirra so good you'd sell your second kidney for a chance to ride her emerald hallway. Pic: Joli
In 2002 Damon Harvey famously rode a 4-6 foot wave the entire distance from Snapper Rocks to Kirra, which at the time is the record for the longest ocean wave ever ridden at 1.5km (over 4 minutes)… He's also well known for getting stupidly deep backhand barrels on all Queensland points in particular at Kirra.
Tracksmag.com: Firstly how good was the weekend of the 16th and 17th looks like you got some smokers?
Damon: "It was pretty good… Best I've surfed it in six years. Early on Sunday was almost flawless. I was talking to Mick [Fanning] and Bugs [Rabbit Bartholomew] out there, and Bugs was shaking his head. It wasn't quite the Kirra of old, it was a bit frustrating with a lot of straight ones, but there were some amazing waves."
Has the memory of how good Kirra was somehow increased over time? It was a tricky wave back then, right?
"Yeah, but I remember as a grommet taking of at Big Groyne when it was a full double up and making it all the way through to Butterbox [in front of the little shed], and then sometimes even though to little groyne."
The double up take off was on the reef off big groyne?
"Yeah, I don't know where that reef is now though? I think we probably surf over the top of it."
Peter Wilson and Kelly Slater talk about cyclone Betsy in 92/93 as being the last time it was at its best?
"I didn't start surfing it until about '93 and those nineties, up until even '98 and '99, were season after season of epic waves. We haven't had a cyclone season since about 1998. That's a big part of the reason it hasn't fired. We've had some lows, but we haven't had a genuine cyclone season."
So, it's not hands in the air Kirra is over it's more we need the right conditions?
"What they need to do, when they started the bypass system, trying to get sand to Surfers, they took 30 metres off Big Groyne originally. What they really need to do is put that 30, or even another ten (say 40 meters), back on big groyne to give all that sand flow that's coming down somewhere to bank up round that and re-align Kirra that little bit better. I think they'd be very surprised if they extended the groyne to see what would happen."
Not worried about more man intervention?
"Well, I was speaking with Bugs about this and he say's it was good back in the day, and when they added the big groyne later on it didn't affect it or make it worse. He was still happy. But taking it away really did affect it. He explained to me in the water on Sunday, that that's what they need to do to bring her back properly; they need to put the groyne back there."
Some other plans being bandied around seem pretty convoluted?
Well, yeah, it's probably the cheapest, simplist and most effective answer. Get some bulldozers drop some boulders of the end of the groyne."
NOTE: What do you think?
A glimmer of what's maybe to come if swell continues to groom the sand towards Surfers and off the groynes... Pic: Joli
Tracks