Experts predict a large earthquake and tsunami for the Sumatran region.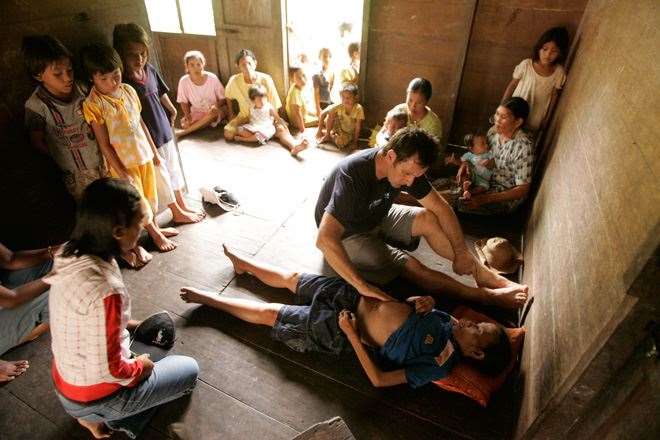 Dr Dave Jenkins treats Mentawai woman. Pic: Bob Barker/SurfAid
Humanitarian organisation SurfAid International was a lead agency in the emergency response to the Mentawai Islands tsunami that struck eight months ago on Monday 25 October, and SurfAid continues to play a leading role in the recovery program.
More than 500 people died in the disaster and 15,000 were displaced from their homes.
Experts however predict a much larger earthquake and tsunami for the Sumatran region - one that could nearly rival the Boxing Day tsunami of 2004.
Earth Observatory of Singapore (EOS) Director Kerry Sieh and his colleagues predict that an earthquake of up to magnitude 8.8 can be expected off the western coast of Sumatra within a few decades.
"Scientific evidence points to a probable rupture somewhere along a 400-km (250-mile) section of an undersea subduction fault line, running parallel to Sumatra, known as the Sunda megathrust ... The historical record suggests that a giant quake occurs in this area roughly about every two centuries, accompanied by a cluster of other sizable quakes. A similar pattern of activity seems to be playing out now, with several large quakes in the area over the past decade as part of the latest cycle," EOS reports on their website.  http://www.earthobservatory.sg/media/news-and-features/51-warning-of-next-big-quake-in-sumatra-.html
SurfAid founder and medical director Dr Dave Jenkins said the predicted earthquake could very likely produce a large tsunami. "It's important that we prepare the coastal communities in the islands. The Mentawai tsunami last October showed how our emergency preparedness work acts as a powerful life saver," Dr Jenkins said.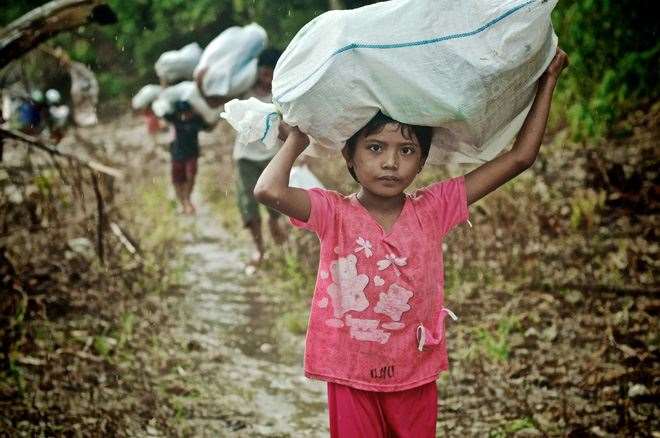 A Mentawai girl carries emergency SurfAid supplies after the October tsunami. Photo: Michael Lawrence/SurfAid
"While more than 500 people died we lost only nine people in villages where we had worked. After the earthquake people in our villages escaped quickly to the hills along prepared tracks and in an efficient manner thanks to the drills we had facilitated."
SurfAid is running several fundraising events in Western Australia this month where Dr Dave Jenkins will give an update of SurfAid's tsunami recovery activities.
Since the October tsunami, SurfAid has been rolling out a series of programs including psychosocial support, health, clean water, shelter and emergency preparedness (E-Prep), for which SurfAid has won awards in Indonesia.
"The Mentawai people and their children need everyone who wishes to save their lives from a tsunami to support us to do more, especially in the face of this inevitable 8.8 earthquake," Dr Jenkins said.
SurfAid's WA Fundraising Events
Whalebone Classic, Cottesloe Beach, Perth. Saturday 16 July and Sunday 17 July
Happy Hour for Humanity, Cottesloe Beach Hotel.  5pm - 7pm Saturday 16 July
Gnarabar, Margaret River.  Tuesday 19 July.  6.30pm.
Double Lucky Bar, Leederville, Perth.  Thursday 21 July.  6.30pm.
Kirk Willcox

Marketing/Communications Director

SurfAid International
E: kirk@surfaidinternational.org
W: www.surfaidinternational.org
Ph: (02) 9965 7325

M: 0407 063 829
About SurfAid
The mission of SurfAid International, a non-profit humanitarian organisation, is to improve the health, wellbeing and self-reliance of people living in isolated regions connected to us through surfing.
SurfAid's community-based health programs involve education in nutrition, hygiene, healthy environments and disease prevention - including mosquito net distribution.
SurfAid has built an award-winning capacity in emergency preparedness and have delivered five emergency response programs following major disasters, including the Boxing Day 2004 Tsunami and the October 2010 Mentawai tsunami.
Tracks