Opinions are like genitals, everybody's got them – and everybody uses them differently.
| | |
| --- | --- |
| | Opinions are like genitals, everybody's got them – and everybody uses them differently. |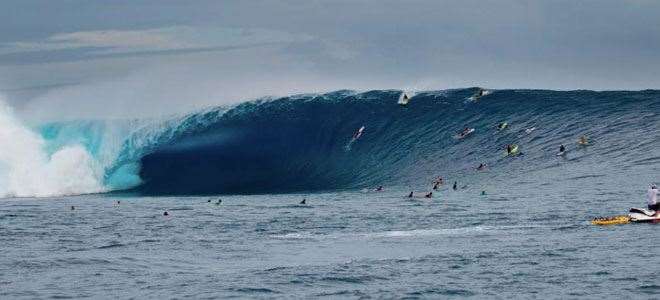 Have you ever seen anything like this? Pic: ASP/Kirstin


A
t 2:11 pm yesterday (Fiji time) the Volcom Fiji Pro was officially called off for the day. Earlier in the morning (around 11am), contest director Matt Wilson had pressed the go button and four surfers went head long into some raging, but relatively clean, 10 – 12 foot Cloudbreak conditions. Australians Bede Durbidge and Kai Otton emerged from these two heats victorious. The event was then put on hold – never to get up and running again.

What happened next caught many by surprise. A late afternoon glass off, plus an increase in swell size to 15 – 20 feet, turned the written-off chaotic conditions into a playground of perfection of the biggest, craziest, gnarliest kind. The best ever super session ever seen at Cloudbreak.

For the final three hours before dark – it was biblical.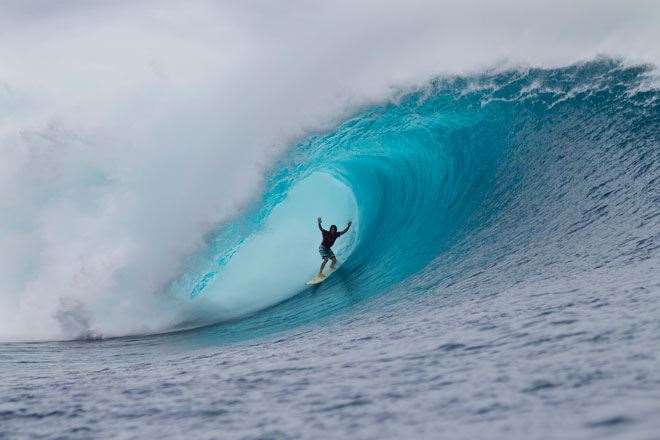 A wave score out of ten might not have been enough? An 11. Pic: ASP/Kirstin

When experienced commentator Dave Stansfield asked Matt his reasons for pulling the plug at 2:11 Matt dismissed safety as being the main reason for the call (although it certainly was a factor) and nominated the north wind as the lynch pin in the decision-making process. For both Cloudbreak and alternate option Restaurants, this is the devil wind. He also talked about how the big wave specialists on their ten-foot boards could cut through them (chop) safely – and didn't they what! But we'll get to that.

Simply put, the conditions weren't perfect for competition, ASP world tour events aim to offer each competitor an even chance of catching at least four to six waves per heat. If it's three-foot and choppy and there's a bunch of days left in the waiting period– they will not run. Today they made a similar type of decision, except the waves were unusually large. Unfortunately for Matt, and the top 34 surfers in the world, they didn't see the dramatic change in conditions coming.

It went from hellish to heavenly real quick.

Like Tahiti last year, with the famous Billabong Pro Code Red session, Volcom kept the cameras rolling. We were treated to a tube riding display that rivalled every surf film you've seen in the last decade. It was a tight call between Reef Mcintosh and Chilean, Ramon Navarro for 'wave of the day'. Ian Walsh from Hawaii got some monster back hand twisters and Mark Healey, also from Hawaii, did what he does best – pulled in at will.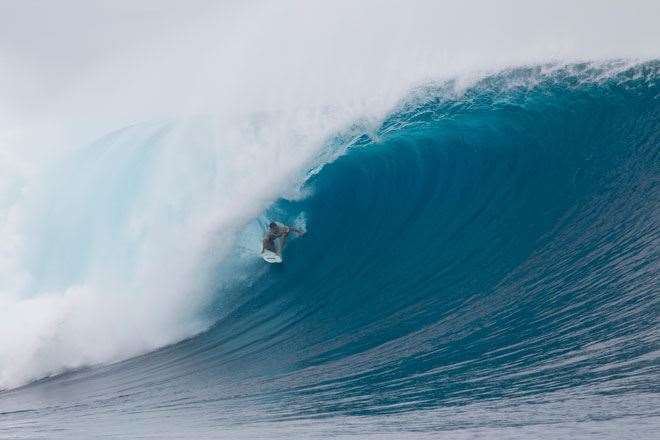 He might not be the most stylish surfer in the world but man he charges, Makua Rothman. Pic: ASP/Kirstin

Now open up the gates.

Should they have run a few heats? [Would've been four at best].

First, let me say that opinions are like genitals; everybody's got them. And everybody uses them in different ways. There was a couple dozen or so surfers who used their testicles for to good effect today and charged waves best described as cartoon like. There really is no other analogy to use that describes them better.

Then there are people swinging their dicks from behind keyboards in their mum's basement who have a better chance of accidentally fucking their own rectum canal than ever pulling into a tube in the ten-foot plus range.

This is why I'll tread lightly and try to find sense in the middle, rather than get swayed one way or the other.

"The ASP surfers are pussies",  "why aren't they out there?" "Their credibility is shot!" etc etc. All common veins of thought for team affirmative. They believe that any opportunity should've been grasped and the surfers thrown back out there 

I was close to agreeing with them whole-heartedly.

In fact I made a decision to cool my jets this afternoon and abstain from penning this piece till I'd had time to think. Why? Well, I too want blood on the reef. As a surfer and a sports fan I want to be proud of the pro tour elite and see them challenged in the biggest waves possible. But I'm also a fully-fledged member of the wait-till-the-conditions-are-best club.

I was in a jam.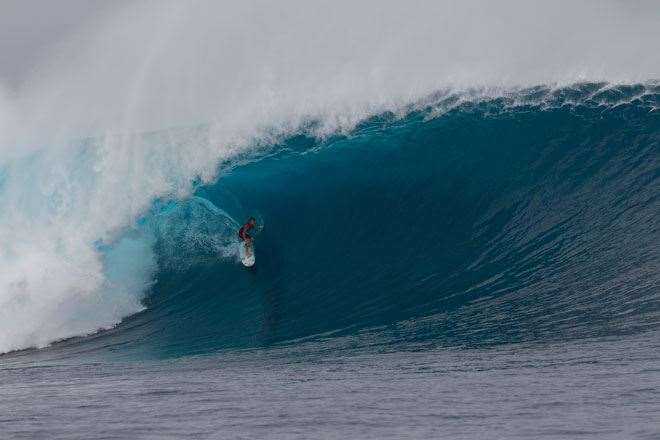 Mark Healey was built (and trained) to surf big Cloudbreak. Pic: ASP/Kirstin

Should they have just run it Roman gladiator style? Let the maddest of the round three surfers risk life and limb amongst the chop and growl of the inside bowl? If they did, those not as interested could've just sat on the shoulder and surfed safe – these waves were so solid and boarder-line unrideable through the middle of the day that surely no one has the right to call someone out for giving it a miss? If they in fact went ahead.

Seriously, for those that didn't witness it live or online via the webcast [or participating cable channels], imagine the ridiculous positions you'd put your Leggo men in on your mum's carpeted, rug corners as kids coming to fruition. It was, as I said, ridiculous.

In the end no more heats were surfed but I'm happy to say many WCT surfers had a dig, from Damian Hobgood (and bro), Mick Fanning, Joel Parkinson, Kelly Slater, Josh Kerr and John Florence and more.

Final verdict for me: Was it the right call at 2:11? Yes.

Should they've pushed four heats out through the late afternoon and made history? Yes.

But hindsight's always 20-20 right?  CJ Hobgood certainly thought so when he was fulfilling a commentary guest spot and gazing into the monitors. "I think everyone right now is like, 'I wish we were running heats right now'. At least the guys are out there taking advantage. I think everyone on tour lives and loves that they send us out in the biggest best waves."

Normally they do CJ, normally they do.

This window is just one that got away.

– Col Bernasconi

Note: Read free-lance writer Steve Shearer's take on that fateful day HERE
Tracks