Reigning ASP world champ and current ratings leader Kelly Slater out of Billabong Pro, Rio.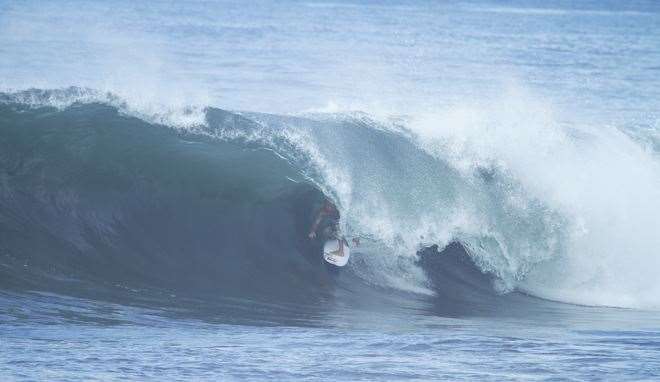 Kelly Slater weaving a solid Keramas cavern in Bali just a few weeks ago. Pic: Agung/Bali
Reigning ASP world champion and current ratings leader Kelly Slater has withdrawn from the Billabong Pro, Rio, Brazil, due to injury. The injury was sustained in Indonesia some weeks back, but has since flared up again and is hampering Kelly's ability to put the board on rail. Tracksmag.com called Kelly to get the the low down.
So Kelly, no Billabong Pro (Brazil) for you we hear?
No, I have stitches in my foot and I basically can't turn.
Where's the cut on your foot exactly and how did you incur the injury?
Just on the inside of my front foot – on the heel. I got smashed on the reef in Java, a piece of coral went into my foot and then got pulled out. It made a messy hole – coming on a side angle... That was in Java. I then hit the reef again, right on the same spot, a week later at Cloud Break on Tavarua. That blew it open again. I had the doctor inject pain killers so he could get in there and clean it all out after that and stitch it up again. It was so painful after I couldn't sleep as it was kinda infected. It's a little better now and I can surf – but I can't surf properly.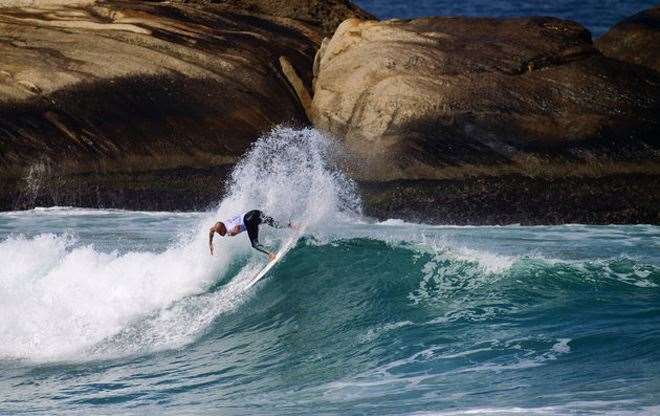 At the same event last year Kelly finished a disappointing 13th. Pic: ASP/Kirstin
So you have been surfing?
I just came in from one of the best sessions I've ever had at Burleigh, but I didn't do one turn. I can pump on my toe side in the barrel but that's about it. Certainly would be no good on a left hand beach break trying to do turns.
And be that weird guy with one bootie on?
I'm not going to Brazil to be 'that guy' in the one bootie – no.
Sounds like you've been getting around prior to that too?
I've been hanging in Oz, then went surfed a swell in Bali and Java, then came back to Oz for two days, then went to Tavarua for four – re-injured my foot and came back to Oz. So yeah.
Thanks for the heads up.
Tracks