A passionate surf town with plenty of welcome distractions from the waves.
With the WSL coming to Newcastle for the first time in nearly 30 years, things are starting to heat up in our beloved steel city. For those new to town, there's a lot more to Newy than just the waves.
Novocastrians are a proud bunch, and we love bragging about how great we think our town is. I'll tell any Sydneysider what I think of their overcrowded city, and I'll gladly look a Melburnian in the eye and let them know our coffee is better than theirs.
We're a big city with a small-town vibe. Surf culture dominates the beaches' surrounding suburbs, with a good bowlo or surf club within walking distance of nearly every break. Cooks Hill and the East End are some of the best places to get a feed, not to mention an unfair number of red-hot cafes in every suburb from Mayfield to Merewether.
Needless to say, there's plenty to do in Newy whether or not you're out scoring waves. Here's an insider's look into what makes our town so good – if ya know ya know.
The Stretch
The Stretch from Merewether to Dixon Park is going to be lit up during the 2021 event, but you'll find plenty of action here all year round in Newy. Countless laps scouring the breaks take place here every day, only to find the same surfers out in the exact spot they were yesterday. From the old fellas reminiscing on how much better the banks were 20 years ago, to the young rippers claiming massive airs their mates didn't see, this is where you'll experience the nitty gritty of our local surf scene.
ANZAC Memorial Walk
More than just a great place to snap your most Instagramable fitspo pics, the ANZAC Memorial Walk lends a pretty impressive view of the city. You can see the entire beach from Bar to Merewether, providing a vantage point that John Earle would have killed for back in the day. While the Memorial Walk might be a little far from Merewether Beach to view the contest, we won't be short of options come comp time. Whether you're perched at the end of Janet and Curry Street, or you fancy an ice-cold beverage at Merewether Surfhouse, there'll be plenty of spots boasting an electric atmosphere.
Float above the Pacific on The Anzac Memorial Skywalk. 
Nobbys Breakwall
The breakwall at Nobbys Beach is a sly way to get your tourist-y activities in while still being able to check the surf. A stroll to the end and back will keep the non-surfing members of your party happy, while also killing time if there are no waves. If you're lucky, you might catch the harbour working, which occasionally fires in huge, cyclonic swells. If you decide to take on the harbour, you'll need to be on the lookout for rocks and shipwreck debris – a fun extra that makes a surf here all the more enthralling. In torrential conditions in 2013, organisers were forced to relocate the Surfest event to this sketchy spot, with Parko having a field day in the rare conditions:
Groms
Newy has some of the fieriest and fearsome groms along the East Coast. With a solid contingent of hometown heroes already killing it on the world stage, it's not a question of if, but when, until the next crop of local talent breaks onto the scene. Early morning surfs before work and school are when you'll find the waves peppered with gaggles of groms along the beach. Prepare to be snaked and dropped in on by shit-hot kids a third of your age and three times as good.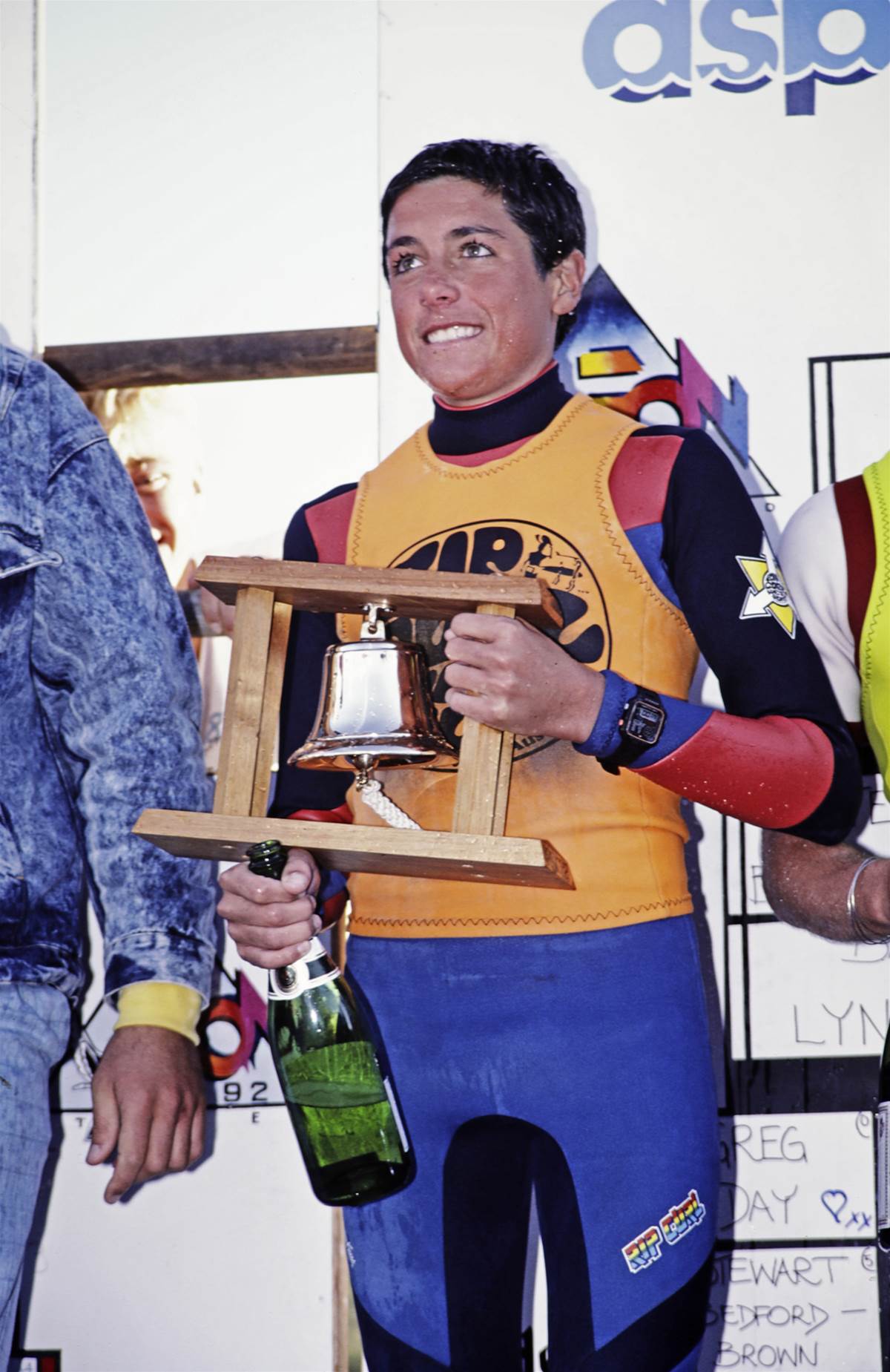 The original Newcastle super-grom, Nicky Wood, clutching the Bells trophy he famously won as a sixteen-year-old in 1987 Photo: Tony Nolan
Merewether Fresh Bake
Every surf town needs a good bakery, right? From pies and pasties, to caramel tarts and apple slices, you can't go wrong at this iconic institution. The real ticket here, though, is the salad sandwich. There's just something about the way these hit the spot after a long session in the water. The real hell-men will ask for extra salt and pepper.
Remember Newcastle is Mark Richards territory. The great man will make his presence felt when the CT comes to town. Photo: Tullemans
Bar Beach Bowling Club
The best bowlos are sort of shit, and that's what makes the BBB so great. The taps here haven't been cleaned since MR was last on tour, lending a unique taste to your favourite ales that you won't get anywhere else. With a generous 4-7 happy hour, this is the spot to be when the arvo nor-easter is howling. Beers are cheap and the kitchen is unsurprisingly average; luckily the vending machine is always stocked full of cheese Twisties. And yes, the green is real grass. None of that synthetic crap.
The Oriental Hotel
Once you've made full use of the BBB's generous happy hour, you can stumble down the road into Cooks Hill where you'll find Newy's best pizza kitchen (contentious, I know). With generous toppings and dough that melts in your mouth, you can't go wrong at the Ori. Wash these marvellous creations down with an ice-cold Balter or our very own (adopted) Modus. Buying beers by the longneck used to be in vogue here until they stopped serving Coopers Reds. We won't hold it against them, though.
The Oriental combines a classic architectural feel with modern dining.
Frothers Espresso
Yes, this is my local, but I still reckon it's the best in town. Come for the espressos, stay for the cream cheese and vegemite bagels. Notable mentions go to Suspension, Good Brother and Equium Social. Apparently, the Autumn Rooms is Julian Wilson's favourite café. Whose side are you on? We have that many good cafes you won't have a hard time getting your fix in Newy.
 The Lass O'Gowrie Hotel
With the biggest and best beer garden in town, the Lass is one of the primo pubs in Newy. Anyone and everyone are welcome here, all the while adhering to a strict No Dickhead policy. The Lass is also the home of live music in Newcastle. You'll hear our best original bands here on Friday and Saturday nights. The pub stays open til 3AM too – great for when the waves are going to be shit the next day.
There you have it, a one-eyed Novocastrian's guide to a good time in Newcastle. Not that you need to worry about what to do when in town. Whether you're paddling out at Bar Reef, Ladies or Newcastle Beach, there'll be a heap of festivities and fine institutions close by to keep you entertained during your visit. So, go on – grab your pushy, put on your favourite pair of pluggers and see what Newy is all about. Free salad sandwiches all round at Merewether Bakery if Ryan wins in Newcastle.
Tracks