Remembering one of surfing's most prolific and best-loved figures.
As a fifteen-year-old in the mid-1960s, Marty Tullemans would travel from his home in Brisbane to Coolangatta every weekend. The story goes that his father's connections with Brisbane airport meant that he had access to a driver and car to drop him off at Greenmount surf club, where he would stay in the dormitory. It was there that Marty first met a wily and athletic, surf club cadet by the name of Michael Peterson who was around the same age.
Michael Peterson was one of Marty's good friends and a favourite photographic subject. Photo: Tullemnas

Peterson and Tullemans instantly became good friends. While the surf club might have been the catalyst for their connection it was the waves on the Coolangatta points, which enchanted them.  Between surfs, Tullemans and Peterson had another hobby. "Marty taught Michael to play chess," remembers Peterson's Mum, Joan. "But he didn't much like it when Michael eventually learned how to beat him," she says with a chuckle.  
MP eyes off a sheer Kirra wall and contemplates how best to leave his mark. Photo: Tullemans
Marty might not have been able to match MP on the chessboard or in the surf, but the friendship ensured he had a window into what soon became a Golden Age of Coolangatta surfing. When Marty took up photography he was on hand to shoot not only the meteoric rise of MP, but also the flamboyant surfing of Peter Townend, Peter Drouyn, The Neilson brothers, and Rabbit Bartholomew amongst others.
Rabbit on the run at Burleigh. Photo: Tullemans
Marty's established position amongst the Gold Coast's 1970s surfing luminaries married well with the agenda of a nascent Tracks magazine. Tracks was intent on documenting the dazzling exploits of the original Coolangatta crew and the rapidly evolving professional surfing scene. As a prolific contributor to Tracks through the 70s and 80s, Marty shot contests, free surfing, portraits, lifestyle, and behind the scenes action. An engaging writer, he often weighed in with his colourful and imaginative prose to lend some perspective and insight to his shots. While MP was a favourite subject for Marty, perhaps his most iconic Tracks cover featured Peter Townend soul-arching at Coolangatta.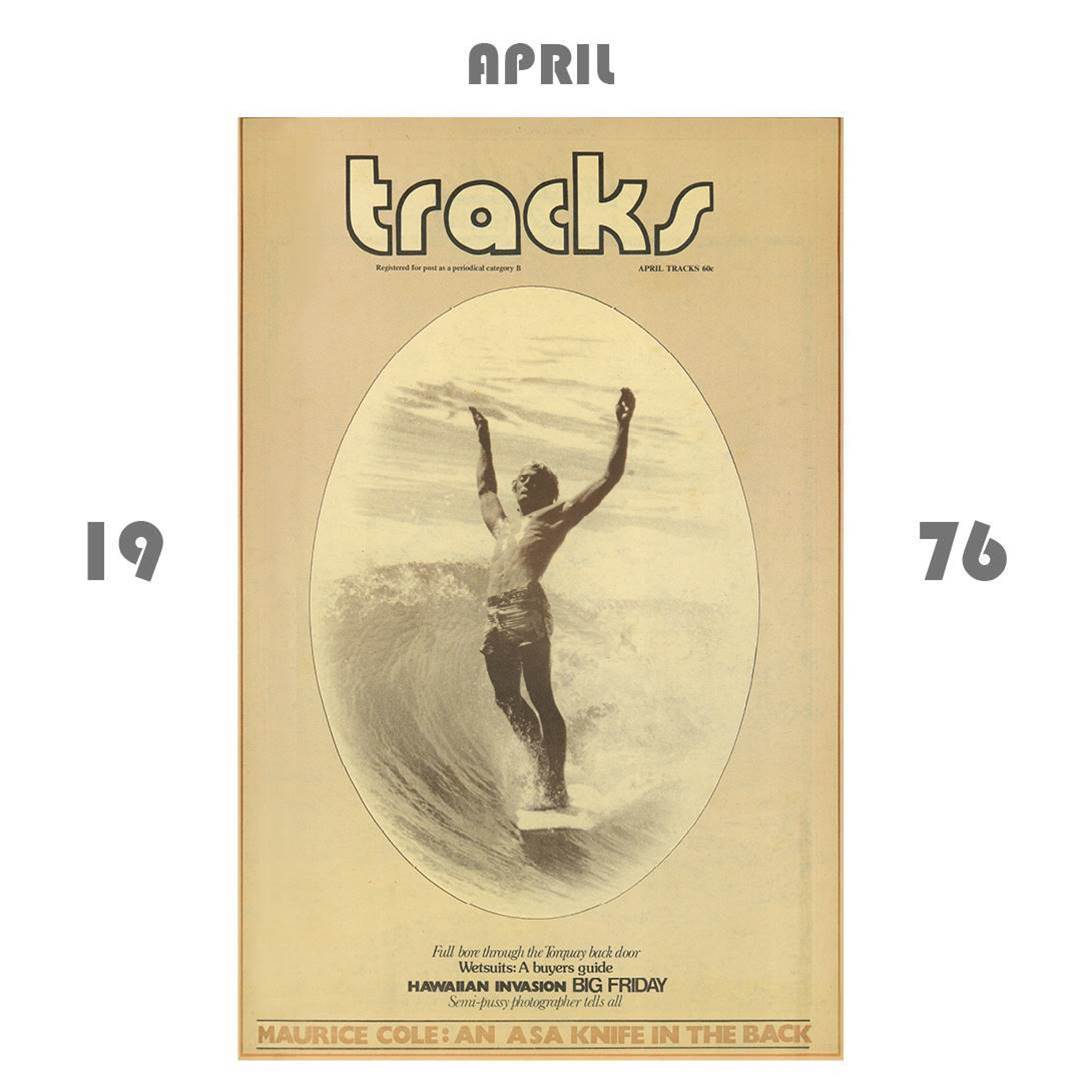 Marty's iconic cover-shot of Peter Townend soul-arching through a section at Coolangatta. Photo: Tullemnas
On another occasion, then editor, Phil Jarratt, came up with a hair-brained idea to do a nude surf shoot featuring Rabbit Bartholomew and Paul Neilson. Despite Jarratt's doubts, Marty happily obliged when commissioned to do the shoot. Sure enough, a photo by Marty of Rabbit surfing naked ran on the cover of the August 1976 issue and was followed by a nude spread (pardon the pun) of Rabbit and Neilson frolicking in the dunes at Ocean Shores with a couple of girls. It was all done in the name of fun and symbolised the irreverent spirit of Tracks in the 70s. 
Rabbit letting it all hang out on the cover in 1976. Photo: Tullemans
If occasionally mischievous, Marty was also famously spiritual and new age. When his mind was still sharp he could deliver an encyclopedic recap of a session he had shot and would often follow it up with a piece of advice borrowed from a Buddhist text. Marty was into mediation, yoga, and alternate living long before they became trendy amongst the mainstream. His interests in lateral thinking earned him the nicknames, the 'cosmic pygmy' and the 'mad professor'. A conversation with Marty could move in many tangents, but talking with him was always entertaining and even if his ideas were a little left field, he could always express his views with intelligence, wit, and charm. While he adored his pro surfing subjects, he was never a sycophant and could make a telling assessment of almost any surfer who had danced before his lens.  
Mark Richards and Tom Curren going for big points. Photo: Tullemans
He once famously convinced the Noosa surf club to let him transform a room into a photo-processing lab. He was eternally proud of the coup and the fact he'd hustled his way into free accommodation with a photo lab thrown in.      
While Marty's endearing eccentricities and esoteric interests were certainly his own, he battled with bi-polar disorder for much of his life. Legend has it that when he once ran out of the Lithium tablets in Bali, he ended up in jail. Eventually, he sold all his camera equipment to make it home. In typical Marty style, he responded to questions by denouncing his need for material objects. 
Slater captured in a rare moment of board rage.
Despite his battles with bi-polar, Marty maintained an active involvement in the surf industry and continued shooting photos all the way up to the early 2000's. He boasts one of the most impressive archives in surfing. In an era of image saturation, we take it for granted that every good session will scroll on Instagram, or blow up on a web post. However, pioneering figures like Tullemans were responsible for giving surf culture both its early heroes and frames of reference. The photos crystallized and romanticized the lifestyle we all invested in. They gave us something to believe in and a path to follow when much of surfing was little more than a whispered truth.
Team Hawaii makes a bell-bottom touch down at Brisbane Airport for the 1977 Stubbies. Photo: Tullemans
It's also to the images of figures like Marty that we turn to when we want to mythologize and glorify figures from surfing's past, like Michael Peterson. As legendary filmer and photographer, Dick Hoole puts it, "It's thanks to guys like Marty who didn't go surfing and chase waves for their own gratification that we have a legacy… by leaving behind their documentation of surfing."      
As it was MP and Marty, the former chess sparring partners, remained good friends until Peterson's passing in 2012. Peterson's mother Joan can remember the two friends giggling away as they reminisced about the old times when they were the Kings of Coolangatta. "Everybody loved Marty," reflects Joan. "He was the best photographer we had."  
MP sky-hooking on the cover. Photo: Tullemans
Marty Tullemans passed away last night after a battle with dementia. The tributes are pouring in for one of surfing's most prolific and likeable photographers. Marty's intelligence, good nature, and willingness to embrace all that surfing had to offer, will serve as inspiration for many years to come. If Tracks were to have its own Hall of Fame then Marty Tullemans would certainly be amongst its most celebrated members. R.I.P. Marty.
Tracks