He's won a world title, six Triple Crown's and recently finished third in the Eddie Aikau Invitational.
| | |
| --- | --- |
| | He's won a world title, six Triple Crown's and recently finished third in the Eddie Aikau Invitational. A surfing icon that at 39 still doesn't mince words or take a backward step. Tracksmag.com spoke with Sunny Garcia |
He's won a world title, six Triple Crown's and recently finished third in the Eddie Aikau Invitational. A surfing icon that at 39 still doesn't mince words or take a backward step. Tracksmag.com spoke with Sunny Garcia [born Vincent Sennen Garcia] about his come back from injury, women's surfing and kooks in California.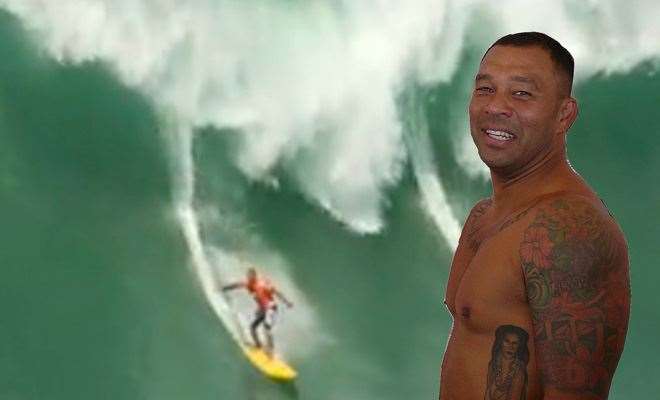 Sunny in front of a wallpaper of himself charging The Bay.
Sunny, you were out of the water for a while early this year tell us about your operations?
At the very end of last year I had an operation on my right leg, and the ACL on my left leg done – I'm just starting to get better. I came back early after three months after and tried to surf – which was hard. I surfed in a bunch of events this year just trying to nurture them, and they felt all right. I definitely wasn't pushing them. I wanted to make it through the year in one piece.
I understand you're the subject of a new documentary?
Yeah. They're just going around with me, getting interviews with other people and following me in events and stuff.
It's not reality TV where they're filming you in the bathroom?
Nah nah. Just getting all the stories from every one else – good bad whatever.
Well, your surfing career is far from done. You started your Sunset campaign off with a nine point five and did the same again in the final?
Yeah, I felt good. I felt good at Haleiwa too, but sometimes it's a matter of just catching waves. My heat at Haleiwa had to be re-started and everybody was playing the sit deep game and we missed a bunch of waves. In my quarter final I got the wave I needed, but didn't kill it – I kind of missed the section and didn't get the six, I got a four. Kind of out of character for me to do that, my whole career I've lived for those kind of situations, needing the score getting the wave. It's been a couple of years since I've been 100 percent, but I feel good for 39.
39 young?
And I'll be 40 in a month. I feel good.
At 38 Taylor Knox is still on tour and powering, he must be an inspiration to you?
Taylor always had been in great shape and one of the smoothest surfers of all time. I also think Occy [Mark Occhilupo] would still be going too if he didn't want to do the family thing. He did a lot for guys in my generation, and guy's younger too. Definitely a inspirational guy…
People that don't even surf have been inspired by The Occ's story?
Hey, he's Occy! What can you say.
What about you? There's a similar love for you too?
Ha ha, you know, I have a love hate relationship with a lot of people but I'd like to think there are a lot of people, for the most part, as far as surfing is concerned, that do. I try to be fair with what's best for surfers and representing the younger guys. I'm sure there's a mutual respect, but a competitor's a competitor and of course the guy that's doing well is the last guy you want in a heat.
In Australia a lot of people remember you as a 16 year old in the Stubbies at Burleigh Heads as a 16 year beating top guys and getting a fifth?
As far as Australia and I goes I've always felt love from the Australian people, I've been coming there since I was sixteen years old. Rabbit took me under his wing and I used to stay with Tommy Peterson, and Sean Riley and those guys in Queensland. In fact an Aussie gave me my first surfboard – ever! It's a deep history with Australia in general and I've always had a good time there. In fact, I'm going to come out there in March and watch the beginning of the tour and get some waves and compete in the Mark Richards Pro at Newcastle and Margaret's in WA.
What about Bells will you visit the Surf Coast or will that only happen if you get back on the world tour?
I would love to go back to Bells. Shit, I wish they would let me surf the trials. That's one of my favourite events, I don't like cold water but for some reason I love going down to Bells. Torquay is such a great place people are super nice, kinda reminds me of how Hawaii is with everyone laid back, just go to the beach and have a good time. It's a cold version of Hawaii.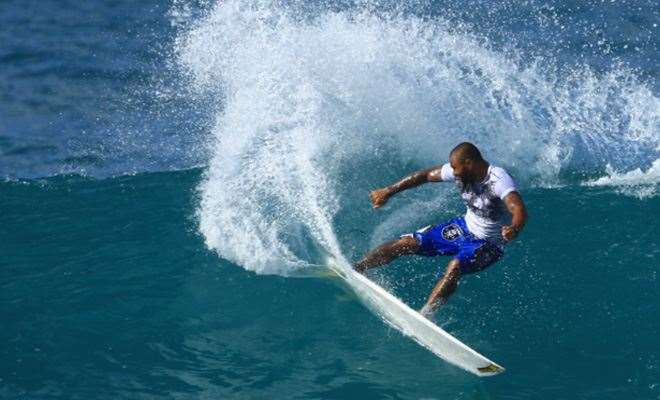 Sunny and THAT hack! Photo: Bosko
What's the goal right now, get back on tour and re-visit these places that were home away from homes for you for so long?
Next year I want to give it [qualifying for the world tour] one last really good go. I feel confident, but if I can't do it? Then I'll do what I've always wanted to do and that's go on surf trips with the boys.
There's plenty events on the WQS now, a huge improvement on locations?
It seems like some of the QS events they take care of the surfers better than the world tour events. It seemed like the QS events everyone's there having a good time and the WT is all about money and prestige, I'm not writing them off but it seems like you get jaded on there. Competing with the best guys, everyone keeps to himself, where's on the QS everyone's stoked to see the other guy do good.
You must be stoked there's a five star event at Pipe to kick-start 2010?
Yeah, that will be really good. I'm really looking forward to that. The boys organised some events here so the Hawaiian guys don't have to travel so far to get some points.
There are plenty of events in Brazil and Australia it makes sense that Hawaii the home of surfing has some too?
Hawaii should have a lot of events. It's about finding sponsors and things like that. Look at a place like Brazil, I was talking to Wiggly Dontas and he was telling me that there was 15 WQS events in Brazil in 2009. It cost a lot of money to run an event and those guys hustle and get it done. If people from Hawaii would hustle that much we'd have great events.
Tell us about your experience doing time for tax evasion?
The prison time was, as much as they'd like to think they taught me a lesson and shit – it as a good vacation for me. Hung out with some friends, I got to train, never had to answer my phone or anything. I made the most of my time there and had fun.
You've been a pro since you were 15 maybe the break was good for you?
It was a good break. Not that I recommend it to anybody, there were times that I felt down. But the things you have to go through in life make you who you are. The thing I learnt the most is you can't trust some people's word, man.
You live in California a lot of the year now. I can't imagine you surfing T Street, how's that working out?
I surfed T Street once. First of all I try not to surf when I'm in California at all, because I live in San Clemente and most of the local guys there are jack arses. I'm always getting the, "you're not in Hawaii now…" And I'm super-mellow. I don't go out with a big head on my shoulders, I don't want to drop in on people, I mind my own business. A couple of months ago some guy dropped in on me and then started telling me that I was a kook and I needed to go home, you know? And then he had a bunch of his friends and their trying to surround me and I'm all, "fine, we can all go onto the beach and I'll kick every single one of your arse's." And like a bunch of fags they all fucken stayed in the water, while I stayed on the beach until dark. After that I'm like fuck it. It can be a fun wave, but the people there are just… I don't know? I don't want to say all the people, because I live in San Clemente and I love it, and the majority of people are super happy go lucky people. But some of those guys that surf Trestles that can't even surf – are fucking kooks. We have guys like that in Hawaii too – can't surf to save their arse's and they're hounding guys. You get that everywhere and I try stay away from that whole deal. I try to be mellow these days.
Travelling surfers understand that if a guys in the right spot for a wave, he's in the right spot?
Yeah… But, whatever. You're going to get guys that are fucken dickheads wherever you go.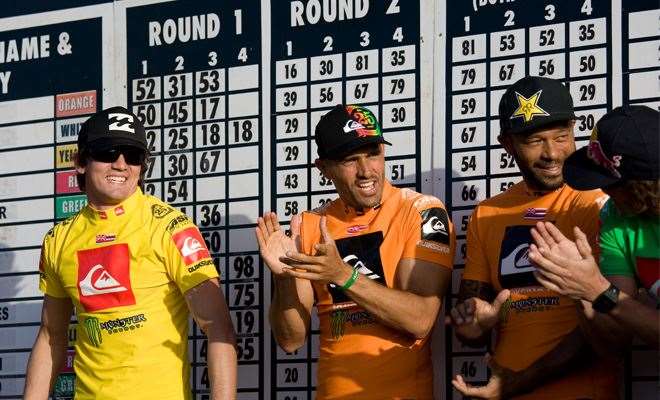 Greg Long, Kelly Slater and Sunny at Eddie awards ceremony.
What about girl surfing? Hawaiian Carissa Moore just won at Sunset, do you think these new girls have raised the bar?
You know… I was kind of disgruntled that the waves were coming up in our event at Sunset and they were going to run the women's. They did the same thing at Haleiwa too. I disagree with that whole deal. Don't get me wrong there's some great women surfers, but when your sitting and watching the majority of them NOT taking off on waves and knowing you could be out there surfing your heat when it's really good – gets to be a little hard. Great for them, I'm not against the women it's just something so obvious. I wanna surf big waves. I'm not going to be pulling back on anything, especially at that size. I'm glad Carissa won, shit. Her winning Sunset and Alana [Blanchard] winning Haleiwa –great for the Hawaiian girls. We've got so many hot Hawaiian chicks – so many good girls that rip. Hopefully they do raise the bar and end up giving the men a good run for their money when the waves are bigger, but until that happens…
You have new sponsors like Rockstar that sponsor you, and Nike that sponsor Carissa that aren't traditional surf brands, do you think it's good for sport?
I think it's great that Nike finally got in the sport. It just seems like not long ago a certain person from Rip Curl said that if Nike ever got into surfing they'd pull all their events – I don't see Rip Curl pulling their events! It's good. We need these outside sponsor's. The Quiksilver's, Billabong's and Rip Curl's need to take a step back because of the state of the economy anyway. Nike should have an event. Imagine how big that could for surfing having someone like Nike come in and blow up the sport. They've gone a good route sponsoring kids and coming in slowly. Not coming in and trying to take over. I got a lot of respect for those guys.
Thanks for your time Sunny and well done in the Eddie mate huge result.
Thanks and I'll see you in Australia.
– Col B

A video profile from our mates at Fuel TV.
Tracks