The Californian Servicemen who spend their days staring down the barrel
The armed forces and surfing community have an unusually in-depth history. Most immediately think of Colonel Kilgore, defiantly posing in his Stetson hat and Yater t-shirt, making his famous quip before an all-out airborne assault on a Viet Cong stronghold in Coppolla's opus, Apocalypse Now; but the non-fiction history is more logistical—and even cordial—than anything.
The U.S. Navy and Marine Corps obviously require large stretches of coastline to accomplish their mission. Whether it's putting ships to sea or practicing amphibious assaults, they need a beach to do it. It just so happens that some of their grounds occasionally have stellar breaks. This inevitably attracts the attention of local surfers, and whether the brass likes it or not, an understanding must be reached.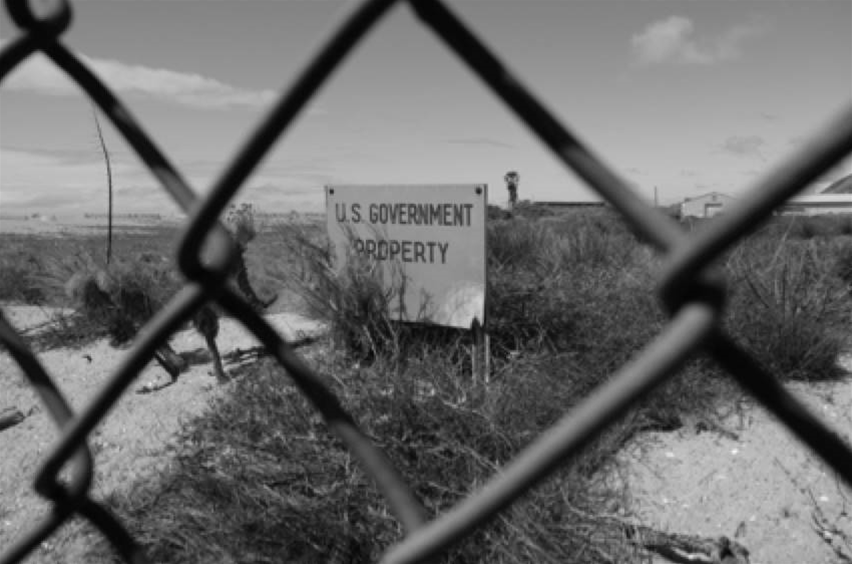 What lies beyond is a shooting range, airfield, test facilities, and a very rare California beach break (Photo by A. T. Roberts @a.t.roberts_author).
A notable example of such cooperation is the formation of the San Onofre Surf Club and its advocacy to access breaks along the northern end of Camp Pendleton, situated along some of the most prime Southern California coastal real estate. This partnership eventually culminated in the U.S. Marine Corps leasing the property to the state of California, establishing San Onofre as a state park in 1971. Now-famous breaks like Trestles, Churches, the Point, and Old Man's opened to the public, where military and civilian surfers alike have access to some of the region's best waves.
Another joint effort was the Point Mugu Surf Club on Naval Air Station Point Mugu, California; which consisted of both active duty and civilian members. During its heyday in the 80s and 90s, civilian club members were allowed access to base, as long as they were accompanied by authorized personnel. Upon entry, they'd check out the surf flag from base security and fly it along the seawall to let nearby radar test sites know there were people in the water and that they'd like to have children one day.
"There were several breaks," says long-time Mugu surfer Gregg Erickson, father of US Open champion Sage Erickson. "Pelican Point, Point of Rocks, or Point Side" to name a few. "You could mistake it for the north shore during a good south swell."
Members of the Point Mugu Surf Club in the early eighties with Laguna Peak in the background (Photo provided by Gregg Erickson @gregerickson_).
Local surfers in the Ventura, Los Angeles, and Santa Barbara County region have an almost mythical folklore of what the surf is like on Point Mugu. There are cliché stories – old surf heads sneaking onto base, only to be chased by armed sentries and narrowly escaping via their boards – that still pervade. I've spoken with enough locals under the impression that year-round barrels exist there, with not a soul riding them. Once upon a time, before decades of sand erosion and several seawall upgrades, there may have been slightly more truth to that inkling; but today, any surfer stationed at Mugu can tell you the average day of surf there is nothing to write home about. More reliable conditions exist a few miles in either direction along the coast, whether it's County Line or C-Street.
Gregg Erickson (father of women's CT surfer Sage Erickson) tucking in at Point Mugu. (Photo provided by Gregg Erickson @gregerickson_).
However, when all the stars align, and the earth is furthest from the sun, and King Neptune exhales hard enough, Mugu can get good, real good. Although California surf is best in the winter, Mugu favours the summer. Nearby point breaks generally prefer a west swell, Mugu is best from the south. To no surprise, when conditions are ideal, this is when you'll see the most non-military surfers in Mugu's water. The scrubby kid that works at the base sandwich shop finally reveals why he applied for that job in the first place, civilian contractors unsheathe hidden boards from the backs of work trucks, and friends of friends frantically request invites from anyone with base access.
"On your average day, I'd say it's about 50/50 (military/civilian)," says Dan, an aviator stationed at Mugu. "When it gets good, however, it's a pretty varsity wave, which keeps out a lot of the novice active duty types."
Unfortunately, military surfers occasionally get a bad rap. They're typically found just outside the fence line of government property, like Camp Pendleton or maybe along the cliffs of Naval Base Point Loma in San Diego, Ca. They can be easy to spot; maybe sporting a just-razored high-and-tight while fumbling atop a recently rented Wavestorm foam top, or exposing a muscular frame in brightly coloured board shorts – in water that absolutely mandates a wetsuit – while attempting to handle a short board that's far too small for their skill level.
Post sunset glass on Point Mugu (Photo by Colin Brown @colinbrownphoto).
It takes no stretch of the imagination to realise that negative interactions with military surfers are more than likely due to the same issues that always exist in any lineup; novices getting in the way of more experienced riders. It's only slightly exacerbated when the testosterone-fuelled kid straight from Nebraska gets stationed along the coast and decides he's going to apply that same military gusto to conquering waves, in addition to enemies of the state.
Rather than display the stickers of brands that do not sponsor him, an aviator stationed at Point Mugu brandishes a different kind of pride (Photo by A. T. Roberts @a.t.roberts_author).
At locales like Point Mugu, however, the average military surfer's skill level is certainly of a higher caliber. In fact, there's enough talent stationed at Mugu at any given point to compete in Naval Base Ventura County's annual surf competition. The military being what it is, they plan the contest based on their own schedule vice conditions, but it's still an opportunity for Sailors, Marines, and even the occasional Soldier or Airman to show their stuff in the military-only heat.
Point-side line up on Point Mugu (Photo by Colin Brown @colinbrownphoto).
In the wake of 9/11, increased security measures put an end to the Point Mugu Surf Club, but its tradition lives on through the annual surf contest. Although only two days a year, it's another shining example of civilian access to a military gem.
Both communities can learn from one another in collaborations like this; surfers can reap the benefits of military-grade organization by gaining access to restricted breaks; and some of the active duty novice surfers might learn to blend in a little better, maybe a not so tight high-and-tight or by turning down the brightness of their board shorts.
The views expressed in this article are those of the author and do not reflect the official policy or position of the Department of Defense or the U.S. Government.
Tracks