yes we are, now what can we look forward to?
It's time to start looking at the Supercrowdedbank once again. That happened quickly didn't it? It feels like just the other day that Wilko was leading the world title race and the year was but an oyster. Well, we're all another year older (and deeper in debt) but it's time to rise up, to look around with optimism, and have a look at what the first Championship Tour event could offer us.
Talking of optimism, the waves are going to be absolutely firing… just before the event. There will be endless footage of the best barrels ever seen, with surfers getting shacked over the entire length of Snapper, of huge tubes behind the rock and all sorts of obscene surf footage. It'll come to an abrupt end just a few days short of the opening day of the event.
The girls' event, however, will be a massive success whatever the waves are like. This is the event where they all put on their best photo-costume and get a little bit of extra coverage, and no one will be complaining. No one ever does.
Talking of such, the one thing we have all grown to expect is the hordes of very cute Brazilian girls on the beach in their tiny bikinis. They are all around to support the Brazilian Storm, and it always seems to work for the crew. Gabriel Medina took the win in 2014, and Filipe Toledo in 2015. 
For the most of the event, the waves will be small. It's that time of year, and the first swell of the year, that usually comes before the event, seems to suck the energy out of the sky and leave nothing on offer but small drainers, fun ramps and small wave wizardry. Nothing in the way of those booming 20 second tunes that we would have been watching for week prior as previously mentioned above.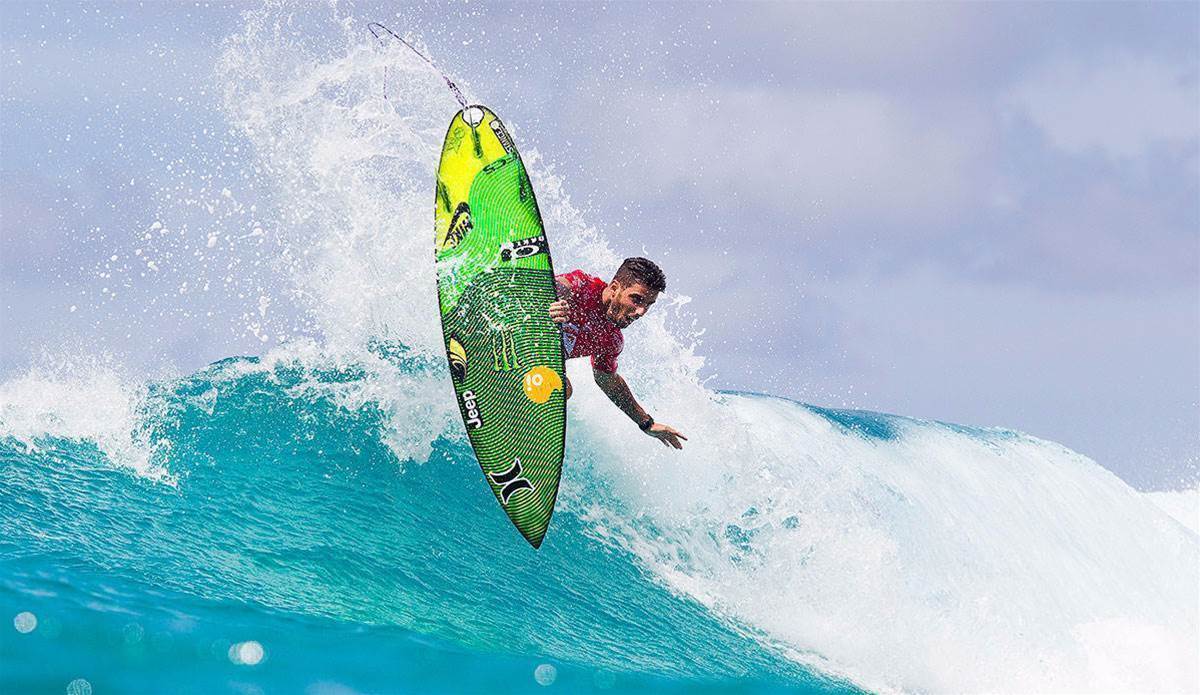 Filipe has used the smaller conditions at the Quik pro to his advantage. Photo: WSL
Kelly Slater will be in attendance, gunning for that elusive 12th. What will happen is that he will give the event a good go, will be as ultra competitive as ever, and should he be on the correct boards and not a water-displacing banana, he could do very well for himself. 
Taj Burrow will be in attendance, but not in the event. Taj won it in 2010 and in 2012, and will no doubt be hanging around, supporting, doing a few mini-interviews and having a fun time. It is the first event and thus forms a great gathering of the clan. Surfers, spectators and industry members all rub shoulders and celebrate the sport as it welcomes a new year of competition. 
Paul Speaker may not be present. It remains to be seen whether the former CEO is wont to hang around at the events to witness the spectacle and drama he played a large hand in creating. It's possible that there will be a new CEO in place by then, and if that were the case then I'm sure Speaker will be around, because minus the pressure and limelight, he will be free to wander around nondescriptly and quite possibly nonchalantly as well.
Of course there'll be some parties, and all the industry grubs, mid to lower ranked surfers, bottom-feeding journalists photogs, videogs, and the lowest of feeding web-writers will all be in attendance for free food and booze. 
Mr Slater for CEO? What a dream that would be! Photo: WSL
Finally back to Kelly. Could it be possible that he could be dual roleplaying at the event in that he might be oldest competitor, world title hopeful, as well as CEO of the WSL? Imagine that. It would be really cool, and having Kelly as the man at the helm and with his vision would see the WSL continue on its upward path for another good decade or more. Remember also that the WSL bought Kelly Slater Wave Co. as well. Wouldn't that just be bringing it all home?  
Tracks