A personal perspective on Bali now and not so long ago
After starting to read Phil Jarratt's historically based book about Bali, Bali: Heaven and Hell, I began giving some thought to the new Bali. Think Russian hookers, traffic overload, burning plastic piles and rip-off prices. Bogan cliches with hair braids in Bintang singlets; McDonalds and Starbucks etc etc… A far cry from the untouched paradise of only a couple of generations ago. A paradise lost. Or is it?
People seem to be perennially banging on about how much Bali has changed for the worse and the destruction of the 'real' Bali. My own point of reference will always be from the time I spent living there in the early 2000's. By chance I'd arrived just after the second bomb (at Jimbaran) and it was by far the best period of my life ...without exception. People told me just how quiet it was because of the bombings and in hindsight the 15 minutes to Canngu and 40ish minutes to Ulu's from my spot in Seminyak is now seemingly inconceivable. And stuff was cheap. And by stuff I mean everything. I paid the equivalent of $80 a week for a two story villa with a yard overlooking a rice field (with staff !) just down the road from a break they called Poofies (Ku De Ta). I ate either fish or chicken with rice and salad and a drink for the princely sum of 33 cents at the Sari Laut Warung across the road, practising my Indonesian as I ate.
The Keramas duck herders are one of the more unique aspects of Bali culture. photo: Miller
Every morning I'd wake up watching the sun come up over the water, very often between cracking waves at (pretty empty!) Canngu. Every afternoon I'd see it set gorgeously in the background as I played soccer on the beach with a group of locals and expats in front of Double-Six.
A group of those guys, mainly Indos, would travel to different villages to play against the local teams and some of my best memories are of playing these football games in front of the local village people miles from anywhere. As we chased a ball, the smell of local food would drift across the pitch and our cries to 'pass!' would be punctuated by the sound of the ritual Muslim wailing.
Obviously I'm commenting from the skewed perspective of the travelling Bule, (foreigner) but it was quiet and cheap back then in the early 2000's. Geographically it inspired wonder and culturally it was full of delightful surprises. Cut to the now and it's painfully clear that Bali's limited infrastructure has been struggling to cope with the unabated boom in population and tourism. Every year there are more massive motels erected where a rice paddy had previously held sway and as a result the traffic has made getting around, in a car at least, almost completely untenable. You still have the rice fields as you approach Canngu but the barber shops and tattooists and coffee joints cost as much or more than home and the main surfing breaks are teaming with big crowds of red hot surfers.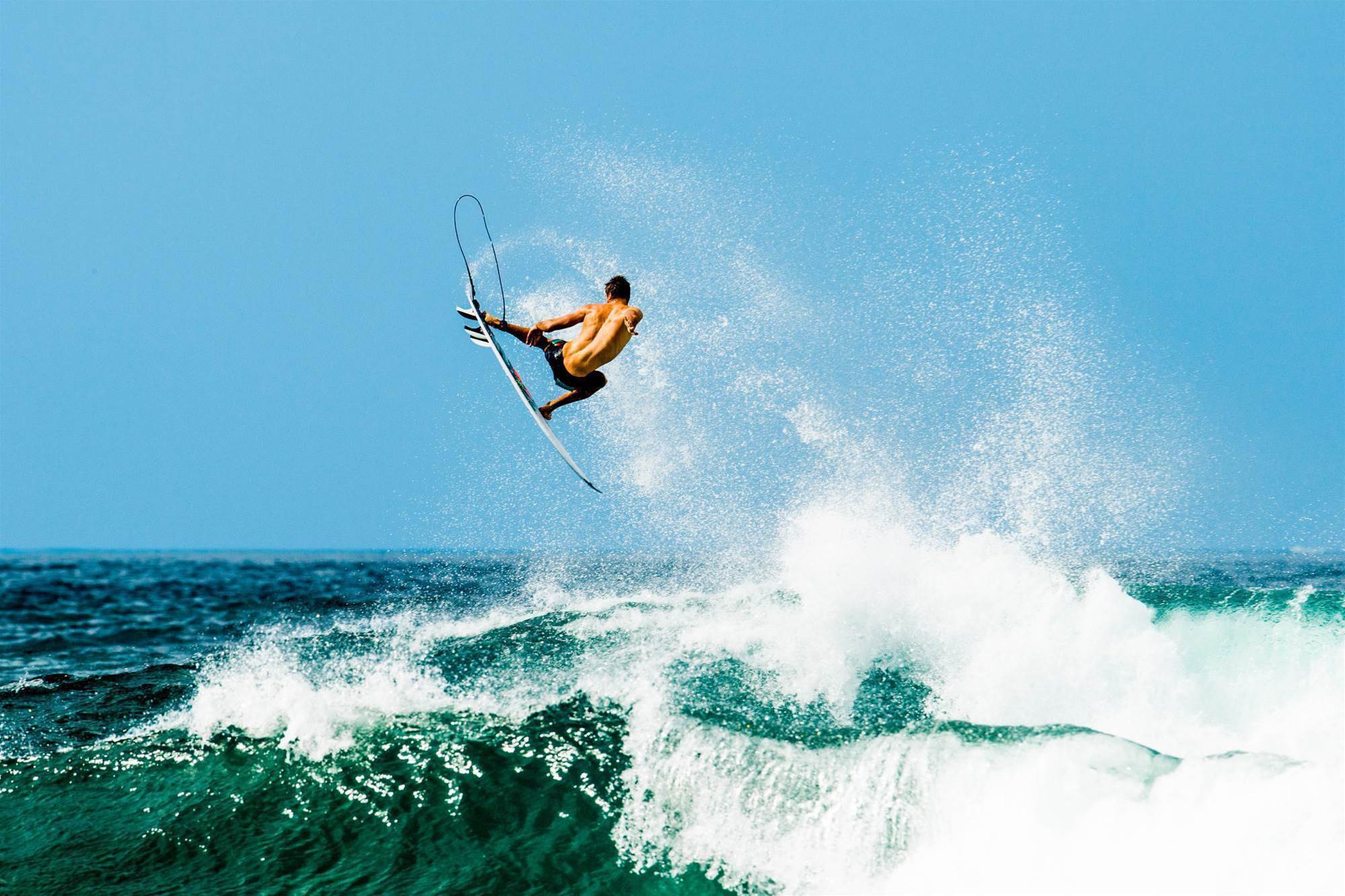 Ryan Callinan touching the sky on The Island of the Gods. Photo: Jack Barripp
But ....the swell remains constant and there are options away from the crowds if you are prepared to look further afield. The people are still welcoming and there is certainly a variety of great food and people to meet from all around the world. If you are single it still has an undeniable appeal.
From where I write in Bali, it's sadly time to go. Even though it's only modestly sized I'll paddle out for one last arvo surf. As the sun sets, I'll be making my way out in a mechanical right-hander with just a handful of guys out. Not big and only a beachie, but I'm in boardies as pinks and purples start to colour the sky. After one last wave it's back to the villa for a final meal at a favourite spot and a goodbye to some friends, and you can really feel just how special the 'new' Bali still is.
Bali has a way of bending light in the most enchanting way. Photo: Miller
It's easy to dismiss the new Bali as overbuilt, overcrowded and relatively expensive. However, if you look closely, all the ingredients that made it special in the first place are still right there. Taking in the weather, the smells, the smiles and the fauna, Bali still has a unique and seductive charm. Perhaps the joy it inspires is best measured by contrasting it with the steep adjustment one has to make to life when returning home, when the harsh realities of a mundane life kick in and winter's chill bites at your Bali-tanned skin.
Bali is clearly not exactly what it once was and will continue to change in many ways. However it's waves and culture still hold a special place in the hearts of surfers and it will always be a special place to visit.
Tracks