After seven, consecutive lay days, the Billabong Pro Tahiti commenced action today, and the world's best surfers unleashed a barrage of high-fi performances
| | |
| --- | --- |
| | After seven, consecutive lay days, the Billabong Pro Tahiti commenced action today, and the world's best surfers unleashed a barrage of high-fi performances |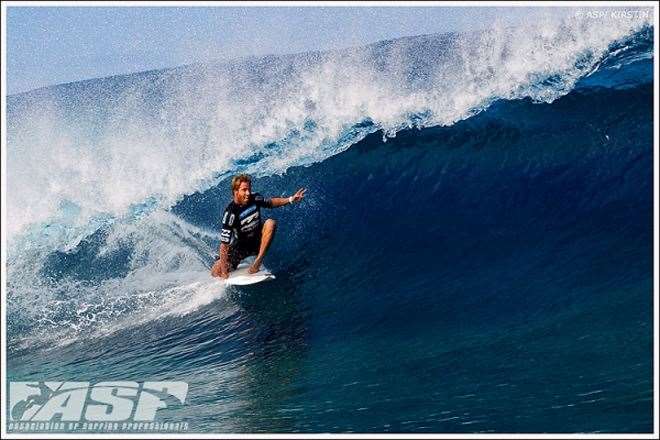 Aussie Blake Thorton wins his first heat of the year.
After seven, consecutive lay days, the Billabong Pro Tahiti commenced action today, and the world's best surfers unleashed a barrage of high-fi performances on glassy three-to-four foot (1.5 metre) barrels on offer at Teahupoo.
Stop No. 5 of 10 on the 2010 ASP World Tour, the Billabong Pro Tahiti completed Round 1 and the opening six heats of Round 2 today, bearing witness to interesting developments in the 2010 ASP World Title Race as well as the dramatics of the midyear cut-off.
Jordy Smith (ZAF), 22, current ASP World No. 1, finds himself in the driver seat in the hunt for the 2010 ASP World Title heading into Tahiti, and despite not being historically dominant at Teahupoo, the young South African's progressive repertoire proved enough to net him the win today.
"Definitely relieved to get through Round 1 out there," Smith said. "We haven't been doing too much on the off days. So it was tricky out there, but super excited to get through and start focusing on the next heat."
Smith opened his Round 1 account up with an incredible backhand Judo aerial, scoring a 7.60 out of a possible 10, and holding onto the lead to defeat C.J. Hobgood (USA), 31, and Manoa Drollet (PYF), 29.
"I knew that wave wasn't going to be much from the start so I had to do something special," Smith said. "There are actually some really amazing ramps out there if you can find them. It's just the landings that are challenging. Fortunately for me on that last one, I was able to land almost on the back of the wave and then bring it down."
Kelly Slater (USA), 38, past nine-time ASP World Champion and current ASP World No. 3, survived a close-fought battle against former nemesis and past three-time ASP World Champion, Andy Irons (HAW), 32, and wildcard Heiarii Williams (PYF), 23, to advance directly into Round 3. With the nature of three-man heats, the three backside tube specialists continually pushed one another up the point as they all netted solid scores.
"I actually blew it out there a couple times," Slater said. "I let Heiarii (Williams) get underneath me on the really good wave, but if I ended up hassling him, Andy (Irons) could have got it. It's unfortunate when there're not a lot of waves, and I was trying to play cat and mouse with those guys for most of the heat. Heiarii paddled me deep on every set, he got me on one, and then I was too deep on another and Andy got it. It was tough."
Dane Reynolds (USA), 24, current ASP World No. 4, rebounded from a Round 1 loss this morning to take out the highest heat total of the event, a 16.27 out of a possible 20, en route to his Round 2 victory over replacement surfer Tim Reyes (USA), 28. The young Californian's backhand tube prowess wowed judges and spectators alike as Teahupoo turned it on.
"We actually got a lot of waves and we were trading off a lot out there," Reynolds said. "It was fun. He'd get a good one, then I got an okay one. It was a lot of fun. I never like sending anyone home, but I don't like losing either. I guess I just like surfing. I could have ridden that last one deeper, but you can get greedy when it starts drawing up like that. You just want to stand here. If I had wanted to, I could have hung in the barrel a little bit deeper, but I was having too much fun."
Mick Fanning (AUS), 28, reigning ASP World Champion and current ASP World No. 6, suffered a Round 1 loss this morning, but rebounded in blistering form this afternoon with an impressive 15.00 out of a possible 20 to dispatch Trials Winner Tuamata Puhetini (PYF) and advance through to Round 3.
Taj Burrow (AUS), 32, current ASP World No. 2 and last year's event Runner-Up, suffered the biggest loss of the event thus far, going down to wildcard Manoa Drollet (PYF), 29, in Round 2 of competition.
"I started out doing turns but I don't think that was a good strategy," Drollet said. "Taj (Burrow) is so good at doing turns, so I tried to focus on barrels. Fortunately, the right ones came through and I was the winner. To do well here would be a very special thing for me."
While the usual suspects were standouts today, the ASP's midyear field reduction from 45 to 34 (Top 32 finishers after five events and two surfer wildcards) following the Billabong Pro Tahiti created some unlikely heroes throughout Rounds 1 and 2 as they battled for survival.
Marco Polo (BRA), 29, current ASP World No. 44, had failed to post an elite tour heat win this season prior to today, but caused the upset of the event, defeating two-time defending Billabong Pro Tahiti winner and current ASP World No. 8, Bobby Martinez (USA), 28, in Round 2 of competition.
"It has taken me all year but to do it in Tahiti against Bobby (Martinez) is so special," Polo said. "Neco (Padaratz) was in the channel giving me instructions. He was telling me to sit deeper, move this way, move that way, and I got that wave at the end that pushed me through. I'm so happy that I can keep surfing so I hope to do better in the next heat."
Blake Thornton (AUS), 25, also current ASP World No. 44, was another to post an inaugural win today, smashing his Round 1 heat with a 15.50 out of a possible 20. Despite the slow conditions, Thornton netted a backside bomb in the last minute to score a 9.00 out of a possible 10 and rocket from third to first and advance through to Round 3.
"Those boys (Reynolds and Whitaker) both got waves at the start but they were smaller," Thornton said. "I had a little score sort of two-thirds through the heat, but when it's this size, it seems like it's easy to get caught paddling each other up the point. Towards the end, I was fortunate enough to get that wave that pushed me though. It looked pretty quick but I was going no matter what. When I saw it back off, I was smiling. I was smiling in the barrel because it was just so pure. It tried to pinch me at the end and I had to sort of bust my way out. Really fortunate to get that wave and I'm stoked to get through my first heat."
Despite the possibility for surfers to fail making the midyear cut from today's action, everyone is still in the hunt to qualify for the Top 32. A full breakdown of ASP World Title Rankings possibilities, including the ASP midyear field reduction, for the Billabong Pro Tahiti are available at ASPWorldTour.com
When competition resumes, up first will be Taylor Knox (USA), 39, up against Jay Thompson (AUS), 28, in Heat 7 of Round 2 of the Billabong Pro Tahiti.
Event organizers will reconvene tomorrow morning at 6am to assess conditions for a possible 6:30am start.
Surfline, official forecasters for the Billabong Pro Tahiti, are calling for the current south-southwest swell to fade throughout tomorrow, with a small mix of south and southwest swell on offer for the end of the waiting period.
Highlights from today's Billabong Pro Tahiti will be available via http://www.billabongpro.com/tahiti10/
FUEL TV will be broadcasting the Billabong Pro Tahiti LIVE in Australia. Check out http://www.foxsports.com.au/fueltv for details.
BILLABONG PRO TAHITI ROUND 1 RESULTS:

Heat 1:

Damien Hobgood (USA) 10.07, Jay Thompson (AUS) 1.83, Kekoa Bacalso (HAW) 1.00
Heat 2: Luke Stedman (AUS) 10.33, Nate Yeomans (USA) 8.83, Jadson Andre (BRA) 4.40
Heat 3: Jeremy Flores (FRA) 12.16, Marco Polo (BRA) 5.33, Bobby Martinez (USA) 5.33
Heat 4: Blake Thornton (AUS) 15.50, Tom Whitaker (AUS) 12.00, Dane Reynolds (USA) 11.60
Heat 5: Adriano de Souza (BRA) 9.66, Tim Reyes (USA) 5.34, Roy Powers (HAW) 2.73
Heat 6: Joan Duru (FRA) 10.10, Bede Durbidge (AUS) 7.60, Kieren Perrow (AUS) 6.90
Heat 7: Tamaroa McComb (PYF) 14.77, Mick Fanning (AUS) 9.50, Adam Melling (AUS) 5.70
Heat 8: Jordy Smith (ZAF) 14.30, Manoa Drollet (PYF) 10.40, C.J. Hobgood (USA) 8.41
Heat 9: Tiago Pires (PRT) 13.66, Taj Burrow (AUS) 11.40, Tuamata Puhetini (PYF) 10.43
Heat 10: Kelly Slater (USA) 14.00, Andy Irons (HAW) 13.97, Heiarii Williams (PYF) 12.57
Heat 11: Adrian Buchan (AUS) 11.50, Dusty Payne (HAW) 9.03, Drew Courtney (AUS) 0.20
Heat 12: Owen Wright (AUS) 11.27, Brett Simpson (USA) 8.53, Neco Padaratz (BRA) 7.73
Heat 13: Fredrick Patacchia (HAW) 11.93, Matt Wilkinson (AUS) 11.46, Tanner Gudauskas (USA) 8.43
Heat 14: Michel Bourez (PYF) 13.23, Dean Morrison (AUS) 9.00, Mick Campbell (AUS) 5.43
Heat 15: Luke Munro (AUS) 14.03, Travis Logie (ZAF) 12.94, Taylor Knox (USA) 9.93
Heat 16: Ben Dunn (AUS) 10.87, Chris Davidson (AUS) 7.90, Patrick Gudauskas (USA) 6.92
BILLABONG PRO TAHITI ROUND 2 RESULTS:

Heat 1:

Manoa Drollet (PYF) 14.76 def. Taj Burrow (AUS) 12.33
Heat 2: Mick Fanning (AUS) 15.00 def. Tuamata Puhetini (PYF) 7.27
Heat 3: Heiarii Williams (PYF) 14.03 def. Bede Durbidge (AUS) 13.43
Heat 4: Dane Reynolds (USA) 16.27 def. Tim Reyes (USA) 12.50
Heat 5: Marco Polo (BRA) 9.84 def. Bobby Martinez (USA) 7.83
Heat 6: Nate Yeomans (USA) 12.73 def. Jadson Andre (BRA) 9.00
BILLABONG PRO TAHITI REMAINING ROUND 2 MATCH-UPS:

Heat 7:

Taylor Knox (USA) vs. Jay Thompson (AUS)
Heat 8: Chris Davidson (AUS) vs. Drew Courtney (AUS)
Heat 9: C.J. Hobgood (USA) vs. Neco Padaratz (BRA)
Heat 10: Andy Irons (HAW) vs. Tanner Gudauskas (USA)
Heat 11: Adam Melling (AUS) vs. Mick Campbell (AUS)
Heat 12: Kieren Perrow (AUS) vs. Travis Logie (ZAF)
Heat 13: Roy Powers (HAW) vs. Patrick Gudauskas (USA)
Heat 14: Tom Whitaker (AUS) vs. Dean Morrsion (AUS)
Heat 15: Kekoa Bacalso (HAW) vs. Matt Wilkinson (AUS)
Heat 16: Dusty Payne (HAW) vs. Brett Simpson (USA)
Tracks