A daily blog from Macaronis Resort in the Mentawai Islands.
| | |
| --- | --- |
| | A daily blog from Macaronis Resort in the Mentawai Islands. Byron Bays best unite. |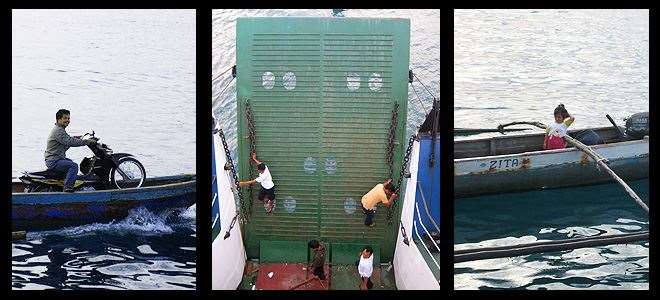 Delirious and damaged I come to you from the windy Mentawai Islands. Here at the Macaronis Resort on a special assignment to unite the cream of Byron Bay surfers and exploit their talent through the medium of a still photography. Sounds high tech and organised but things in Indo rarely reach such lofty heights. For some that's the lure, but for pro surfers it can be a major hurdle. Time schedules and the need to satisfy image hungry sponsors can sully paid wave riders time in amazingly exotic locations. But any complaints fall deservedly on deaf ears.
The logistics. Getting to this beautiful location has been a test of will, scent, stamina and mental stability. I'll get to the scent but it's the actual time in transit that breaks most. For the Bay boys – Danny Wills, Kieren Perrow, Garrett Parkes and Soli Bailey – it's a flight to Bali (or Kuala Lumpur), then a flight to Jakarta Java, then on another to Padang Sumatra, and then a 12-hour ferry ride to Sikakap. Lets talk about the ferry – chickens on first people second. Priorities are different in this part of Indo. Thus a sheltered snoz picks up on new and challenging scents. Something Danny Wills discovered when he attempted to shower in the rocking ship's toilet/shower cell. Lets just say he came out feeling a lot dirtier than when he went in. In fact there's a good chance he'll need some therapy. Long into the night sleep walkers and heat stress rained supreme and we counted the minutes till we made port…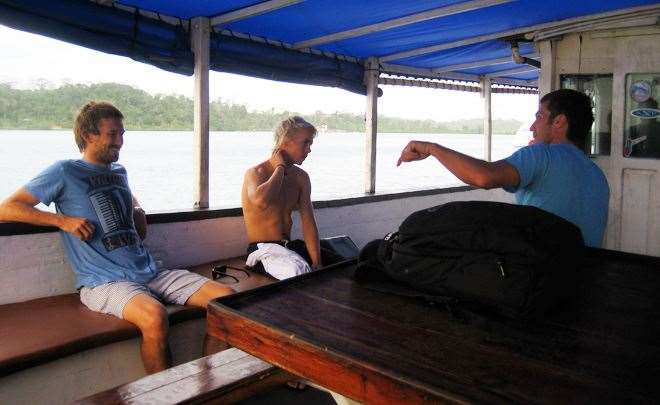 Kieren Perrow (L), listens intently to Danny Wills (R) tell his toilet horror story from the night before. Garrett Parkes seems shocked by the details. It's the first time the Byron Bay locals have been on a trip together and by the sounds of laughter omitting from them when they huddle together for chats a good sign things are going well.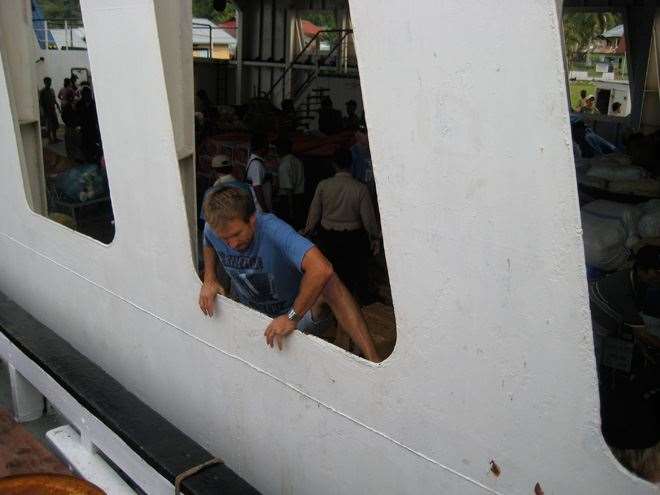 Continuing in the vein of doing things differently in Indo Kieren negotiates his ferry dismount with caution. A surfer like KP knows that ruining a trip with one false move in transit would be a nightmare. Ten-foot death pits no worries – boat jumping, scary.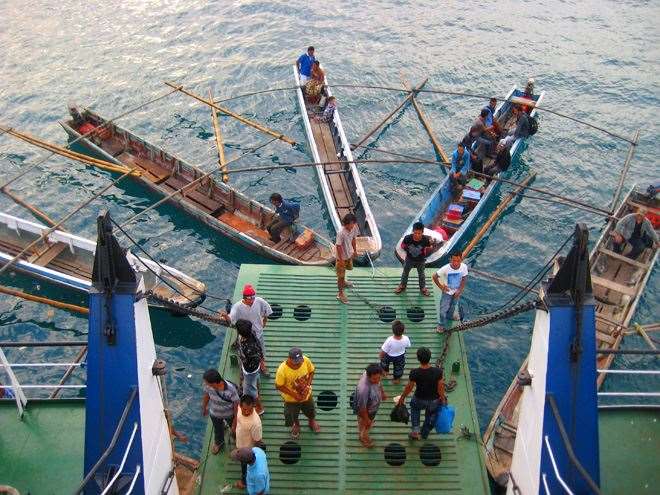 Village taxis move in for their fares. Like a cluster of spiders they manage to negotiate perfectly despite the obvious awkwardness of their canoes. Note: The heavy rear hunk of steel lowered down at the stern is what sinks ferries. If the winches malfunction (or break) at sea the ship sinks in 15 minutes. Sobering thoughts while crossing the Mentawai straight.
Tracks