On a mission to Greenbush things turn ugly, and stomachs are tested in the process.
| | |
| --- | --- |
| | On a mission to Greenbush things turn ugly, and stomachs are tested in the process. |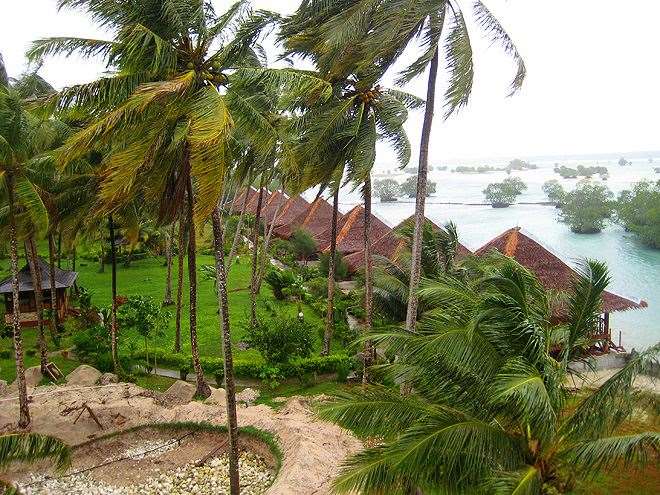 Mother Nature lays siege on paradise. Despite the weather canceling anymore surfing for the day her majesty was still marveled at. Winds and rain whipped the little Islands with fury and intent. Luckily no one was hurt and the only real casualty to the resort was a wooden umbrella ripped from it's footing. This shots taken from the look out tower above the restaurant/bar looking away from the break. The rain had eased but the winds were still on. Note: That's the soon to be finished pool in the corner, "Margarita anyone?"
Up at sparrows for the mission to Greenbush the boys congregated at the little jetty. Too describe this place as paradise would be unjust – it's better than paradise. Paradise is a place you take a loved one and sit around a pool – this place has all that (though pool is not yet complete) and more. Quintessential charm surrounded by natural beauty, Macaronis Resort is at times hard to comprehend. Perfect palm tree lined golden sand beaches filled with giant eatable fish and of course, and most importantly of all, one of the worlds most perfect waves just five minutes boat ride away.
Although for the Bay Boys this day was all about leaving the funneling perfection of Macaronis and chasing something a little more serious – The Bush.  If you've seen (or heard) anything about this wave you'll know that it has two crazy tube sections that run concurrently from a ledgy take off. Get a crazy one at Greenbush and negotiate safely through both sections and you can die a happy surfer.
Unfortunately our dreams were shattered early. As Kieren Perrow paddles hastily into the groomed line up of five foot spitters an ominous cloud band appeared over head. In position for the next set he was beaten to the punch by a raging devil wind and subsequent down pour. We huddled in the now wind blow chop of what could have been and talked of better days to come.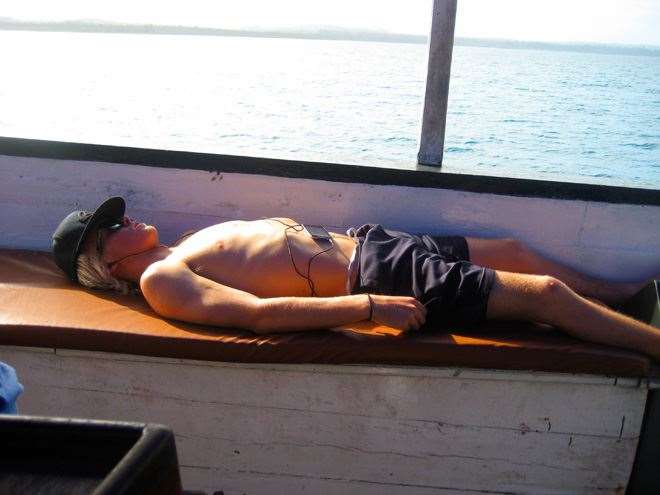 "Look at the horizon and not the bow", Garrett Parkes was advised. But it was too late. Although the storm had now passed and the seas had settled slightly, once you go Green on the way home from Greenbush – there's no turning back. To his credit Garret resisted hurling over the side which was a shame as cameras were ready.
Words and photos: Col B
Tracks