Six years into his music-making career Beau's finding his own voice a million miles from Hawaii.
| | |
| --- | --- |
| | Six years into his music-making career Beau's finding his own voice a million miles from Hawaii. |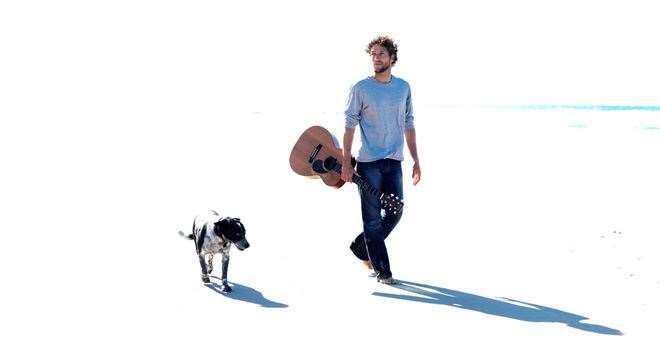 The
obligatory –
dude on beach with dog and guitar shot...
Beau Young may be another folksy, salt-scrubbed surfer/muso but he isn't pounding the shoreline in Jack Johnson's smooth-crooning, bubble-toed footsteps. Beau's an Australian, a World Champion, and the son of a surf icon for a start. Six years into his music-making career he's finding his own voice and it's a million nautical miles from Hawaii. Last week Beau launched his second solo album – On Step at a Time - at the Bangalow Hotel on the NSW north coast to a receptive audience. Jack Johnson was not in attendance.
Are you comfortable performing on stage?
I tend to be slightly nervous for the first few tracks; I usually play a few intricate fingerstyle songs first up. Playing difficult guitar tracks and not making mistakes gets rid of any butterflies.
I am used to playing live and feel really comfortable playing in front of a crowd. By the end of the set you find yourself completely letting go and ramping the songs up.
What have been the inspirations for this work?
This album was written mainly on the road. The inspiration has been purely living in the moment and the realization of just how lucky we really all are. While on the road I definitely had dreams of being back at home, so home was an inspiration along with travel and living this gypsy life out of a suitcase.
Beau on a big old board, doing a big old hack back... "Yarrrr!"
How much of an influence is your Dad? Does he support your music career?
Just like my surfing career Dad thinks that following your heart and dreams is the best way to go, so yeah he is all for my music career (although he never pushed me in either endeavor). I think I do have very similar viewpoints in a lot of the same areas as my father. We are best of friends as well as being father and son. It goes without saying we most definitely have similar ideas in relation to war, compassion and our natural environment. I have always looked up to him not just as a surfer but most definitely as a mentor to varying degrees through life.
Hypothetical: You organize a musical festival and invite any living band you like. Who makes the cut?
Neal Young, Bob Dylan, Clap Your Hands And Say Yeah, Lou Reed and The Velvet Underground, Tracy Chapman and Paul Simon.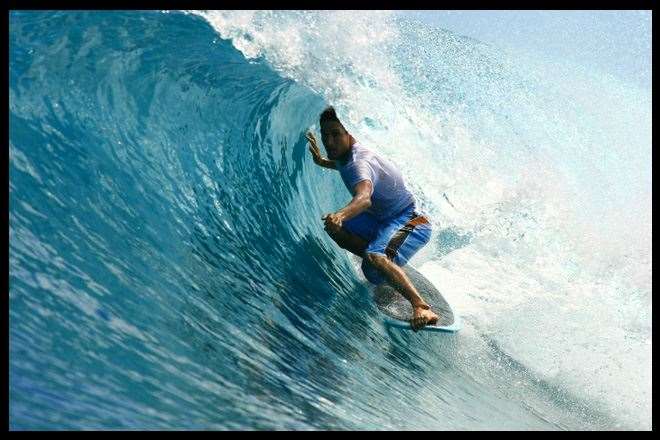 On a shorter board Beau throws toes on the nose in Indonesia.
The Jack Johnson phenomenon has it made it easier or harder for folk-rock surfer/musos?
Jack's success is a phenomenon. For me I think it can often make it harder to cut through all the similar music out there and get heard. You know you really just have to stay true to yourself and your own individuality and it will pay off. I really like Jack; he's a good guy and good friend. An amazing family man but due to his success I always try and make it very clear that just like Jack I play acoustic guitar and sing but I am at a complete other end of the spectrum for many of my tracks. All out Indy folk rock and if you're expecting another jackalike I'm not the guy
Where do you stand on illegal music downloads?
Geez that's a tricky one, if the stuff gets burned and people come to your gig its fine. If you have a burned copy that you enjoy and end up buying the album to check out the artist and what they're really about that's cool too. Hmmm, I'm not sure; in this day and age it's inevitable the music is getting downloaded illegally. It certainly makes things tougher for the smaller independent acts to keep creative.
See: beauyoung.net for tour dates.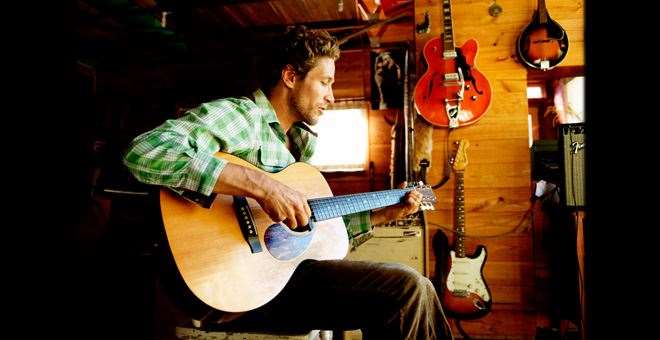 Beau at home amongst the tress of Byron Bay's hinterlands and his precicous guitar collection.
Tracks