Bede Durbidge has a reputation for being consistent, an underdog and a really, really nice guy. Not a bad rep at all…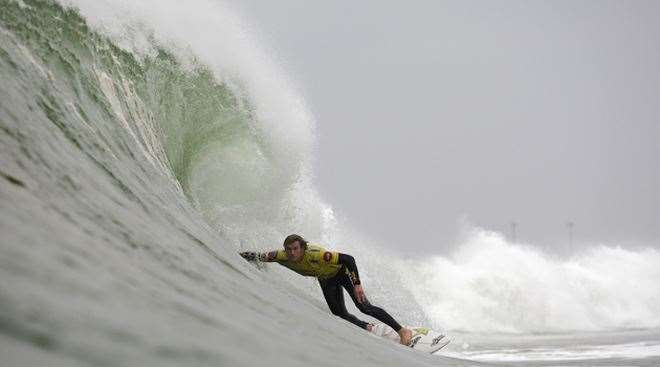 Bede finding his focus at The Rip Curl Pro Supertubos, Portugal. Pic: ASP/ Cestari

W

hether he likes it or not, World Tour surfer Bede Durbidge has a reputation for being consistent, an underdog and a really, really nice guy. Not a bad rep at all – but this description is only half of it. He's also a ruthless competitor, a fighter, father and clean living professional. Tracksmag.com spoke to the Queenslander about big changes to the ASP in 2012, beating a rut and the softer side of being a parent.
Hey Bede, what's doing?
I just trained in the gym with Wes (Borg), doing a bit before Hawaii and next year pretty much.
Is it like that? Once the world title's wrapped up, as much as you'll be trying to win Pipe, you've started planning for 2012?
Yeah, pretty much. I've had a bit of a rough year so I'm thinking about next year for sure.
There hasn't been an official announcement but the ASP will commence drug testing at the Quiksilver Pro in 2012, your thoughts?
I'm absolutely stoked about the decision by the ASP to start testing; it should've been brought in a long time ago. It's great. It's exactly what the sport needs; every other sport does it and if we want to take surfing to the next level we need it. Not that I think anyone is going to get busted – it's just good that the general public will get to see us as more professional.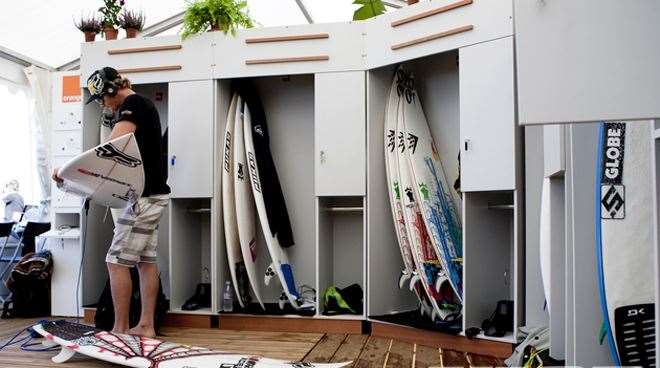 The added luxury of personal lockers has been welcomed by the top 36 ASP World Tour surfers. Pic: ASP/Cestari
Ten or fifteen years ago there would have been worries. But you think there will be a clean bill across the board?
Times have changed since back then, everyone's so professional now and it's so cut throat! There are so many good kids knocking on the door, and there are only 36 guys now – every heat's so intense, you don't have time to party. Everyone wants to achieve his or her goals and stay on tour... everyone's an athlete now.
Did having a baby soften you up a bit this year?
Yeah, for sure. I've spoken to a few people about it, and it's because of all the new emotions... And I'm definitely not as selfish as I was before. But now, the longer I've been with the family I'll be better able to prepare for heats. At the start I was getting a bit lost in my heats and not as aggressive as I usually am. Now, I've worked that out and I can properly prepare before paddling out instead of just going out and hoping to do well. Get that fire back. It's all about attitude in professional surfing. It's like football teams, sometimes a team can just not turn up (mentally), and even though they may be the better team on paper, they'll get beaten. You've got to be more determined then the other bloke or team I guess.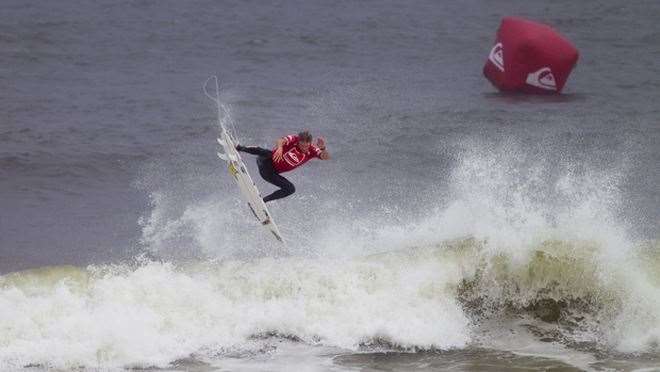 A moment of Bede brilliance in New York. Pic: ASP/Cestari
Apart from trainers and sports psychiatrists the other person you'd have to speak to would be your wife. You need her to let you put the blinkers on and focus at times?
Definitely. We were so stoked to have our little daughter, Willow, and travel and all that, but then I fell into the rut. We had to have a little talk about it and she knows that to do my best competing I need to be really fired up before a heat. And I kinda wasn't doing that – and now she's like, "do what ever you gotta do to get that aggression back." And now I feel I've got that killer instinct back and I know how to prepare right, even if my family is there with me.
Like Julian Wilson getting rid of his entourage and winning the six star Prime event in Portugal, sometimes you have to tough it out to get that needed tunnel vision?
It's good to have a balance. When you do go away by yourself you have more of a single purpose, you're not there for a holiday as well. You're going there to get a job done. You don't want to rock up and be beaten.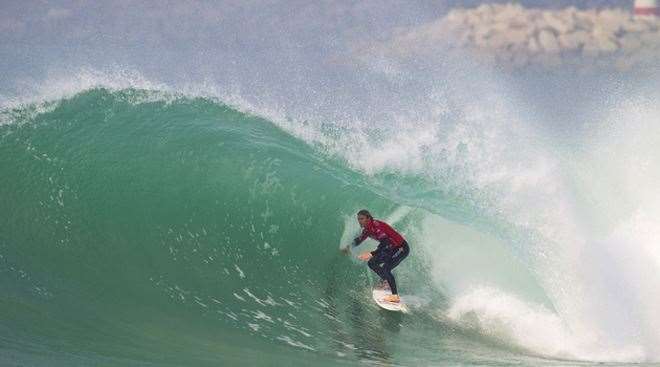 Combining two loves; getting barreled and doing well in competition. Portugal. Pic: ASP/Kirstin
Despite the three disappointing 25th place finishes, you still had two thirds and two ninths, which is nothing to be scoffed at?
I still had a couple of events where I felt like I surfed good, but I did have a bit of bad luck – sometimes you just get in a rut. And then you start questioning yourself, but you just got to find a way out and get back to basics. Lucky I did just that in Portugal [Bede finished third].
Damien Hobgood, who's four years older than you and one place ahead of you on the rankings, survived a tough year but is back?
I look at guys of Damo's calibre and heaps of them have had one rough year, and if you can just get through that you can iron out those mistakes and get back on track and start doing well again.
You've finished top six for four years running, including a runner up in 08 I don't think any one drawing you will be thinking they can take it easy?
When I was having that bad trot people were probably stoked to have me [chuckles], but then I got out of it in Portugal where I had some big heats and got my mojo back. Hopefully they're thinking they don't want to draw me again after that.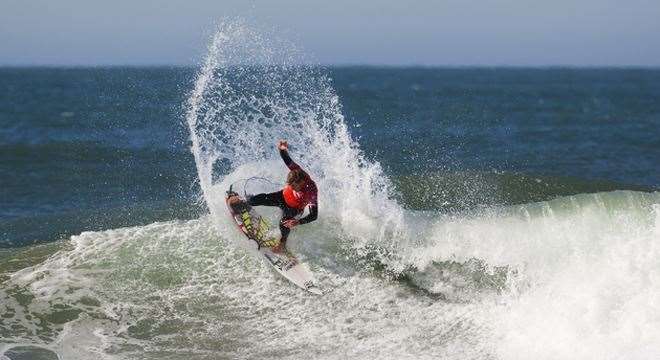 A frontside re-entry tried and tested on the long right hand points of Queensland's Gold Coast. Pic: ASP/Kirstin
You're off to Hawaii, what boards will you be riding there this year?
I'm still riding Mt Woodgee, and I'm going to get a couple from Hawaiian shaper Erik Arakawa. But as always most of my boards will by Wayne McKewen at Mt Woodgee.
No triple crown for you? Why?
I'm not doing the triple crown this year, the back half of the years been so busy that I've decided to cruise at home for a bit instead. I'll fly over on the second of December, one week before Pipe. Focus is on doing well at Pipe, have a break and then get ready for a big year in 2012.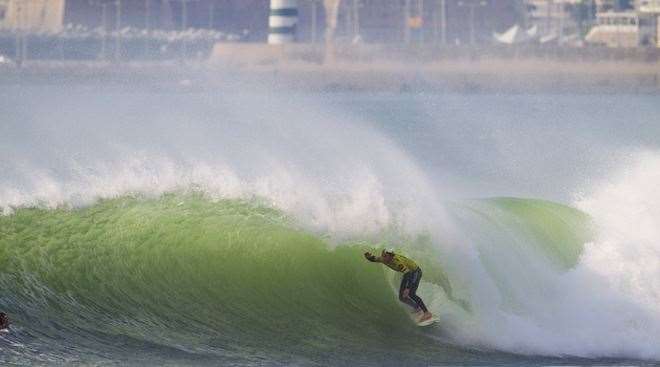 At home in the oval office, again, Portugal. Pic: ASP/Kirstin
What were your thoughts on the World Title point's debacle and subsequent resignation of ASP CEO Brodie Carr?
It was wild. I could not believe they miscalculated it; it wasn't the best thing for surfing. But everyone makes mistakes. Luckily Kelly won it in his next heat and everyone forgot about it pretty quick.
Randy Rarrick, who runs the ASP events in Hawaii, was quoted in The Australian, as saying, "I came out of this board meeting sorry for Brodie but more positive than I've ever been for the sport." 2012 looks like it could be a good one for the ASP World Tour?
It's going to be insane. We've had a good year this year with waves, next year we have Fiji back on the schedule and we'll have a new CEO too. Having Fiji back is awesome; everyone is absolutely stoked about that. It's my favourite comp and I'm sure it's close to being everyone else's too.
Thanks for talking to Tracksmag.com Bede and good luck.
Thanks.
Tracks