Hack them off & stir the pot.
| | |
| --- | --- |
| | Hack them off & stir the pot. Wave-sliding towards a fins-free future with Tom Wegener. |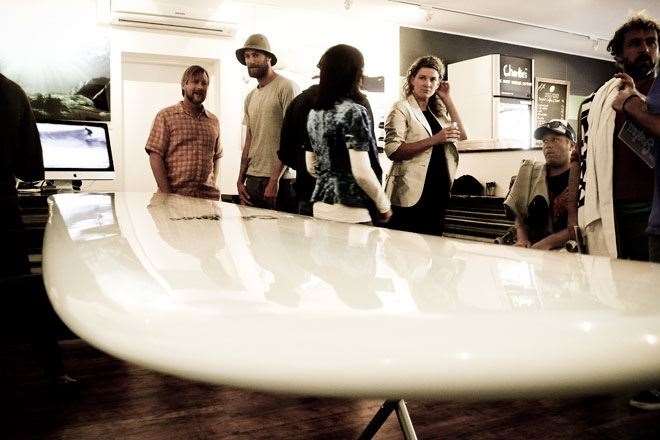 Surf media attempting to figure out the inner workings of finless craft. Pic Ben Bugden

Somewhere in Tom Wegener's shaping bay one imagines there must be a boiling pot filled with discarded fins. No, Tom is not an unethical fisherman; he is a contemporary interpreter of ancient surf craft. Over the last few years Tom's versions of original Hawaiian boards have been much sought after by the beatnik surfing fringe that subscribe to The 'Ride Anything' philosophy of wave-riding. Amongst this crowd, mastery of a Tom Wegener wooden fin-less alaia has been something of a prerequisite. Rasta and Machado between them for example have proved them to be functional everywhere from pitching Pipe to Noosa's more gently sloping endless walls. Art House surf flick, The Present even devoted an entire section to alaia surfing.
The regular alia is a thin slither of wood that in shape most closely resembles an ironing board. Achieving a level of competency on the craft has never looked easy, particularly given the fact they paddle like a sinking plank of wood. However Wegener, in association with board manufacturing giant Global Surf Industries, will soon release a fibreglass version of the alaia that is designed to make fin-less wave sliding way more accessible to the average surfer. Under the banner of 'The Seaglass Project', Wegner has produced a board, which marries an ancient Hawaiian concept with modern materials and design nous. Dubbed 'The Tuna', the board features gentle curves, hard rails and a flat rocker profile. All elements have been configured in such a way as to make the board easy to paddle and capable of gripping to the face of the wave without fins. " Think of the way a rubber tube hugs the water when you pull it behind a boat," suggests Wegener,
" That helps explain the way the board works."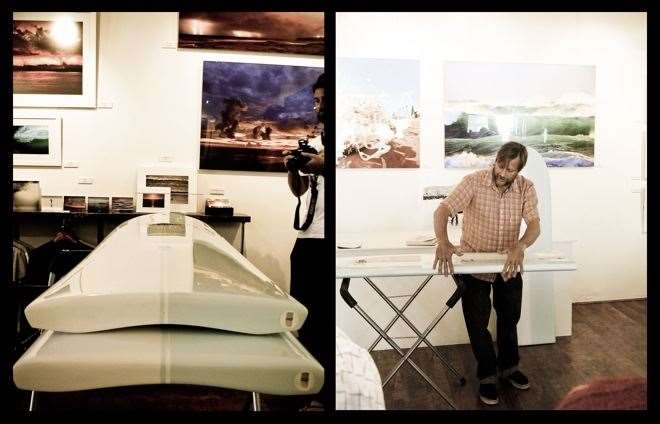 Tom Wegener explaining the curves and concave combination that will have you chucking your fins. Pic Ben Bugden
Cynics may fear a lineup filled with out of control kooks attempting to ride finless boards before they can manage a functional cutback on a thruster, while purists will no doubt rage against the design, declaring the fibreglass alaia a sacrilege. However there is no doubting the sheer simplicity of the skeg-free fibreglass designs has a certain appeal, not to mention the fact that the boards can reportedly achieve speeds well beyond those of a regular board. No fins equals less drag and therefore greater acceleration.
Riding waves is largely about feel and Wegener's design certainly presents surfers with the opportunity to experience a new sensation, or at least an old one made new. For his part Wegener welcomes whatever challenges are thrown down. He's also particularly interested in whether or not his boards may inspire a whole new genre of manoeuvre jargon. Is a spin or tail slide on a fins free board simply that or does it warrant a new labelling? You certainly couldn't call it a finner. "I'm eager for people to come up with new names for what we are doing on waves," enthuses Tom. " Hey, I'd even like to see a debate about what qualifies as a finless board. Some of the so-called finless shapes around have fin-like ridges. I watched Derek Hynd and Heath Joske argue over that one night. It was pretty funny." Joske and Hynd are two of the more recognised exponents of fin-less craft and both have spent time refining their respective models. No doubt Wegener's design will stir the board-fin soup a little.
No one in the Tracks office has had a chance to ride a Tom Wegener 'Tuna' or 'Mini Tuna' yet, but when they arrive in a couple of weeks we'll be sure to let you know exactly how they taste.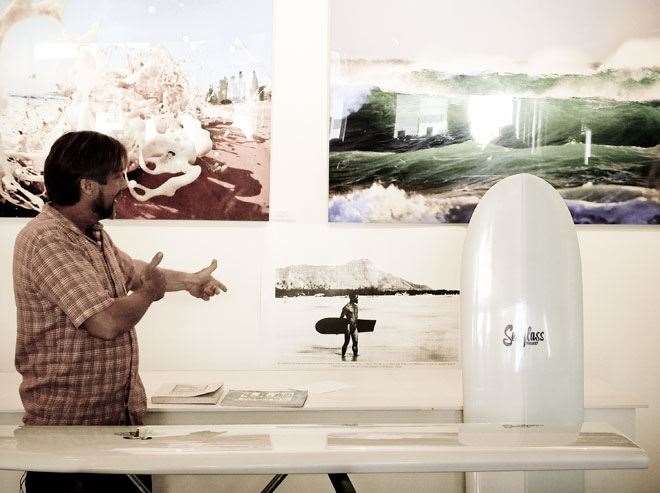 Tom Wegener taking surfboards well and truly back to its roots. Pic Ben Bugden
Tracks