How Mark Richards used two fins to claim four world titles.
After competing on the fledgling Pro Tour in 1976  Mark Richards stayed on in Hawaii for the winter of 76/77 to surf more and shape alongside master craftsmen, Dick Brewer. Richards was bitterly determined to come up with a board design that would make him a serious contender. Below MR explains how the twin fin that powered four world titles begun its life as a cardboard outline pinned to his bedroom wall.
"... That shaping session with Brewer re-sparked my interest in twin fins because I explained to Dick Brewer how good the little Reno inspired board went when it was small and then I spoke to him about the boards I was riding at the time.
I said I was really frustrated. I've got this incredible little twin fin that goes great when the surf is tiny. I've got a narrow single fin that goes well when the surf is good but none of the contests are held in either-or; it's kind of something in between. He just gave me a kind of quizzical sort of look and basically, the look said it's not rocket science you just design a board between the two. Try and take the best aspects of those two boards and find a happy medium between the two. That's what got me thinking about how do I do it.
The whole motivation was that I wanted to win ... It was basically driven by a competitive desire to come up with something I felt I could really achieve a competitive potential on.
By some kind of miracle because I didn't race home from Hawaii and shape one straight-away. A ton of thought went into it prior to shaping the first one. I was living at Hunter Street in Newcastle on top of the surf shop. Most of the templates were actually up in my bedroom and not down in the shaping bay. A lot of it was done on a big piece of cardboard on a table in my bedroom – just drawing the nose and tail curves of various width and thicknesses. I had half of the wall in my bedroom painted black with a nail in it and I would basically just pin up a template and lay in bed and keep looking at it and thinking 'no, the tail looks too narrow or the tail looks too wide' ...
The twin fin features on several waves in this clip from 'Free Ride'   
I got the outline I wanted on cardboard and I was happy with it. Then the foil was just what was being done in that era. It was like a flat deck, quite full in the rail and then the full, beak nose. I think at the time Brewer had made me a double-winged stinger and I thought I needed a wing in the tail just to reduce the tail area because I remembered the early McCoy twin fins were a little bit slidey. I thought if I gave it a wing in the tail and narrowed the swallow that would really give it more holding power. And then I went for a hard-sanded edge nose-to-tail ... I just knew that I had to have a hard edge to try and have some holding power and the other thing I knew was that it needed a radically deep vee bottom so that the thing would go from rail-to-rail really easily. The original board was 6'4" 21 inches wide and 2 7/8 thick. I put a half-inch deep vee in the tail and the vee actually finished 12 inches from the nose. It ran right through the bottom gradually disappearing. The other thing I did was sort of put a concave flute in the wings to try and turn the wing into a semi sort of fake fin to give it some bite on that wing.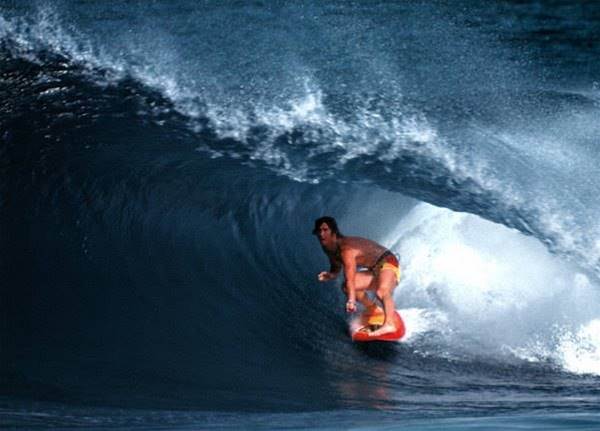 MR employing a little front-foot shuffle on the Free Ride twinny.
The red, white, and blue fins were made from a fiberglass skateboard deck. Amazingly the decks were the perfect thickness to foil a fin from and I managed to fit the 2 fins in between the truck holes to cut them out.
MR with his revolutionary 1977 Free Ride twins.
I spent days spraying the board with the Vees on the deck and the arcs on the tail and the star. I'd lay down and tape and draw the MR letters and then I'd cut it out with a razor blade. I probably got as much enjoyment out of doing the colour designs on them as I did shaping them. It was a really creative thing to do, particularly when you were trying to dream up something that was a little different from what other people were trying to do. Luckily I got the first one right and it went great.
That's the whole thing with successful surfboard design; there's a whole bunch of reasons why something comes together. Someone doesn't just wake up one morning with a light-bulb moment. I think it's various things that make it happen. For me it was just the search for a board that I thought I could win on in 3-5ft sloppy surf, which was mostly what we got dished up in all the events outside Hawaii. I think it would be pretty easy to say that if I hadn't been a shaper and the twin fin thing hadn't happened the way it did then there's no way I would have won those four world titles. There's no question they were twin- fin powered. And if I hadn't of spent that time with Brewer and that comment he made that planted the seed in my mind hadn't of happened and if for some reason during that Coke contest in 1977 at Narrabeen the surf had been big for the whole event and Reno hadn't pulled out the little fish then it may not have happened either."
Tracks