30-year-old Kobi Graham of Bronte has his neck broken surfing Australia's most dangerous wave.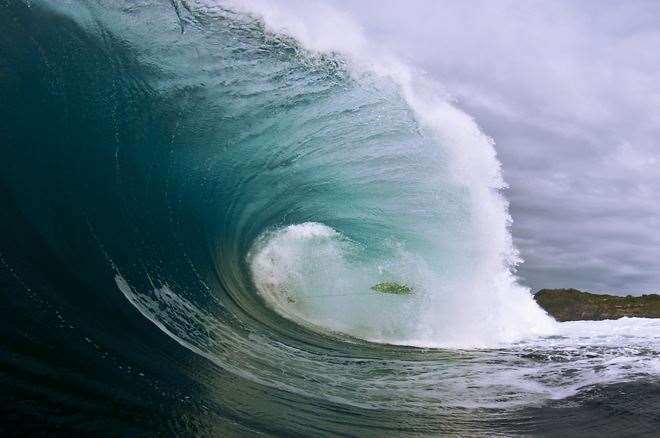 Moments before impact Kobi Graham suspened in animation with his back to the wall. All Pics: Morris
On Sunday afternoon around 3pm, in strong 6-8 foot ESE swell Bronte's Kobi Graham was driven head first into the reef at the notorious Cape Solander break, Ours. Suffering serious neck injuries 30 year old Kobi  – who was among a select few charging the death slabs – is lucky to have survived.
Breaking a mere ten metres from the rocks Ours is not for the faint of heart. Kobi however lives for this type of surf and is well known for his big wave surfing. His feats include a close second place behind Mark Mathews in the Oakley Big Wave Awards for a monster wave caught off Tasmania's Pedra Branca.
On Sunday he'd been charging the meaty barrels for most of the day with tow partner John "Bones" Dwyer in an unusually sparse line up. As you can see by the featured photo above he went down in spectacular fashion fly-papered to the wall before being sucked over. Photographer Billy Morris figured it to be just another heavy wipeout, "I was swimming in the channel shooting. I thought he'd be okay. It was a heavy wipeout, but they all are out there."
Unfortunately for the Bondi Rescue lifeguard it was even worst than it looked. He'd hit his head hard and knew he was in trouble. Once by Kobi's side Bones screamed out to Billy to come and assist. Billy was quick to respond and when he'd reached the ski Kobi had amazingly got up onto the sled. "I've broken my neck Billy!" He chillingly told Morris.
With calm heads the three checked that Kobi could feel and wriggle his hands and feet, the trio coming to the conclusion that his spinal cord was intact. Next stage of the rescue was getting Kobi safely to Kurnell boat ramp and into the hands of medical professionals.
Secured to the sled the three slowly motored around the heads and flagged down a passing boat to drive in front of them to offer smooth passage. The flagged boat was able to call ahead for an ambulance. 25 minutes later Kobi was on the beach and being treated by ambulance officers before being airlifted to Royal North Shore Hospital. Staff at the Hospital concluded both Kobi's C6 and C7 vertebra had been broken and surgery is required. The stunned staff also removed a barnacle from his head.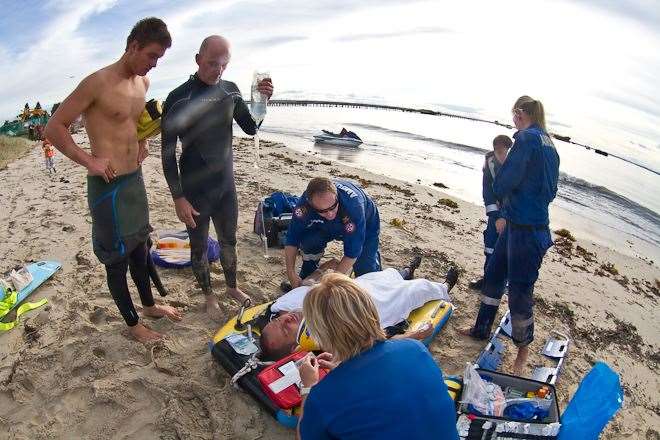 Perth Standlick (L) and Bill Morris (holding drip) watch Kobi get stabilized by ambublance offices at Kurnell.
At the time of writing Kobi was still waiting for the specialist surgeon to operate.
Tracks wishes him all the best for a speedy recovery.
Tracks