Parkinson forced to pull out of the Fiji Pro.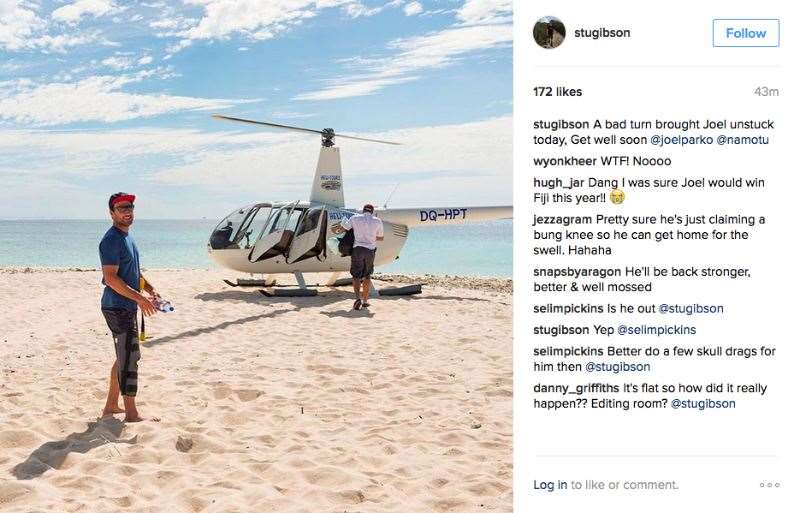 Image via @stugibson
This morning, former world champion, Joel Parkinson, was injured while surfing Cloudbreak.
 News broke on Instagram showing Parkinson in a knee brace about to board a helicopter for treatment on the mainland. At this stage it is not clear how Parko was injured.
Tasmanian photographer Stu Gibson posted: "A bad turn brought Joel unstuck today, get well soon @joelparko".
While Namotu – the island which Parkinson choses to stay at the Fiji Pro wrote:
"wishes for a speedy recovery to @joelparko! Bye bye sad to see him leave after not even 24 hrs in Fiji".
Joel later dropped a video post on Instagam saying: "Not the way I wanted to leave Fiji ... I wish all the boys the best for the event and I hope @namotu boys have a blast for @tajamos last contest."
Tracks has reached out to Joel, Namotu and photographer Stu Gibson for further comment.
More details to come.
UPDATE:
Photographer Stu Gibson told Tracks that conditions were only small at Cloudy when Parko's injury occurred.
"Cloudbreak was only 2ft. He's torn ligaments in his knee and had no choice but to go home."
The injury has forced Parko out of one of his favourite events on tour and opens up a wildcard spot to be determined by WSL Commissioner, Kieren Perrow.
The most likely candidate appears to be highest ranked QS surfer, Leo Fioravanti. The Italian took out Kelly Slater and reigning world champion Adriano de Souza at this year's Margaret River Pro to secure a fifth place finish.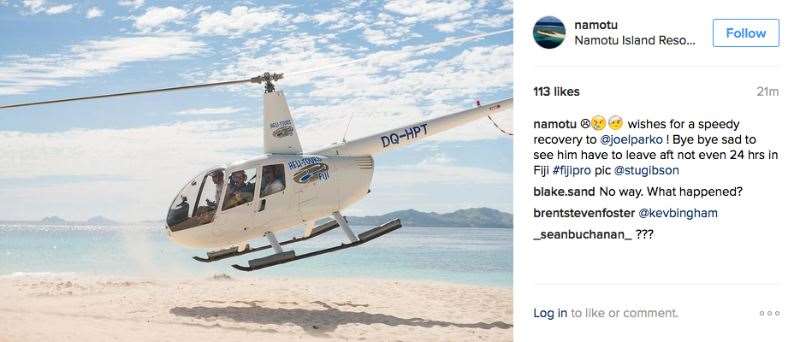 Image via @namotu
Tracks