Power and precision pushed Bronte over the line with a first place victory in the South NSW round of the Jim Beam Surftag Series.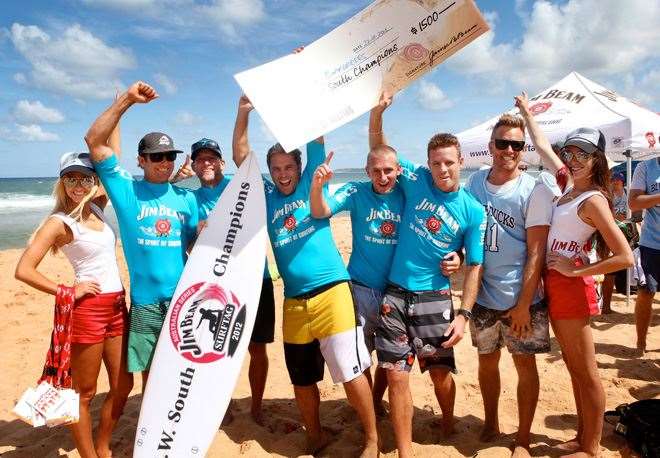 To say the Bronte boys were happy with their win would be a major understatement. Pic Wes Lonergan
Tom Whitaker and Ryan Clarke were superb as their power and precision pushed Bronte over the line with a first place victory in the South NSW round of the Jim Beam Surftag Series.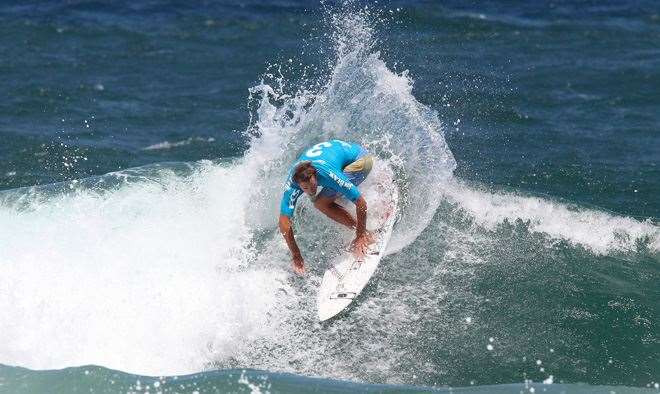 He has done the WT solo thing for years, but loves nothing more than rollin out for team Bronte. Pic: Wes Lonergan
The final was the most exciting surfing of the day as Bronte, Bondi, North Steyne and Curl Curl went neck and neck for the title. The beach banter between Bronte and event debutants Bondi caused an intense show in and out of the water, which has spectators on their seats.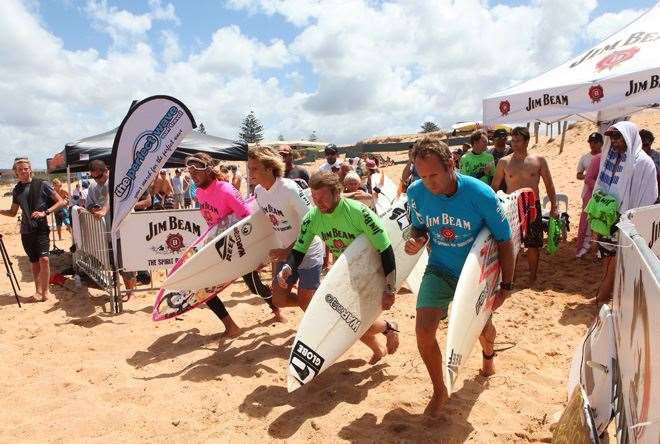 The final gets underway with Bondi's (?) Wilko (far left), in disco tights and goggles – as you do. Pic: Wes lonergan
"Weve been trying to bring the chanting and singing to the event for the last 3 or 4 years and its great that the other teams have joined in, it's all good in nature and that's what the event is all about – bringing the clubs together", said ex WCT surfer Tom Whitaker.
"Our normal strategy was to stick a little bit wider and everyone join us in the final, with every surfer having a really strong power wave the 5th surfer had to be very tactical and it was down to the wire in the end".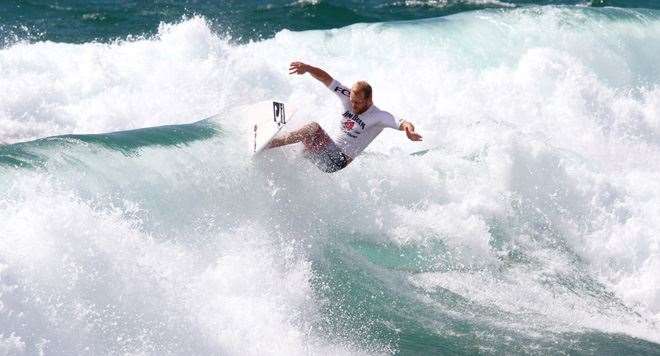 Big wave charger Mark Mathews puts one up for his beloved Maroubra. Pic: Wes Lonergan
"I've been surfing and travelling with guys like Parko and Fanning for ten years but for the guys in the boardriders clubs who haven't, it's such a great feeling to paddle out and surf against them, the finals in Ballina will be really exciting next month", said Whitaker.
Ex WCT surfer Tom Whitaker nailed a massive 9.17 (out of a possible 10) wave in the final, not only boosting Bronte's winning score but winning the Jim Beam Black Power wave.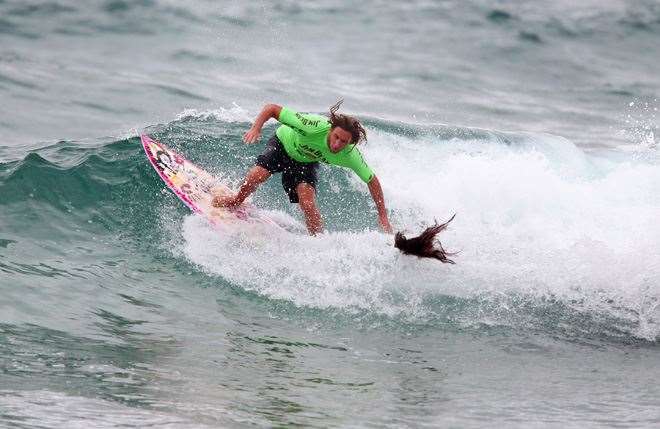 This is the exact moment Wilko officially wigged out. Pic: Wes Lonergan
Coming down to the wire with each club's fifth and final surfer, every wave was crucial and it was Bondi Lifeguard Ryan 'Whippet' Clarke surfing for Bronte who brought it home for the club with a 13.84 sealing the victory with a final tally of 97.43 for the club.
Whippets Bondi buddies were close behind in their first ever Jim Beam Surftag event. An impressive debut by anyones standards, the support for Wilko (Matt Wilkinson) and the team drove them to an inch of securing the title, placing second with a very impressive 91.09.
Posting the highest score of the event and winning a boat trip to the Maldives care of The Perfect Wave Travel Co, was Perth Standlick with a 28.87.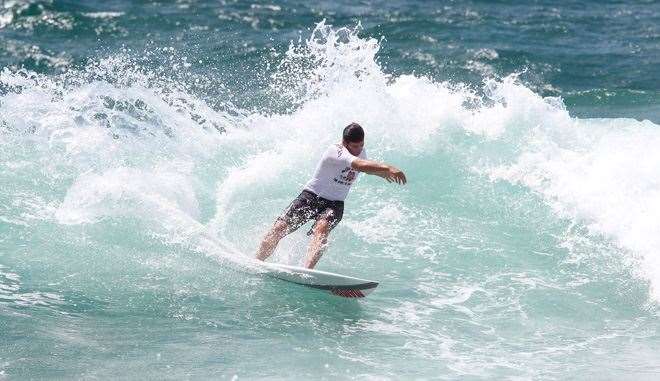 Dayyan pushes real estate for a living nowdays, but will push water too if Nth Steyne require's it. Pic: Wes Lonergan
North Steyne beat Bronte earlier in the semis and the win fuelled the impressive surfing from former WCT surfer Dayyan Neve, keeping them on Bronte and Bondi's heels till the dying minutes, placed third with 88.86 points they will challenge today's finalists again in the National final next month in Ballina.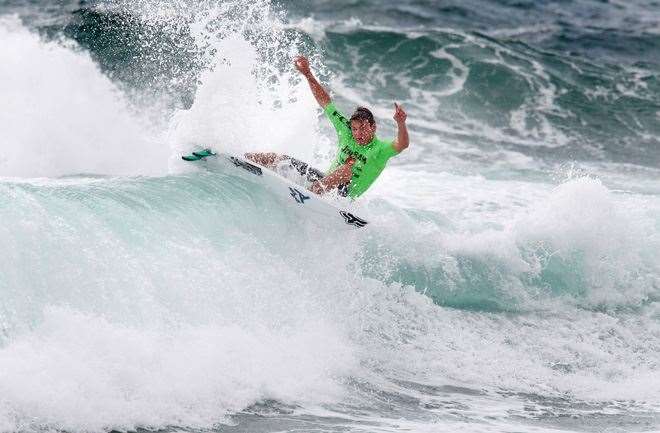 Bondi's wonderboy, Perth Standlick, lived up to his name scoring the highest heat total of the event. Pic: Wes Lonergan
Along with Bronte, Bondi and North Steyne is finalists Curl Curl who placed 4th, Cronulla Sharks Boardriders, Ulladulla, Queenscliff Boardriders Club and Maroubra, who all qualify to the Jim Beam Surftag Australian Championships at Ballina Feb 21-23.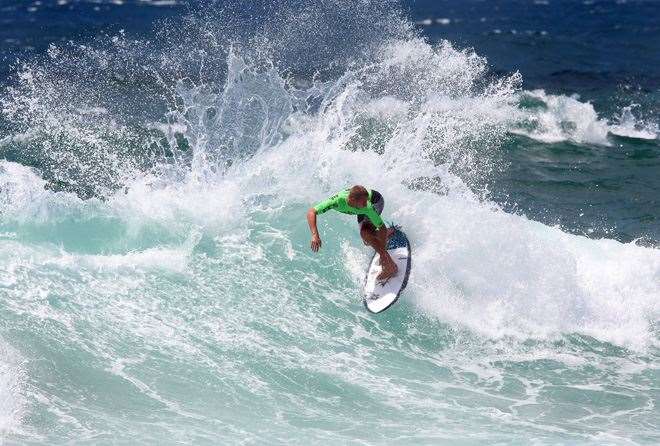 Great shot of Bronte's Caleb Reid giving the Narra left a stylish touch-up. Pic: Wes Lonergan
A mammoth thirty clubs from the NSW South and Sydney Coast compete in the tag team format, which pits teams of five surfers against each other in one-hour heats. Each surfer has 12 minutes to catch three scoring rides with their second wave score doubled as a 'powerwave'.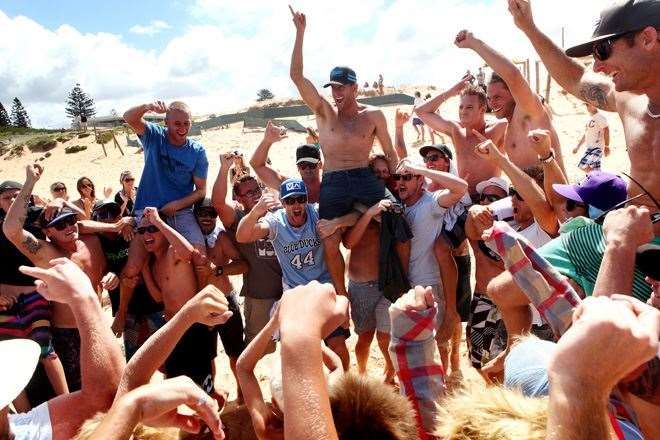 Bringing team songs and chants to team surfing – Bronte making it fun for everyone and WINNING! Pic: Wes Lonergan
The National series is Australia's largest team surfing competition featuring a combined prize pool of over $130,000. The Jim Beam Surftag Australian Series provides a national competition for over 80 boardriding clubs to determine Australia's No.1 club.
The 2012 Jim Beam Surftag Australian Series is supported by FCS, Tracks and www.theperfectwave.com.au

The 2012 Jim Beam Surftag Australian Series is a supporter of Surfaid International www.surfaidinternational.org
2012 Jim Beam Surftag Schedule:
October 21 – Surf Industry Challenge – Winners – O'Neill
October 22 – Trade Off – Winners – The Labourers
November 19 – WA Championships – Winners – Trigg Point
December 3 – VIC Championships at Gunnamatta - Winners – Phillip Island
January 7 – NSW North Championships at Newcastle
January 14 – QLD – Winners - Snapper at Duranbah
January 21/22 – NSW South Championships at North Narrabeen
February 5 – Women's Championships at Curl Curl
February 21 – Boardriders Cup at Ballina
February 22/23 – Australian Championships at Ballin
Tracks