Why Burleigh's mind-melting single fin classic made me question everything.
The feeling was unanimous and the Core Lords were leading the call. Parko claimed it was the "funnest contest I can remember doing." Paul 'Antman' Patterson said it warranted a fully-fledged Single Fin Triple Crown (made up of events at Burleigh, Yallingup and Uluwatu). And Brendan 'Margo' Margieson - whose son Micah was a revelation in the event - said it showcased talent across the generations unlike any event he'd seen.
Come the final hooter of the Burleigh Single Fin classic it was obvious. Surfing must re-discover its roots. It must embrace the single fin and it must continue the traditions that got us here in the first place.
Just like the original Stubbies – the crowds turn out for the Billabong, Burleigh Single Fin Classic. All Photos Swilly
Having spent three years covering the ASP World Tour in the late naughties, I'm well positioned to say the World Tour is not the be all, end all of competitive surfing. Contests can be so much more colourful, stylish, and entertaining than what the Tour has the power to demonstrate and this weekend's Burleigh Single Fin event is the perfect model.
In the final I watched Parko and Jay 'Bottle' Thompson, two classically trained point break specialists, go blow for blow on the outside bank, melding the deepest of bottom turns with brutal gouges and re-entries, and it all seemed brand new again! I watched lesser known style masters like Harrison Roach rack up near perfect rides for a sublime combination of tube rides, high-lines, soul-arches, hacks, gouges, floats and re-entries.
Harrison Roach jamming on his single fin.
I watched juniors like Micah Margieson, Dakoda Walters and winner, Hinata Aizawa blend warp-speed, thruster-honed, teenage reflexes with the rhythm and flow a single fin demands. I saw surfing in the women's division that was stylish and elegant in a way only a woman on a single fin could do.  I saw Tom Carroll throw himself near-upside down in the Heritage Heat with a backside reo to closeout bash that was probably better than anything he managed as a competitor in the original 1977 Stubbies Pro (won by Michael Peterson) held on this very headland. And that got me thinking.
A large part of the weekend was spent eulogising and romanticising the '77 Stubbies event held here - the characters, the fashion, the boards, the surfing - as if it were a dead relative. It was a Golden Age, to be sure, but why should it be buried in time? There is nothing ironic about riding single fins on down-the-line waves. They're as valid, if not more, than anything being done on the World Tour right now.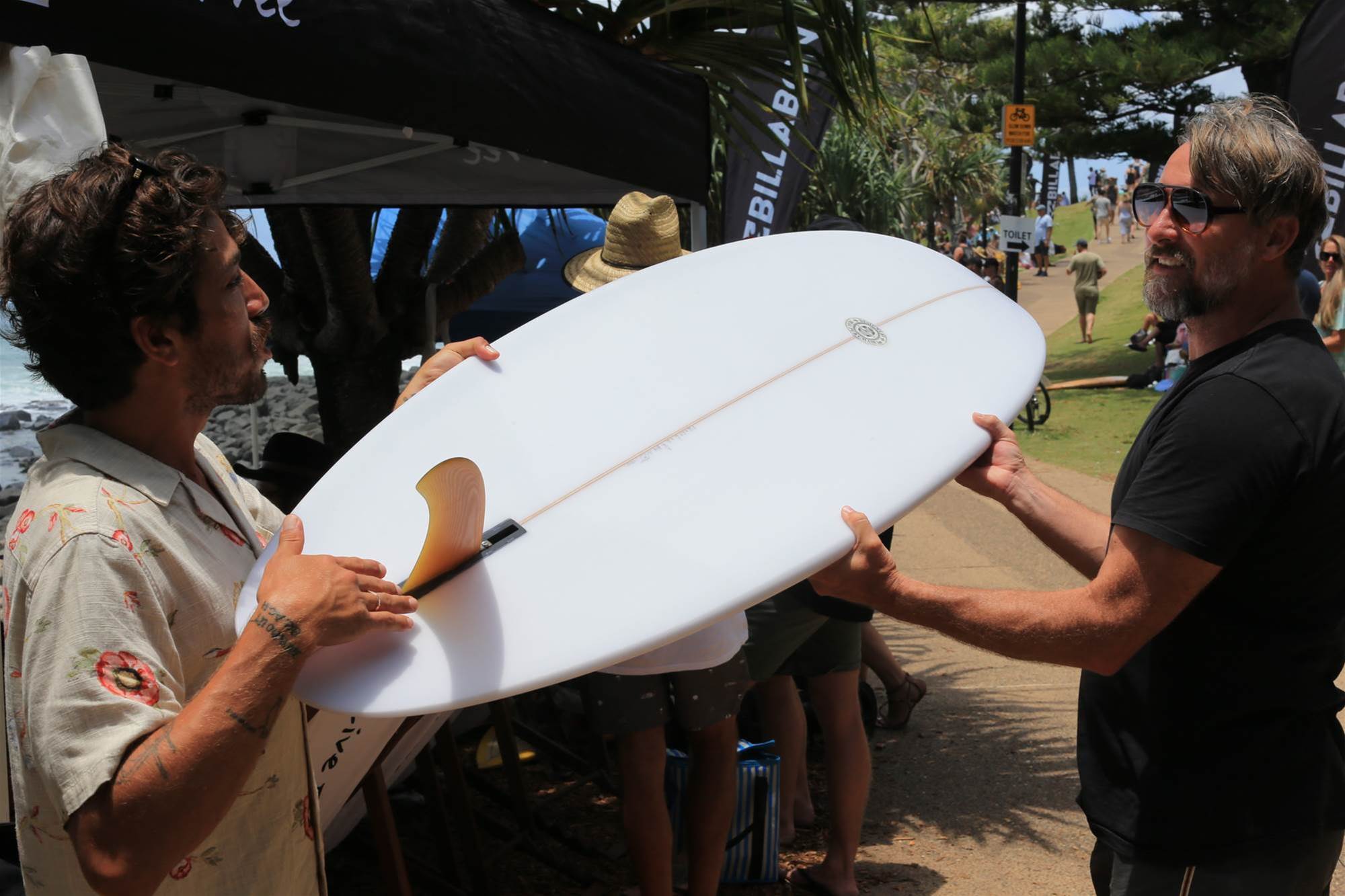 Neal Purchase Jr showing off one of his modern incarnations of the single fin.
Too often during my time covering the Tour I watched it descended into something resembling a Formula 1 Grand Prix time trial, as surfer after surfer hit more or less the same section, on the same board, with only a millimetre or milliseconds difference, that often only another pro surfer could detect (hence the constant feuding with judges).
Sure, it was a treat to watch the likes of Parko, Fanning, Slater and Reynolds do their thing but that accounted for only a fraction of the heats on any given day. The rest of it was pretty mundane, surfing wise, unless you'd backed a horse in one of the heats.
Kane Digman arcing in the pocket against a classic Burleigh backdrop.
It's probably a lot to do with the boards themselves. The thruster, as versatile as it is, has also brought professional surfers closer together style-wise. Performance is the metric by which today's top talent is judged. Meanwhile, style, grace (non-grace is often just as compelling) is a distant afterthought.
That's a shame because personality and the unique, sometimes whacky flavours brought to the table by the surfers of yesteryear were what made surfing great to begin with.
MP, MR, Terry Fitz, Nat Young, TC, Curren, Occy couldn't be more distinguished from each other but it's hard to imagine any of them existing on Tour today. There's just no space for quirks and bobbles and individuality. The rawness that made surfing great has been replaced by a more sterile, repetitive, easy to understand and ultimately sell-able product.
Singles Party
That's not necessarily a bad thing. The culture of professionalism the ASP and now WSL have brought to the table has been a boon for core and mainstream surf fans alike. Surfing is a legitimate mainstream sport now, with a near-flawless broadcast that can be beamed live into your loungeroom or pocket.
I sat drunk and stoned at a bus stop in Mona Vale at 3 am watching Julian Wilson beat Ryan Callinan in the final of the Quiksilver Pro France this year on a mate's phone. That's commendable. Not to mention the waves - Tahiti, Snapper, J Bay, Bali, North Point/Box etc - are you keeeeeding me?! And it's impossible to say you'd prefer a world where A.I, Slater, Parko, Mick, JJF, Medina, Toledo or Italo didn't exist. But we threw the baby out with the bathwater. We forgot who we were. And the Burleigh Single Fin reminded me how good it can, and should, really be.
Creed McTaggart going limbo with the lip.
Embrace the roots. Shed light on the rest of surfing. Why not, as Antman suggested, set-up a small circuit of single fin events? Why not set up a circuit of twin-fin events? Or, perhaps most importantly, for the top level surfers core enough to shape their own boards? Maybe we muck them all in together over the course of an event?
Surfing is so much more colourful, fun and entertaining than the World Surf League has the power to demonstrate. We need to remember who we are before it's all washed away. It's time to make surfing great again.
Tracks