Chippa tells us who the best freesurfer in the world is right now and how you can enter his Caba Big Bang event.
Chippa Wilson is one of the hardest working freesurfers in Australia. He's constantly moving. Right now he's on a Tracks boat trip in the Mentawais with Mikey Wright, Clay Marzo and Matt Meola looking for ramps and punting with reckless abandon. He also loves photography, skateboarding and riding motorbikes and putting on his annual local contest, Caba's Big Bang.
Tracks spoke to Chippa before he left for Indo.
Q. You're a hard man to track down, run us through where you've been this year?
God this year has been packed. It's kind of hard to remember. At the start of the year I was in Japan, I got home and went to the Grand Canaries in Spain and from there I went to California. Then I went to Aspen then back to California, came home and then went right back to California … I've been to Cali like six times this year.
Q. I notice you've always got a camera hanging around your neck. What do you love about photography?
I got into photography a while ago when I was hanging out with Mat O'Brien for a while. He's super onto it and he was getting the coolest images. And plus I've travelled the world now and it would kind of be stupid for me not to have a camera around my neck. It's something to look back at when I'm older. I'm getting more into the film side of photography now.
Q. Have you got a favourite shot you've nailed to date?
That's hard. I've got so many good images from all around the world it's kind of hard to settle on one. But I did get some cool shit of Nathan Fletcher and Dylan Rieder when we did an Analog trip way back in the day to Hawaii. The boys went and skated that graveyard park.  There is this bowl that this crazy dude did out of bricks and bags of cement and he did it all by hand at the back of the cemetery. I got some really cool portraits of the boys there.
Q. Tell me about Caba's Big Bang Show Up & Blow Up event coming up at Cabarita that you're putting on.
Yeah, that was a comp we put on last year with huge success. I just wanted to give something back to all the rippers in the local area. We're putting on $5000 to the winner of the Opens division, $2500 to the Under 18's so that's pretty good money for a local comp.
Q. Tell me how people can enter and get involved?
You can go through Cabarita Boardriders to enter and you can also check my Instagram I'll be posting some stuff to hype it up throughout the month.
Q. Thinking about the next generation, how are those guys in the water pushing the limits now?
Yeah the younger kids are crazy. It's funny it's always good to come home you get to see the younger kids improve. I was surfing yesterday with this kid that wasn't too good five months ago and I saw him yesterday and he was shredding! It's fucking crazy. This little stretch of coast has so many good kids and there are so many older veterans that shred too.
Q. Who do you think is the best freesurfer right now?
Creed McTaggart has been blowing my mind lately. I just got off a trip for Kai Neville's new movie and it was me, Craig Anderson, Noa Deane, Dion Agius and Creed. Noa and Creed are just so fucking rad right now. They are pushing the boundaries with airs and old cool lines they draw on the wave. It's cool to watch.
Q. When you see guys like that flaring or the flavour what do you think it is that they've tapped into?
I think they're just in the right time right now and they're feeling amazing. God Noa is just blowing up right now and so is Creed and I think that's fuelling the fire a fair bit too for motivation. I'm fuelling off all their surfing for sure.
Caba's Big Bang is on the 28th & 29th of June at Cabarita Beach, NSW. Entry forms at http://www.cabaritaboardriders.com/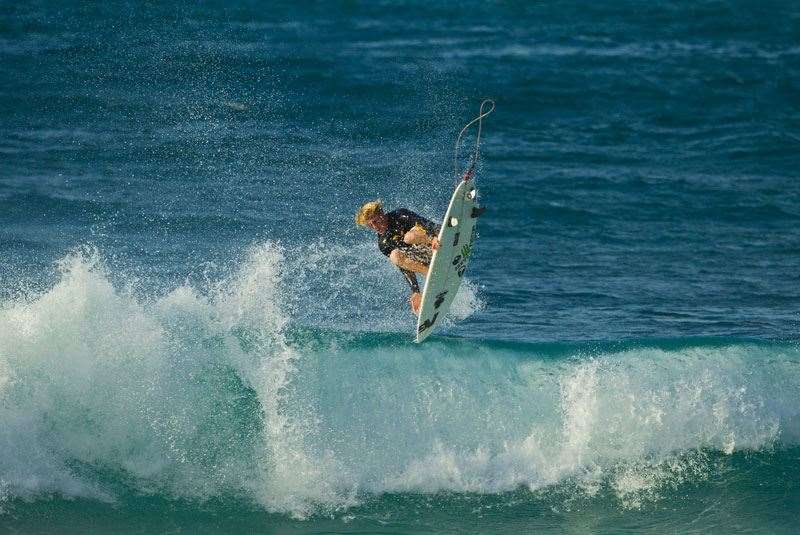 Tracks