Davey Cathels was a front-runner for the ASP World Junior Title until an air-reverse at his local break went horribly wrong.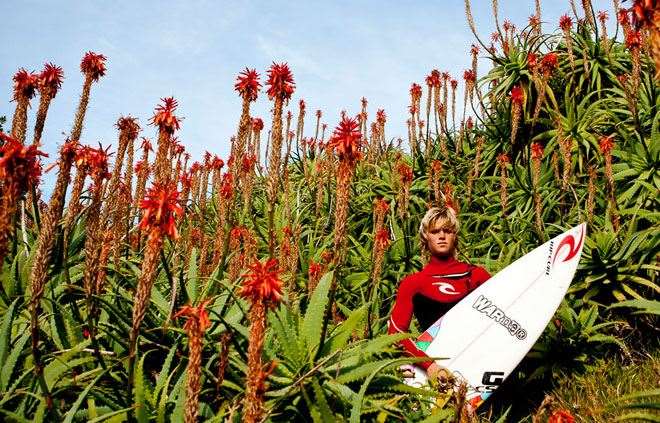 Being flown to an alien planet for this portrait shoot didn't faze the kid from Narrabeen one bit. Pic: natesmithphoto.com
Only days prior to Billabong World Junior Championships on the Gold Coast, where Davey was to shoot it out with fellow front-runner Brazilian Caio Obelli for the coveted title, Davey managed to tear his front and back syndesmosis ligament on his right ankle. It was curtains. But they breed them tough at North Narrabeen. With a local line up that includes Damian Hardman, Simon Anderson, Chris Davidson and Nathan Hedge to name but a few – it's no surprise to see the kid Tracks calls 'Young Salt' back on deck and holding a golden ticket! A wildcard chance to attempt to claim the most sought after trophy in surfing – A Bells Beach Rip Curl Pro Bell!
[Note: Mick Fanning was the last wildcard to win Bells in 2001]
We've got word you're back in the water after heartbreakingly injuring your ankle before the World Junior finals on the Gold Coast – how's it feeling?
It's pretty much almost there. I've just started surfing without strapping now – it's come along quicker than I thought it would. I had my first surf four days ago and (today) had my third surf without any strapping. The improvement from surf to surf has been like chalk and cheese. It's really coming along so in one weeks time at Bells I should be pretty much 100 percent.
Speaking of Bells, exciting news, Rip Curl have given you a wildcard for Bells?
I'm pretty honoured really to get that spot. I've been going to Bells since I was 11 and dreaming about getting a spot in the main event there that entire time… To finally get a chance, I'm really looking forward to it.
Does the news ease the pain of having been tied with Brazilian Caio Ibelli [who eventually won the title] going into the final Junior event with a World Title on the line only to miss out due to injury?
Rip Curl actually told me I got the spot before I was injured (I just kept it quite), so when I did my ankle I was pretty devastated for a week or what ever, having to watch it all unfold. But I knew, in the back of mind, that if I did my physio there'd be a little pot-of-gold at the end of the shitty rainbow.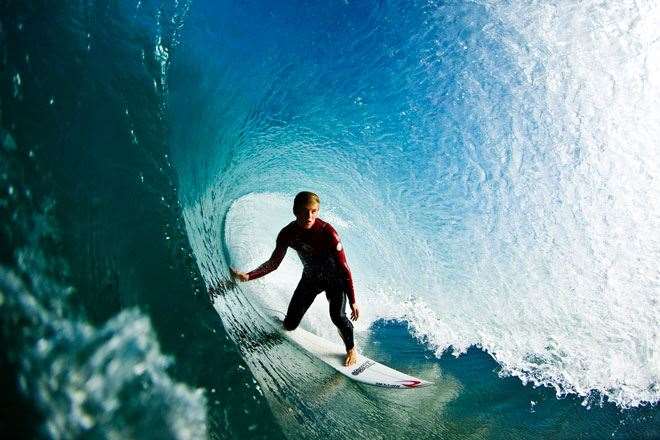 Davey's relaxed shoulders tell the story of a surfer very comfortable in his surroundings. PIc: natesmithphoto.com
That good news must have also helped you from falling into the trap of surfing too early… getting frustrated and saying, "Stuff this, I'm going surfing!" And re-injuring yourself?
I had good strategy going on with my physiotherapist as well. My guy is the head physio for the Manly Warrringah Sea Eagles [National Rugby League Premiers]. My injury is one he sees all the time. It's one of the most common injuries in Rugby League, so we pretty much had the best guy we could get working on it – I just did whatever he told me to and it's worked out well.
Did you pay much attention to the World Juniors and who won while in recovery mode?
I wasn't watching too closely, I wasn't watching the webcast, but I was getting texts from my manager Kurt Jacobs who was up there. I really wanted to see Garrett [Parkes] take it out – he and I have pretty much been surfing together for a long time. He surfed well in both Bali and Brazil, and it came down to the wire – he had two chances there and I'm pretty devastated he didn't take it. That's just the way it goes – but I was definitely rooting for him out of all the Aussies.
Stamping his authority on the Oakley '11 Pro Junior won Davey more than cash and points. Pic: natesmithphoto.com
Before the injury, were you confident you could take the title?
Caio and I were tied going into the Burliegh, but to answer your question, yes, I was pretty confident – I'd had Brett Warner shape some special boards up that were slightly smaller than my average shorties. Grovellers, but not tiny-wave grovellers. More those in-between mushy point waves at Burliegh. The boards were perfect. I was also training a lot with my trainer – I was the fittest I'd ever been up until that point, so I was going in feeling real confident but, yeah, unfortunately, it all went to shit.
Back to the future – fellow Narrabeen local lad, Chris Davidson absolutely shook things up in 1996 when he was given the wild card, beating Kelly Slater not once, but twice… have you had a chat with him about the Rip Curl Pro 2012?
Yeah for sure! He's done it before and I've actually been hanging with him over the last few mornings – he's injured as well at the moment – so we've been going for coffees together and he's always encouraging me and giving me "fire-up" speeches over a nice cup of coffee. So yeah, we've been getting all jacked up on coffee and he's been fully psyching me up – so I'm pretty ready to go!
Strategy? Despite the possibilty of facing Kelly Slater are you out to win that first round three man heat and leap frog a man-on-man heat with a desperate high seed?
For sure! I'm in that first heat to win no matter who I've got – to go straight through to round three would be a big bonus. But in saying that… If I do or if I don't, the main thing I'm focused on doing is I just wanting to put on a good performance for myself, my sponsors and whoever is watching.
You turn 21 on Friday the 31st March, is the traditional celebrations on hold till after Bells?
Well, Wilko [Matt Wilkinson] is flying down with me on Thursday so I'm sure we'll have one or two beers over dinner – but I'm going to wait till I get home to have a big house party…
Sounds like a wiser option?
Yeah, I don't want to have a big night leading into the contest.
Here's hoping you do well at Bells and then have a double reason to celebrate turning 21. Thanks and Good luck.
Thank you.
NOTE: Rip Curl Pro commences on the 3rd - 14Th April, and can be seen live at live.ripcurlpro.com
There will also be daily updates on Tracksmag.com [including the now infamous FINGERS IN THE BOWL ]
Tracks