Stop No. 7 of 10 on the 2010 ASP World Tour, the Quiksilver Pro France continued the race for the 2010 ASP World Title
| | |
| --- | --- |
| | Stop No. 7 of 10 on the 2010 ASP World Tour, the Quiksilver Pro France continued the race for the 2010 ASP World Title |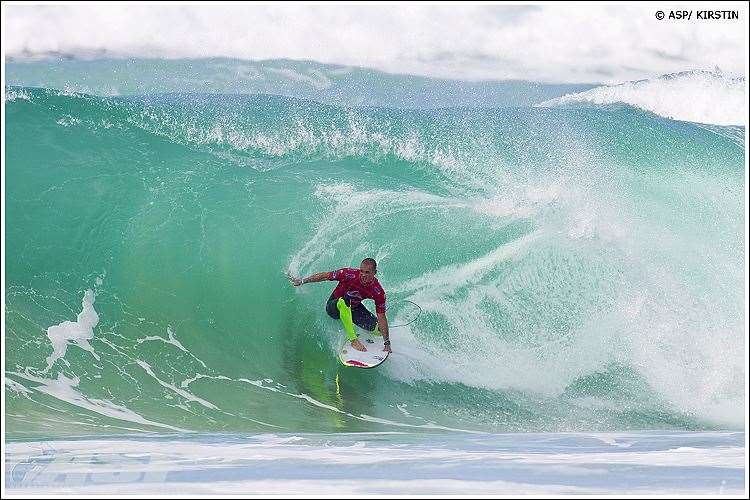 Floridian CJ Hobgood saddles up on a solid one.
CULS NUS BEACH, Hossegor/France (Sunday, September 26, 2010) – Day 1 of the Quiksilver Pro France experienced the full range of conditions that French beachbreaks are renowned for, completing the twelve heats of Round 1 in everything from slabbing barrels to high-performance peaks.
Stop No. 7 of 10 on the 2010 ASP World Tour, the Quiksilver Pro France continued the race for the 2010 ASP World Title as well as the requalification campaigns of the world's best surfers in spectacular fashion today, with dramatic tuberiding and horrific wipeouts taking center stage.
Mick Fanning (AUS), 29, reigning ASP World Champion and defending Quiksilver Pro France Champion, was a standout this morning, netting the highest single-wave score of the day, an 8.33 out of a possible 10, with an excellent forehand barrel.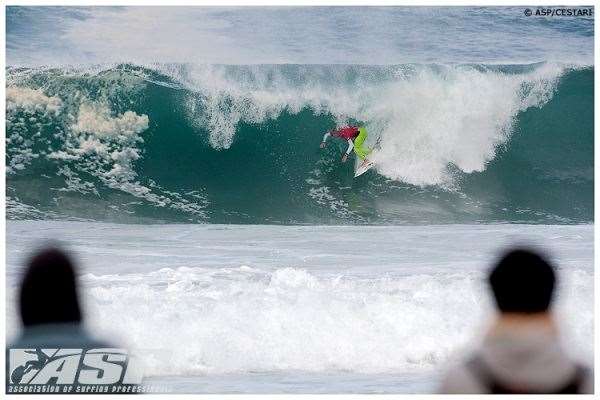 Current world champion Mick Fanning charging from the backdoor.
"I thought I was a little too deep but got my edge in early and was able to set my line," Fanning said. "It's pretty wild out there this morning. There're a lot of closeouts, but a few gems too. I was lucky to slip into that one."
Currently ranked No. 5 on the 2010 ASP World Title Race rankings, the calculating Australian will look to repeat his form from 2009 in order to mount an ASP World Title defense.
"I just need to win events," Fanning said. "It's a simple as that. I feel like I'm surfing well, but I've made a few tactical mistakes this year that have cost me. I love the rest of the events on tour so hopefully I can catch on a roll."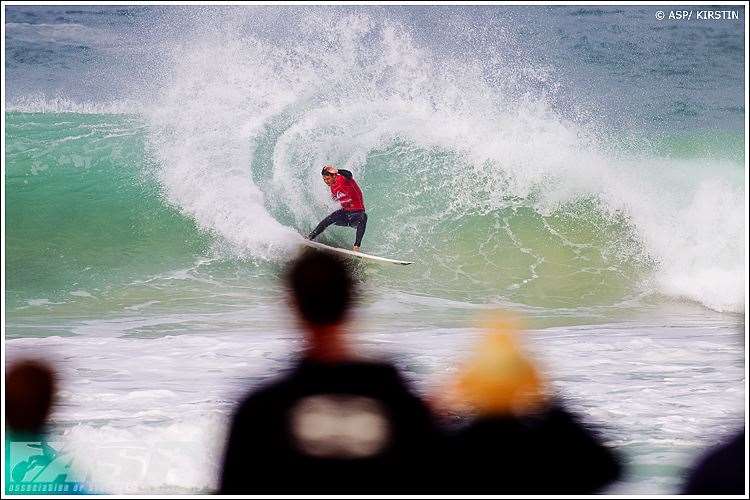 Jamming with Jordy Smith.
Jordy Smith (ZAF), 21, current ASP World No. 2, surfed a solid Round 1 heat this morning, dispatching of Luke Stedman (AUS), 34, and Julian Wilson (AUS), 21, with a flurry of barrel rides.
"It actually looks bigger than it is out there," Smith said. "I probably could have been riding a smaller board, but I thought some of the earlier heats had some pretty solid surf. The waves were actually really fun in our heat. There were lots of fun little barrels that came through."
Well in the hunt for the 2010 ASP World Title, even temporarily holding the ratings' lead following the fifth event in Africa, Smith is cautious when discussing his aspirations for the remainder of the year.
"I'm just surfing and not worrying about anything," Smith said. "It's fantastic to be in the running and Europe is a place where I feel confident in my surfing, but at the end of the day, I'm just going out and having fun."
Patrick Gudauskas (USA), 24, 2010 ASP World Tour rookie and current ASP World No. 23, caused a major upset this morning, relegating former nine-time ASP World Champion and current ASP World No. 1, Kelly Slater (USA), 38, to the elimination Round 2 following their opening round bout. The young Californian began his campaign in spectacular fashion, threading a deep forehand barrel before executed a lofty double-grab aerial.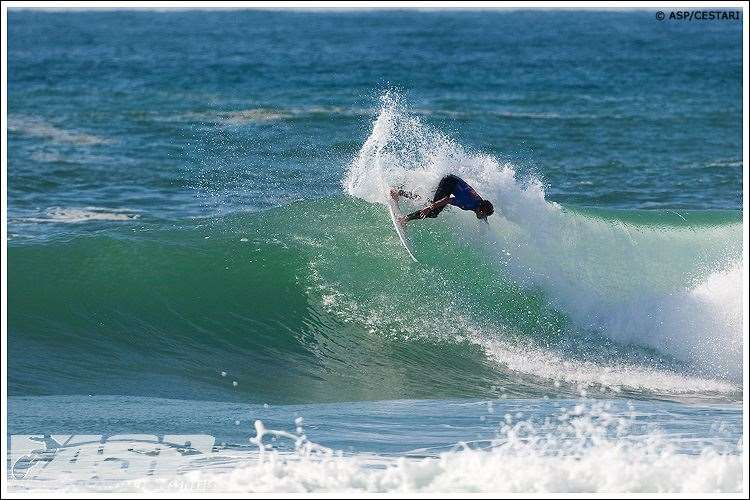 Aussie Kai Otton showing a return to for after months out with a back injury.
"I was really fortunate to get that one and it definitely won me the heat," Gudauskas said. "I was battling for position with Kelly (Slater) and he took the first one which was smaller and I got the second one. I actually misjudged the wave and barely made the takeoff and when I pulled under the lip I could see the barrel just breathing and, when it let me out, there was a ramp section so it was just automatic to go for the air."
Following a disappointing 25th place finish at home in California last week, Gudauskas was elated to put that behind him and begin his European leg campaign in fine fashion.
"It was disappointing to lose early at home in Trestles but I did my best to shake it off," Gudauskas said. "I rationalized it by telling myself that everyone was surfing so amazing that it was just the way it went. I love Europe though. I want to move to France. I got my best result in Tahiti (Equal 5th) and my mindset is just to build on that through the next events. The goal is to be inside the Top 22 by the end of the year."
Owen Wright (AUS), 20, 2010 ASP Dream Tour rookie and current ASP World No. 8, continued to his excellent run through his rookie year on tour, posting the day's highest heat total, a 14.13 out of a possible 20, for a commanding performance on the lefthanders.
"I'd seen Ace (Adrian Buchan) sneak off down there to the left earlier," Wright said. "I figured that it's a left, I'm a goofy-footer and it could work out. It's hard work out there. I didn't really feel like I got amazing barrels, but given the conditions, I guess it worked out okay."
Jeremy Flores (FRA), 22, current ASP World No. 21, rebounded sensationally in the opening heat of the day, recovering from a challenging start to take the win in the final moments. The young Frenchman was unable to penetrate the powerful shorebreak on his first attempt, but after collecting himself on the sand, made a second charge successfully and tenacious scored the winning wave in the final minute of the heat.
"It's really challenging out there," Flores said. "I got smashed trying to get out and I barely made it out at the beginning. And I couldn't really find anything out there until the very end. I made my way up the beach and got some small ones then got that nice one at the end. So it was an exciting finish."
The lone Frenchman amongst the ASP Top 34, Flores holds the weight of expectations for an entire nation on his shoulders and appreciates the opportunity to represent his country.
"I've never done very well at this event so to get through the first round is a great feeling," Flores said. "I want to do well in front of all my family and friends. It's pumping today. There are some bombs coming through and I'm very happy to get through after a shaky start."
When competition resumes, up first will be Kelly Slater (USA), 38, up against Maxime Huscenot (FRA), 18, in the opening heat of Round 2.
Highlights from the Quiksilver Pro France will be available via http://quiksilverlive.com/profrance2010/
QUIKSILVER PRO FRANCE ROUND 1 RESULTS:

Heat 1:

Jeremy Flores (FRA) 9.36, Bede Durbidge (AUS) 8.50, Daniel Ross (AUS) 3.06
Heat 2: Dane Reynolds (USA) 13.70, Luke Munro (AUS) 9.83, Kieren Perrow (AUS) 6.84
Heat 3: Taj Burrow (AUS) 10.93, Travis Logie (ZAF) 5.43, Adam Melling (AUS) 5.36
Heat 4: Mick Fanning (AUS) 13.00, Taylor Knox (USA) 2.24, Gabe Kling (USA) 1.96
Heat 5: Jordy Smith (ZAF) 14.00, Luke Stedman (AUS) 8.27, Julian Wilson (AUS) 8.03
Heat 6: Patrick Gudauskas (USA) 10.10, Maxime Huscenot (FRA) 5.40, Kelly Slater (USA) 4.00
Heat 7: Brett Simpson (USA) 10.94, Adriano de Souza (BRA) 9.60, Chris Davidson (AUS) 6.87
Heat 8: C.J. Hobgood (USA) 10.60, Tom Whitaker (AUS) 7.73, Michel Bourez (PYF) 5.43
Heat 9: Adrian Buchan (AUS) 13.03, Jadson Andre (BRA) 12.97, Matt Wilkinson (AUS) 8.90
Heat 10: Owen Wright (AUS) 14.83, Tiago Pires (PRT) 7.77, Roy Powers (HAW) 2.03
Heat 11: Fredrick Patacchia (HAW) 14.13, Damien Hobgood (USA) 11.10, Dusty Payne (HAW) 7.87
Heat 12: Andy Irons (HAW), Bobby Martinez (USA), Kai Otton (AUS)
QUIKSILVER PRO FRANCE ROUND 2 MATCH-UPS:

Heat 1:

Kelly Slater (USA) vs. Maxime Huscenot (FRA)
Heat 2: Bede Durbidge (AUS) vs. Julian Wilson (AUS)
Heat 3: Adriano de Souza (BRA) vs. Gabe Kling (USA)
Heat 4: Damien Hobgood (USA) vs. Travis Logie (ZAF)
Heat 5: Andy Irons (HAW) vs. Luke Munro (AUS)
Heat 6: Bobby Martinez (USA) vs. Daniel Ross (AUS)
Heat 7: Tiago Pires (PRT) vs. Tom Whitaker (AUS)
Heat 8: Jadson Andre (BRA) vs. Matt Wilkinson (AUS)
Heat 9: Michel Bourez (PYF) vs. Roy Powers (HAW)
Heat 10: Chris Davidson (AUS) vs. Dusty Payne (HAW)
Heat 11: Kieren Perrow (AUS) vs. Luke Stedman (AUS)
Heat 12: Adam Melling (AUS) vs. Taylor Knox (USA)
Tracks