Defending title holders Kirra Boardriders are sweating on the availability of world champion Mick Fanning to headline their team when the Queensland round Jim Beam Surftag is held at Duranbah on Friday.
Fanning has only recently returned to the Gold Coast after winning his second world title and was due to carry out commitments interstate on the day of the competition but the Kirra team are now hopeful he will be able to make room in his schedule for the club's title defence.

While Kirra will still have a powerful team if Fanning isn't there on Friday, the 28-year-old's availability will be even more crucial after rivals Snapper Rocks this week signalled their intentions by naming world number two Joel Parkinson and perennial WCT top ten surfer Dean Morrison in their team.

The event sees five-member teams given an hour in which each individual must catch three waves, with the second being a "Powerwave" worth double points. All three waves for each surfer count in the scoring and bonus points are awarded for teams that finish before the 60 minute mark.

Kirra spokesperson John Robin said the club was hopeful Fanning would surf.

"Mick has only just got back to the coast and he may have to be in Sydney on Friday but we are hopeful he will be able to fit the event into his schedule," Robin said.

"We won't know until later in the week but if Mick surfs it will be great.

"His presence lifts the profile of the event and is great for our club too. He just lifts everybody with his competitiveness and is part of the fabric of the (Gold) Coast and of the whole place."

Despite the obvious desire to have Fanning in the water on Friday, Robin was adamant his club would enter a strong title contender with or without their star.

"Whether we have Mick or not we will still have a pretty hot team and we are looking forward to the event," Robin said.

"We have Corey Ziems, who is a really, really good surfer. He won our club championships last week against a red hot field.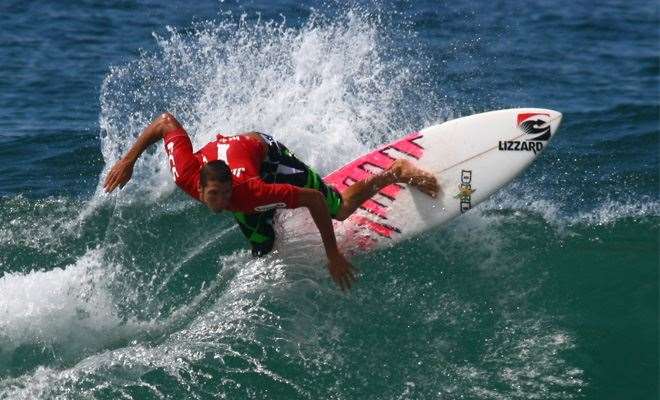 Corey Ziems is certainly no slouch and will make good of his slot in the team.
"We will probably also have Alex Chaucon, Asher Pacey and Clancy Dawson who are all very good too and we would love to go back to back."

Ziems, who last year won the Quicksilver Pro Trials on the Gold Coast just three months after breaking his back in a horrificwipeout at Pipeline in Hawaii, echoed the thoughts of Robin saying Fanning's presence would give the club a huge boost.

"It would be awesome if Mick shows up," the carpenter said. "It'd be pretty crazy actually and we'd all be pretty stoked."

"Mick is always good with the club and shows up as often as he can to events. If he's there it will definitely change the attitude of the team – he's the world champion after all.

"Having said that, judging by how everyone was surfing at our club championship last weekend I think we can still win even if we don't have Mick."

After hearing that Parkinson and Morrison would turn out for Snapper Rocks, Ziems was excited.

"That's good that those guys will be there and I can't wait to surf."

Kirra and Snapper will not have things all their own way either with 2008 Queensland winners LEBA (Lennox – Ballina) also very capable of winning. New WCT surfers Adam Melling and Owen Wright are expected to surf for LEBA, however Wright is at the world junior championships in Sydney so he would need to be knocked out or see the event finished by Thursday to make it to Duranbah.

Snapper Rocks B, Burleigh, MNM (Mermaid Nobby's Miami), Palm Beach, North End, Cabarita, Byron Bay, Noosa, Duranbah, Kingscliff and Mudjimba have also entered teams.

The top six teams from theQueenslandround, up two from last summer, will progress through to face thecountry's best clubs in the Jim Beam Surftag Australian final.

The final is expected to witnesselite ASP World Tour surfers including Fanning, Parkinson, Taj Burrow, Kai Otton and numerous other leading competitors line up for their beloved clubsat Sydney's North Narrabeen beach on February13/14.

Another major drawcard to Saturday's program will be the FCS Manufacturers Cup.

A competition for surfboard manufacturers, the event is run to a similar format to the Surftag series. Four man teams, made up of two factory employees and two team riders, will square off for the right to contest the national Manufacturers Cup final. The top three teams from the ten entrants will progress from the Queensland event.JS Surfboards, led by Parkinson, won the QLDManufacturers Cuplast year and if they qualify again may use Parkinson and sensational South African Jordy Smith in the National final in Sydney.

Saturday's surfing will get underway at730am and is expected to wind up around5pm.

The next event in the series will be the NSW North Surftag event at Newcastle on January 23.

2010 Jim Beam Surftag Australian Series

23rd Oct           Industry Challenge – Winner: Hurley

29th Nov          Women's Surftag – Winner: North Narrabeen

19th Dec          VIC Qualifier – Winner: Phillip Island

9th Jan             WA Qualifier – Margaret River 'A'

15th Jan          QLD Qualifier - ??

23rd Jan           NSW North Qualifier

30/31 Jan         NSW South Qualifier

12/13/14 Feb   Australian Final

The 2010 Jim Beam Surftag Australian Series is proudly supported by FCS, Tracks, Swellnet, Sanyo, Beever and Global Surftag.

For more info go to:www.globalsurftag.co
Tracks