The Tasmanian flyer goes big in and out of the water and has just added a new brand to his personal portfolio.
Dion Agius is a master of reinvention. Like musicians and performers who continually redefine their acts to remain relevant, Dion is constantly evolving in and out of the water. Over the last fifteen years he has helped write the blueprint for being a successful freesurfer. Dion was an 'Influencer' before the term was in vogue and sponsors have always been eager to splash their logos on his nimble frame and boards. However, Dion is entrepreneurial by nature and has never been content to be completely at the mercy of volatile sponsorship deals. Instead, he has cultivated a number of his own brands to help establish creative and economic control over his destiny. His latest venture, in conjunction with friend, Zepha Jackson, is the boutique sunscreen and skincare range, Standard Procedure. Below he talks about moving to Tassie, nailing airs and being a businessman between barrels.
You grew up in Tassie and then moved to the mainland to pursue surfing. What made you fall in love with it all over again?
I moved back to Tassie about 4 years ago now just to get a bit more space and get some peace and quiet. It's a pretty hectic life on the road and travelling non-stop being around people and different places constantly, so to have a quote 'space to go home to' and just chill the fuck out has been so nice. Sometimes I can go days without seeing a person, which is so nice.
East Coast vs West Coast? 
I'm definitely an east coast person. I've been east coast my whole life, but I do get over to the USA (west coast) a few times a year and I always absolutely love it. We went and stayed with TB (Taj Burrow) in West Oz last visit and he just has life so dialled over there, could definitely see myself spending a bunch more time over there. I mean, I think the waves over west definitely beat out the east. 
Is Chippa just up the road?  Do you have mini air comps? Just for fun. Solo sessions together?
Yeah, he moved down a year or so ago and it's been epic having him there. He is just at the end of the road from me so we surf together pretty much every day when we are both home, and when there are waves we definitely chase pretty hard and I mean I wouldn't call it much of a competition when we are both doing airs. I'm pretty happy to just take off and trim when I'm home meanwhile Chip's doing 720 shuvits or something.  
In terms of surfing specifics, you were always happy to put in dozens (more if necessary) of manoeuvre attempts to nail and capture the one moment/move you wanted. Is that insatiable appetite for repetition and willingness to fail completions a big part of pulling off and capturing the extraordinary? 
It's crazy with airs how many times you have to try before you start to even get close to landing stuff. I'd imagine it would be in the high hundreds if not thousands before you really start to get the hang of an air and before your body starts to get that muscle memory for specific tricks. 
Dion displaying his lofty ambitions on the cover of Tracks.
Any intentions of tackling Shippies? Or a trip out to Pedra Branca? Just to tick it off?
Haha Absolutely never tackling Pedra, but I've surfed Shippies three times and it scares the absolute shit out of me. The guys who are good out there are incredible to watch so it's always nice being down there just to see them surf it. 
King Island is only a short trip away. Is that always on your radar?
Yeah, I don't hit it as much as I should but I really need to start getting up there more, It's a pretty mellow flight for me. I think next winter ill try and hunt that a lot more. 
I know you can't say too much and preserving the sense of adventure is good. Are there waves for those willing to hunt around on the east coast of Tassie?
To be honest, it's probably one of the most fickle coastlines I've ever lived, The good swells are from the north and they are wind swells that sometimes last for half a day so pretty much unless you live there it's super hard to score, Even then when it's good it comes and goes so fast its hard to know her to go. 
Given we can't go overseas Tassie is probably about to become a tourism hot spot. Obviously, you went there for some escapism but what's your advice to the roaming Tassie tourist?
Best advice is to either drive to Tas (put the car on the car ferry) and have your car or rent a car/van and camp your way around the island. There's a lifetime of things to see and do and explore, but I think the beauty of it is just hitting the road and seeing where you end up…
Despite the beauty, Tassie has a rep for having a thin ozone layer, meaning more exposure to powerful UV rays. Seems like a good place to start a sun cream company?
Haha, it definitely helps. You wouldn't believe it but I actually got the most burnt I've ever been the other day when we went home because I forgot my sunscreen and the surf was absolutely cooking. We surfed for like 5 hours and I got so hammered. And I'm definitely learning the effects of not looking after your skin these days as I'm getting older and how important sun protection is. So I think the move into sunscreen is just as much about my old age and wanting to really take care of my skin as much as being under the thin Tassie layer. 
The retro-themed campaign is worth a look and will make you laugh. 
STANDARD PROCEDURE. from Standard Procedure on Vimeo.
You have managed to prolong your career as a freesurfer and surf entrepreneur. What would your advice to an aspiring freesurfer be? Is it necessary to be creative in and out of the water? And to have more than just a good frontside rotation or slob grab?
I guess I've just fallen into a lot of external things outside my surfing as I've gone along, started with EPOKHE and then got involved with the guys at Octopus and now Standard Procedure. Most of the time it's just started as a fun little side hustle and then kind of grown into more legitimate jobs as time has gone on. I don't think Zepha and I expected Standard Procedure to take off as fast as it did when we launched and now we are scrambling to keep up but that's all the fun of it, I like staying as busy as possible. 
What was the logic or inspiration behind the new label?
My good friend and now Biz partner Zepha approached me this year with the idea of doing her own sunscreen company under her parents manufacturing business. They have an incredible family-run operation on the Sunshine Coast with now three generations of her family in there making sunscreen and tropical skincare products. Once she sent me the sunscreen they had been working on to test out and I gave it to Craig, Creed and some other friends I was sold. 
The inspiration behind the brand came from a bunch of research of 70s / box sunscreen companies, 70s interiors, wallpapers, curtains, 80s family photos Just trying to replicate some of those colours and feelings of nostalgia you get from those periods.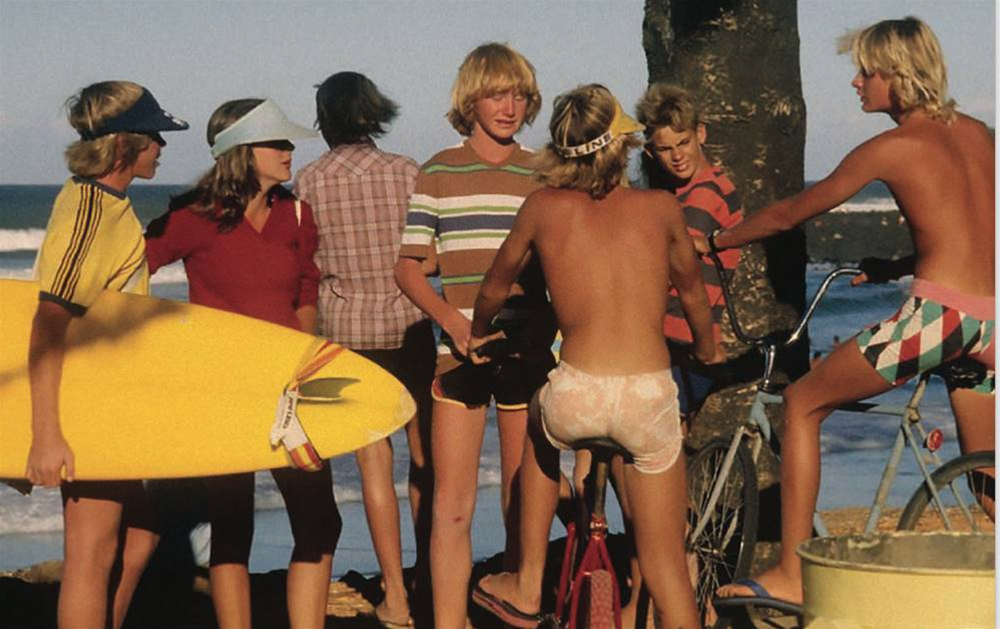 Visuals from the Standard Procedure campaign designed to tweak the 70s nostalgia.
It's a competitive market. Why is your product better and how do you differentiate?
The beauty of Standard Procedure for me is the quality of the product, it's 35 years of Zephas families testing and perfecting this product to come up with this sunscreen. It's 50+ , 4 hours water resistant, Made in Australia ethically in their own factory and is also reef friendly. I was just having trouble finding a really good, strong sunscreen that would last and protect me if I wanted to surf for hours. We just wanted to make a product that works really damn good and is affordably priced. 
What buzz do you get from pulling off a business idea? Is it comparable to landing a big move? What symbolises success for you in the business/creative realm?
Yeah, the reward of seeing something come to life and launching it out is such a buzz, for me, it's just the act of creating something and seeing someone enjoy it or using it. Whether it's sunscreen or sunglasses. Success is having something you are proud of, products that people enjoy, and working with an awesome team of people.
Dion recently released his own photo-book with friend and photographer, John Respondek.
How important is it to curate and control your own visual content?
I think its probably just as much of an enjoyment thing getting to work on all that stuff and see it come to life, getting to work with photographers and filmakers to make nice things is the funnest part of the gig for me for sure. So, who you work with and the relationship you form with those guys is everything. It's defiantly a huge team effort to create nice photographs and films.
Tracks