Going Mullet for Mental Health
Many of us learnt to surf on foamies. The blue-sheathed McCoy or Hanimex was our soft-edged entry point to the ocean's treasures. The rails were bloated, the fins were only just functional and a cutback seemed like a major accomplishment. If you wanted to be cool you ripped off the rash-inducing outer layer and added extra fins. Some grommets even attempted to sculpt the corky foam to give their boards a more refined look.
While the foamies were fun, most of those who served their apprenticeships on 'coolites' were happy to make the graduation to a real board or 'glassy'.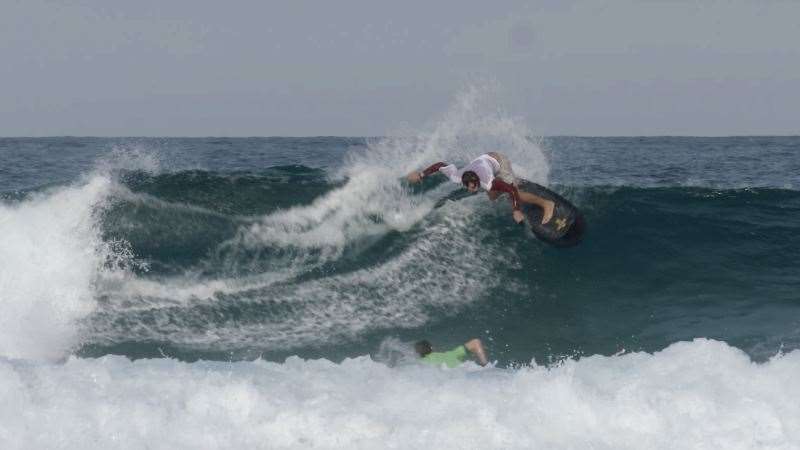 Mullet Pro winner, Perth Standlick,  slicing off the top at Tamarama during the contest. (Frame Grabs Courtesy of Jake Herbert at World Bodyboards)
However, the notion that the foamie is simply a kid's board has been thrown out the window by the emergence of a curioussurfing species that includes stand-up sponge specialists and regular surfers looking for novel craft to make otherwise ordinary days a blast. Relishing the vastly improved design features of the modern foamie, disciples of this quirky surfing spin off have created their own genre of surfing that even features a cache of moves not seen on regular boards. Meanwhile Tamarama beach, a cliff-fringed Sydney cove that was once home to an amusement park, has emerged as the epicentre of the foamie subculture.
When he's not pulling into heaving barrels at Ours or Cloudbreak Josh Ku is a foamie devotee and goes some way towards explaining the attraction of riding the softies. "If it's one to two foot and NE at Tamma you're just frothing. You're trying to do one more spin, one more 360, do funny little bottom turns, draw different lines than you could on a regular quad or thruster…it's like a different sport. When everyone's out there on them you start trying to push one another… It's amazing how big Tamma has become with the soft tops."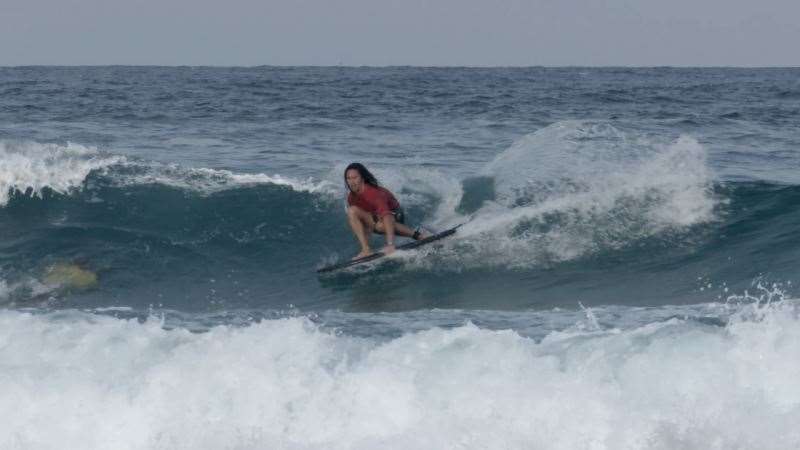 Josh Ku grabbing the rail and getting slippery on his 'Fat Cat' twinnie.
Last Saturday hundreds of surfers gathered at Tamarama for the annual Mullet Pro. "We couldn't have asked for better conditions, it was 3-4ft, offshore and the banks were unreal," exclaimed Ku, who help organise the event with Nick Bannehr and Earl Weir.
Determined to make the annual Mullet Pro both a fun and meaningful day, the event organisers partnered up with mental health charity, One Wave. Earl Weir, who started the event three years ago, explained his motivation for making the Mullet Pro happen. "Basically the day was started to raise money for One Wave's saltwater therapy program and help reduce the stigma around mental health and start conversations about mental health. My best mate committed suicide and I wanted to do something about it.
The fancy dress brief inspired some outrageous get-ups and helped ensure it was a day where having fun and sharing the experience was more important than coming first. That said by the time the seventy off odd competitors in the performance division had been whittled down to six finalists, the standard of
surfing was exceptionally high.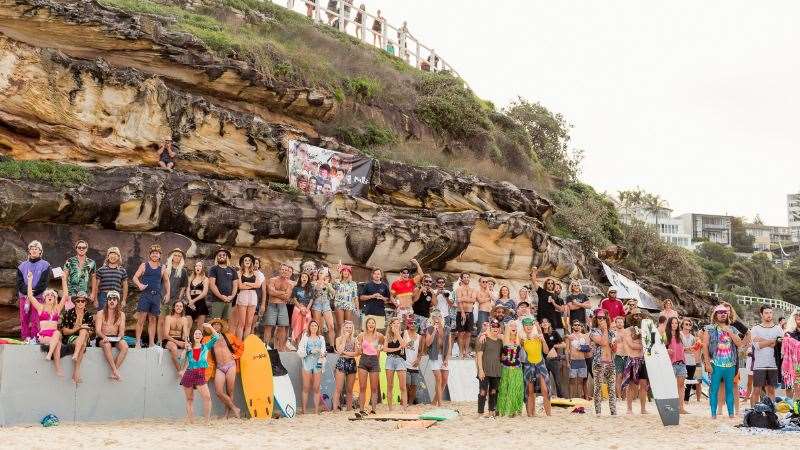 The mad crowd that gathered at Tamarama for the annual Mullet Pro
Riding his Fat Cat, twinnie model Ku relied on his trademark spinners and grab-rail bottom turns to finish a close second to WQS pro, Perth Standlick, who adopted a more conventional top-to-bottom approach on his 5'8" quad. "We had really contrasting styles but he was doing five big turns to the beach and was hands down the best surfer of the day," suggested Ku who was humble in defeat and happy to have pulled off another fun event while also raising money for a good cause. "I haven't got the exact figures yet but all up I think we can safely say we raised about $3000," reported Josh, who along with Standlick donated his prizes to the charity auction.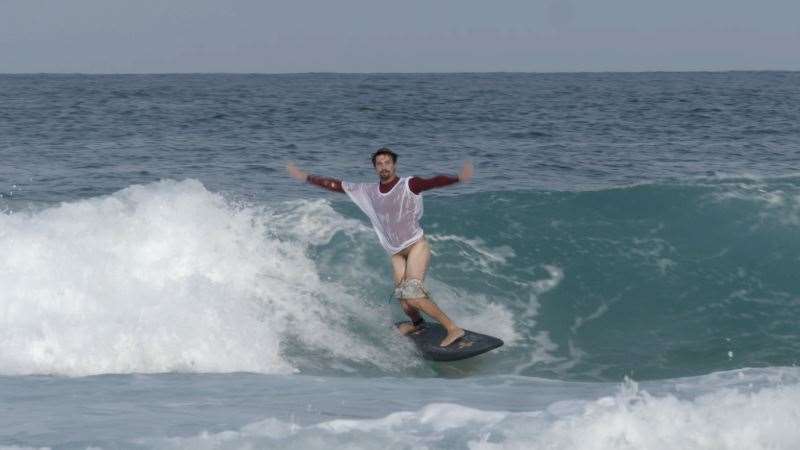 Perth Standlick celebrates his victory in the Mullet Pro with a Mangina claim.
Tracks