Dylan Longbottom talks through his near death experience at Nazaré
You'll remember Tracks checked in with surfer shaper Dylan Longbottom last week after his first ever session at Nazaré. He'd navigated a few monsters, been caught inside and came up with the conclusion that he'd need to make a few design changes to his current tow board' set up and try again. 
True to his word Dylan went back to ORG, his Lisbon shaping bay, and started from scratch. More lead weights were drilled into the back of the board between the fins and glassed over. The quad set up was jettisoned for a tri-fin ("tri-fins are so much better if the board is out of the water, just like at Shipsterns) and waited for a swell. 
He didn't have to wait too long. Two days after the Nazaré Challenge the forecast for the Sunday was off-the-scale. Longbottom was surfing with his team riders Joao de Macedo and Antonio Silva, two of Nazaré's most experienced surfers. Tasmanian charger Mikey Brennan, who had flown into Portugal for the first time the night before, was also in the mix. 
Highlights from Savage Sunday at Nazare.
Now we know that swell was a hoax. Still giant, but the westerly direction meant the famous Nazaré teepees weren't teepeeing. Longbottom however was keen to take the rope, test his design changes and get some more experience. 
"I got a big left on my first wave and my board felt great," Longbottom told Tracks. "I felt the weight on the back foot and had way more control. I wanted to get one of those thick ones near the cliff. I was pretty psyched." 
It was what happened next that provided the only real drama of that anti-climatic day. Dylan was towed into the first wave of a set (mistake number 1), on a right near the cliff (mistake no. 2) then fell as he hit some chop on the inside (mistake no. 3) and then missed his jetski pickup (mistake no. 4). 
I was watching the scene from on top of the fort. When Dylan missed the pick up, I could see his immediate future and it didn't look good. A three-wave set, one of the biggest of the day, was stacking up and heading straight toward him. He scrambled over the first, which only put him in a worse position for the second. 
"It was massive, call it what size you like. It reared up like a giant pyramid and went top-to-bottom. I'd pulled one chord, but didn't have time to dive down," said Longbottom. "It broke and the apex of the whole wave landed directly three metres in front of me. I was on the surface and just braced for impact. It felt like I had been hit by a train."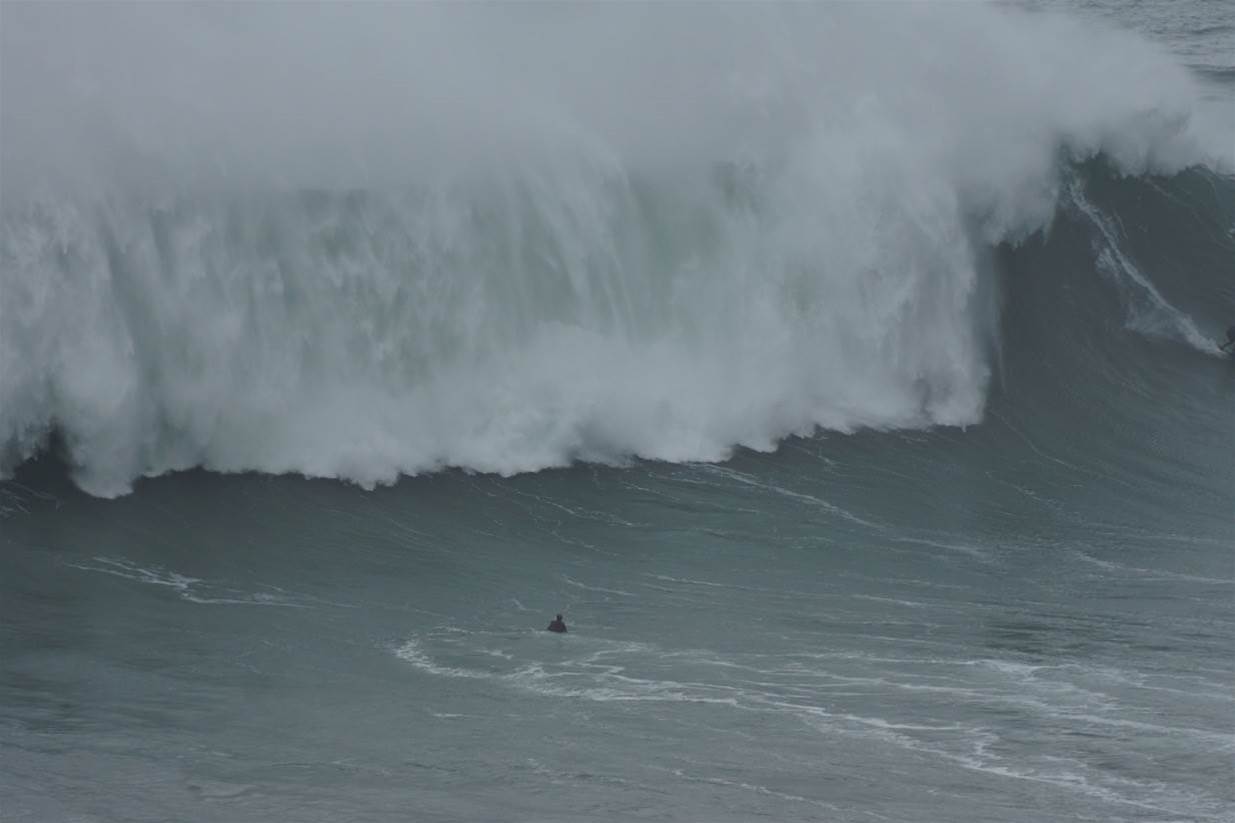 Dylan Longbottom dealing with a Nazare nightmare. Photo: @paulfdudley
Now if I had wanted to make Dylan's life more difficult I could have probably thrown a rock down to his current location. Being a friend, I didn't. That's just the type of guy I am. However it wasn't pretty viewing. It was like watching on helpless and seeing a mate tied to train tracks. 
I wasn't alone. With the freesurf being live streamed many of Dylan's family and friends where watching, heart in mouth. Well, except for the ones in Dapto who had cigarettes in mouth. "Afterwards I'd never had so many texts checking if I was okay," said Dylan. "I suppose usually the stuff we do is never broadcast and people were freaking out." 
20 years in the business though meant that he stayed calm. Now Longbottom is a charger of the highest order, but his love of beer (and life) means he ain't exactly an elite athlete. Yet he was able to relax, which in that situation was way more important than lung capacity and a paleo diet. He copped two more, surfaced conscious only to be left perilously close to the rocks. 
"That is the worst place to be in all of Nazaré," said his rescuer and good mate Antonio Silva. "There is backwash off the cliffs and so much foam. That means the jetski always cavitates and just keeping on your ski is so difficult. And if you fall off there, well, you're fucked." Silva didn't fall though and was lucky Longbottom had enough energy to haul himself onto the sled. Video footage shows in the seconds after the rescue, the next wave was a solid 15-footer that smashed into the cliffs. Without Silva, who knows what could have happened. 
"It was easily the heaviest wipeout of my life, worse than the Code Red at Teahupoo or beatings at Shipsterns or The Right," said Longbottom. "But we came through it and you learn from the experience. On the positive side, my board felt great. I can't wait to give it another crack." 
Tracks