Two weeks out from Tahiti, Owen was slammed head first into the hungry reef at Desert Point.
| | |
| --- | --- |
| | Two weeks out from Tahiti, Owen was slammed head first into the hungry reef at Desert Point. |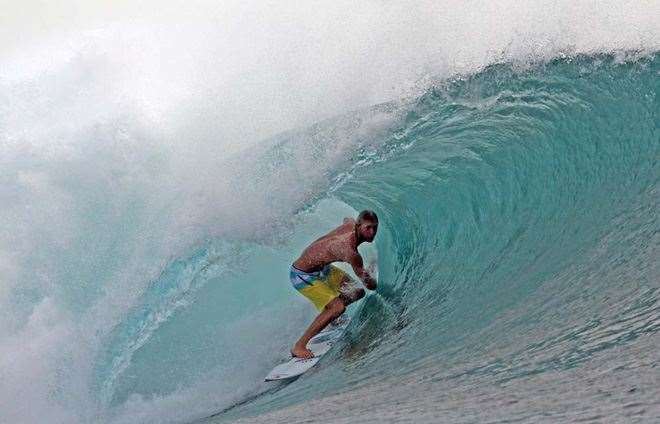 Pre reef-butt: Owen styling in the Desert Point pit via a sweet double hand drag. Pic: Childs
Last Saturday at 1:22pm ninth ranked ASP world tour surfer Owen Wright suffered a nasty head injury surfing Desert Point on the Indonesian Island of Lombok. On an increasing southwest swell (a dangerously low tide) and just two weeks out from the ASP World Tour Billabong Pro event in Tahiti, Owen, unperturbed by the funky winds pulled into a solid pit only to be slammed head first into the hungry reef below. Tracksmag.com caught up with Owen for all the exclusive details of the accident, what equipment he'll be riding at Teahupoo and his aspirations for the event.
I understand it was low tide, a little bit windy and the swell was quite west, but you decided to hit it anyway?
"The wind was a little onshore, but it wasn't too bad. I went out to try and get a few barrels... I'd been over in Bali and hanging out with my mates and getting in some practice for Chopes [Billabong Pro Tahiti]. It was my second trip to Deserts – so I'd already scored – but then I was starting to push it a bit more and hunt the barrel a lot more, but with that swell being west you could really pull into some long sections and that time things didn't really come off too well."
And when you came up you had a handful of blood?
"Yeah, well I popped up and I knew I'd hit. I was like: 'Yep, that hurt.' You know when you scratch the reef it's like, 'arghhh'. It hurts. This thing didn't hurt that much, but as I paddled back out I looked down at my board, as you do, and saw all the blood and then I stuck my fingers so far inside my head."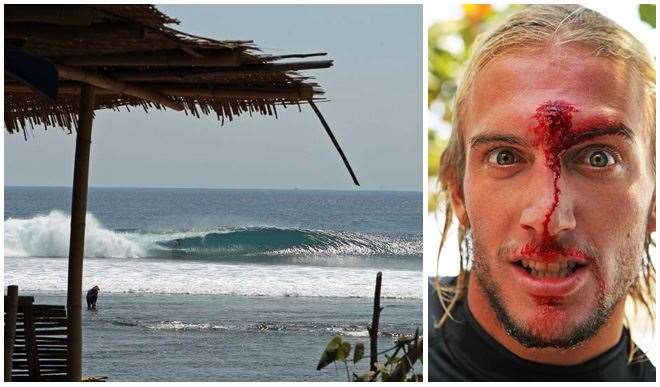 (Left) Desert Point does its thing with Owen in the spot. (Right) Owen and the guilty forehead. Pics: Made/Childs
Did you think of Teahupoo then, like: 'Oh, no I'm out of the water?'
"Not until I was sitting on the beach with all my mates trying to play doctor did it cross my mind. I was like: 'How bad is it?' And they were like: 'Ummm.' Not really giving me a proper answer and then I was like: 'let's just super glue it and butterfly clip over the top' because the swell was coming up the next day. They were like, "yeah, kinda? But perhaps you should have a look in the mirror first" And ten I did and I was like, 'holy shit!' Lets go get this stitched up.'
Even your friend Eddie 'The Predator' Blackwell suggested plastic surgery, it must have looked bad?
"He was like, 'Mate, you don't want to end up looking like me, you better go home and get plastic surgery.'"
Was getting medical help a fairly scary proposition on Lombok?
"Oh, hell-yeah, the first joint I went to, Ed and I walked in (he was kinda supervising for me), we checked out the equipment and there was blood all over the needle, over the operating table, and it was that dirty and the utensils were rusty – we just turned around and got out of there. Drove further on to another joint and bought all new stuff. We washed it out [wound] and they stitched it up, which we probably shouldn't have done on the Island because of infection – that's when it gets dangerous over there (when you get infection)."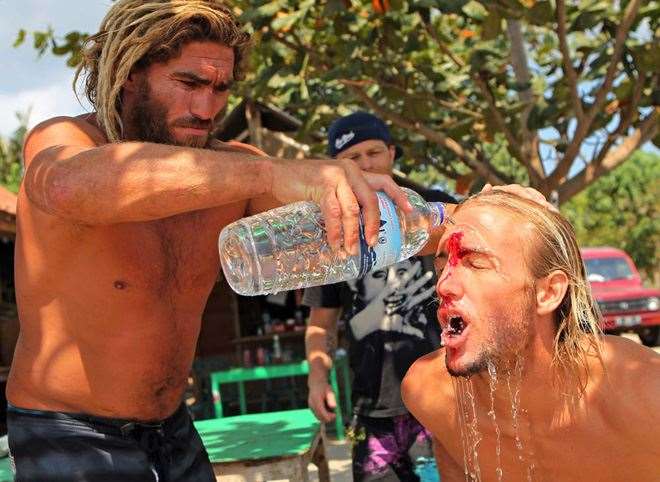 Desert Point regular and good friend of Owens, Eddie 'The Predator' Blackwell, plays medic. Pic: Childs
Then you took the slow ferry back to Bali? No speedboats or helicopters for you?
"Nah, this was a trip with the boys, none of that stuff. The ferry ride is kinda slow, and I had a good headache. I was going to stay and surf, it was picking up and getting stitched up and surfing again would have been good practice for Teahupoo but the gash got infected and I had to get out of there?"
It's not the first time you've had stitches is it?
"No. I've had a few stitches. But this is the first time I've ever taken antibiotics. I don't get sick that much. I don't like taking anything but when my head swelled up I was like, "shit". IN Bali they undid the stitches (that looked like shoe laces in my head), and left it open because to the infection. I've since been to hospital in Australia and they asked me what type of antibiotics I was taking and when I told them they said, "you need stronger ones!" Which was a bit scary but it's all good they cleaned it all up and I have another appointment today. The wounds straight in front of my forehead [laughter] and your sinus' are there so they got to check all that out."
So cosmetic stuff's on hold, just deal with getting out of danger first?
"Yeah, the infection is the most important thing to get rid of. The doctor could not believe how infected it got – and so quickly. But I told him it's a pretty dirty joint."
Sounds like you'll be sporting a healthy scar in Teahupoo, but after that maybe a fine slice and some plastic surgery?
"Nah, nah, that was just Ed giving me shit."
So you'll leave the scar no matter how bad it is?
"I'll run the Harry Potter scar."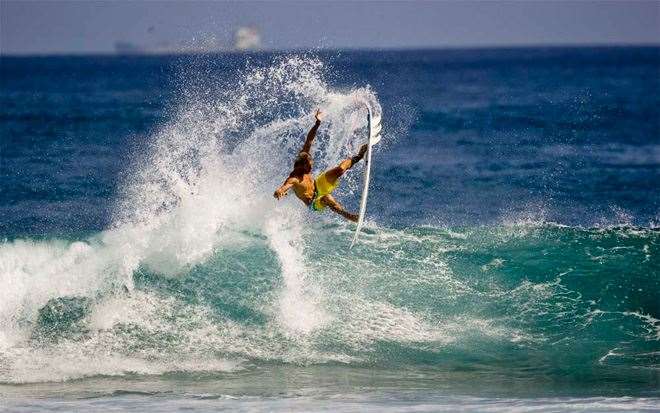 Not your standard Desert Point approach, from a far from standard surfer. Owen flaring. Pic: Made/Childs
Not only were you working on your tube riding in Indonesia, but also your boards. Can you tell us a little about that process?
"Yeah, I was travelling with Parish Byrne [son of Owen's shaper Phil and a shaper in his own right], and a few of the boys from home [South Coast NSW] and we were all pushing each other, yelling at each other and that... and with Parish, we go over the boards with a fine tooth comb and sit around and talk about boards and fins and figure it all out."
It looks like there's a good swell hitting Teahupoo next week, what type of board to see yourself riding if there's a decent swell?
"I'm going to pull out a board that's around two inches up from my normal board, so about a 6'3" or a 6'4", bit bigger, and one that sits really low in the water – not above. Soft rails and a really deep double [concaved bottom] and my standard round tail – with a little extra foam up under my chest for paddling."
Do you get a little extra glass or keep them for strength?
"I'll just make sure I have a fair few boards there, in saying that, Teahupoo boards do need to be a little stronger than normal, so there will probably be a little extra glass on there – but nothing too extreme."
You currently sit ninth on the ASP World Title Rankings, knowing the type of competitor you are you'd want to climb higher and Teaupoo must be a place you feel you can do well?
"I love left hand barrels, and I'm pretty excited actually just to get a left on tour that is hitting – so that will be fun. I definitely want to get a good result and move into the top five. I'm looking for a good result – I'd love to be up there in the finals."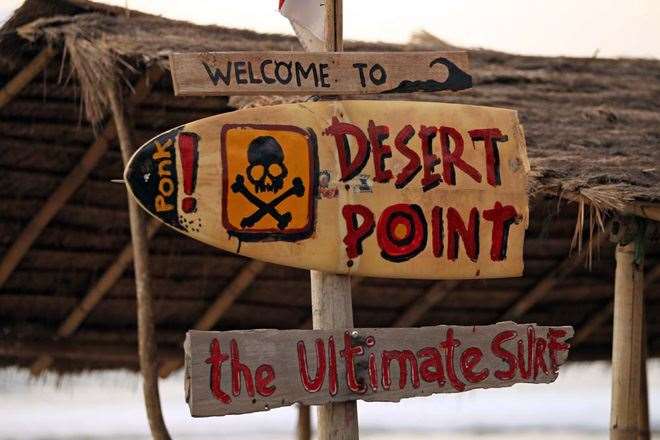 The ominous sign on the beach at Desert Point, Lombok, Indonesia. Pic: Childs

Have you ever paddled into a big wave at Teahupoo before?
"I don't think I've paddled into a real big one there, but I've been out there when I was around 16 on that swell where Andy [Irons] got shot out of that barrel in the air! When he took off and his foot came off, and he put it back on... I was out there that day trying to picture myself paddling into a big one like that."
What about other fellow goofyfooted competitors who seem to do well there like Bobby Martinez (if he turns up?), Damo and CJ Hobgood?
"Bobby is definitely one of the better goofyfooter's out there – in fact all of the goofys are good out there. The Hobgood's, Freddy P [Fred Patacchia] and Bobby. Even Ott's [Kai Otton]. A lot of goofyfooters surf well there. Just watching them, they're going to be going for it – especially because it's the first left of the year."
Andy, who was one of the leading innovators of backhand tube riding at Chopes (along with Kelly Slater), with the bum and hand drag technique, has given the natural footers a lot of confidence out there?
"Andy definitely opened things up for the natural footers there. He dominated that joint on his backside. I don't know how many wins he had there? But he opened it up for those guys to get great results there."
Kelly just won the US Open, he'd be bummed he missed J-Bay, coming off a win he'll be hard to beat out there too?
"Yep, Kelly's always hard to beat anywhere. I don't know how many years he's been on tour?"
Will you try get in the water as soon as possible or relax let your wound heal and get to Teahupoo fresh?
"Yeah, just let it heal, it's not too bad, it's just going to be a good scar – despite Childsy [photographer Jason Childs] and Ed giving me shit about plastic surgery."
We'll keep an eye on the scar and give you an honest appraisal?
"Let me know what you think at Chopes [laughing], at the moment it's still looking preettttty good."
Thanks Owen, good luck in Tahiti.
– Col B

Note: All these sessions plus knife point threats, riots and more coming soon in the October 2011 issue of Tracks magazine.
Become a friend/fan of Tracks on Facebook HERE
Follow us on Twitter HERE

Tracks