Freelance surf photographer Spencer Hornby has told Tracks about a disturbing morning on the NSW south coast.
Freelance surf photographer Spencer Hornby has told Tracks about a disturbing morning on the NSW south coast.
After a surf in the solid (but slightly disappointing) southeast swell this morning, Spencer was confronted with a surfer clutching at a bloody mess where his eye should be. He explained the scene to Tracksmag.com, "It would have been the best part of eleven o'clock this morning. I was with Dylan Longbottom shooting with both he and Ryhs Bombaci out at a little right hand set up. I'd just come in and joined the boys in the carpark to towel off and talk shit when I've heard this poor bloke yelling and cursing his way towards us. He was pissing blood and fluid from his right eye and he was clearly in pain. Dylan walked over and asked what happened and the bloke pointed to another who was walking into the carpark and entered the scene." Spencer went onto explain, "An argument soon broke out and it became clear that this wasn't the result of an accident. As it turned out the bloke with a missing eye was a long-time local and was enjoying a mid-week surf when an apparent blow-in faded him. A punch was (allegedly) thrown by the local and the blow-in (allegedly) retaliated by corking his board and stabbing it into the local's eye. The result? The most sickening act of surf violence I've ever witnessed."
Traumatised by what he'd seen Spencer then added, "Dylan came back over to Ryhs and me and told us he couldn't see his eyeball. Beside the fact that he took his eye, the dickhead tried to justify his act of violence by saying that the local bloke shouldn't have thrown a punch. So the end results? A local (who by all reports is a top bloke) was faded and would now be still recovering in hospital and may or may not have two eyes tomorrow, whilst the other guy returns home to rest a bruised chin." Something that Dylan stressed too, "Oh, yeah it was real heavy. I looked into his socket where his eye should be and it was just a bloody hole. There was a lump of something to the side, but I couldn't really tell what it was. It was like I was looking into his skull." Dylan does know the injured surfer, but prefers not to mention names, "I know him from school, he was pretty freaked saying, 'fuck, look at what he's done!' And this was while they were still arguing."
We can only speculate to the morning's actual events and report this with caution due to legal reasons, but the fact remains what should have been a good mid week session turned real ugly.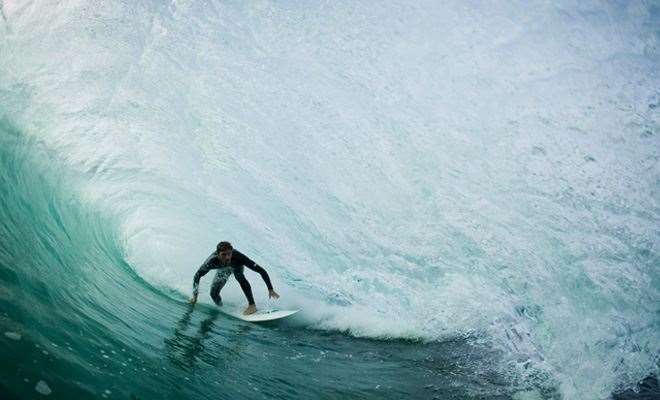 Good time kegs like this nugget of Rhys Bombaci's were soon forgotten once the blood flowed PIC: Spencer Hornby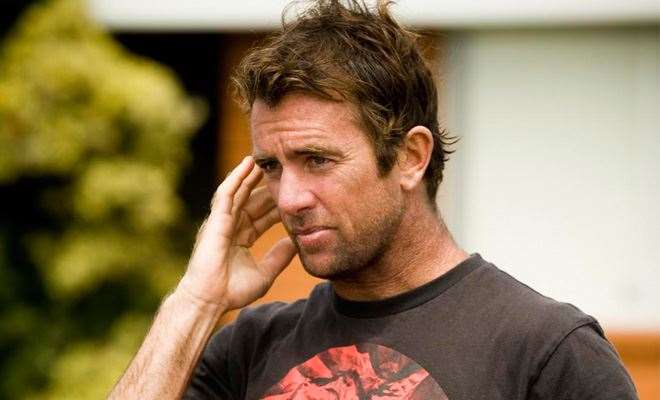 Dylan Longbottom trying to understand what had just happened. PIC: Spencer Hornby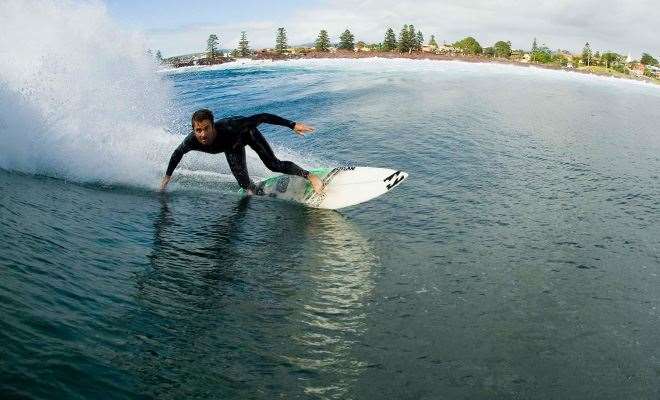 Dylan enjoying the smooth conditions earlier on. PIC: Spencer Hornby
Tracks