A film about redemption and how just one friend can change your life.
A film about redemption and how just one friend can change your life.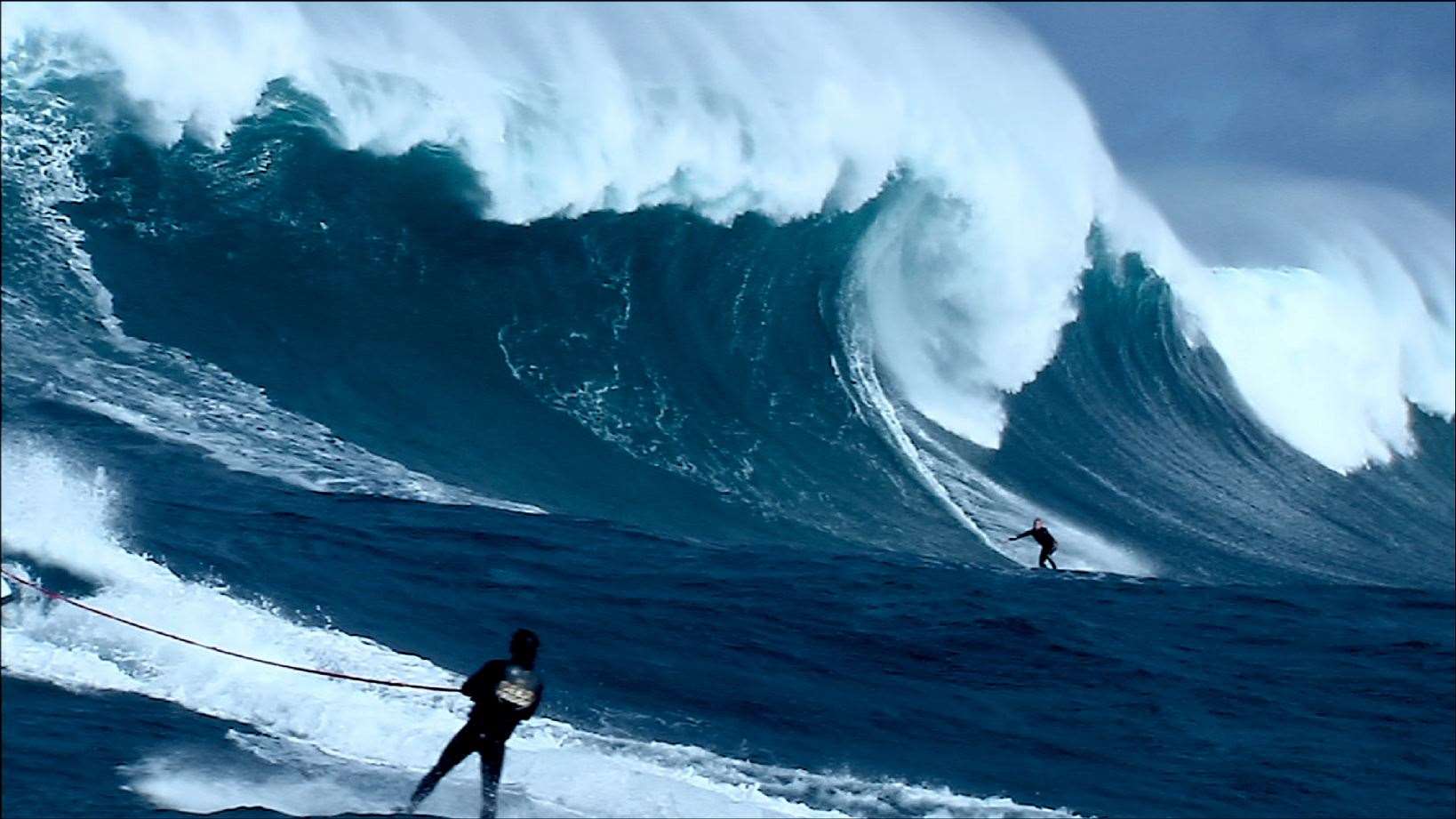 Mark Mathews on an award winning monster in West Oz.
When was the last time you found yourself on the edge of your seat at a surf film? For me it was a 1983 screening of the Scott Dittrich film Follow The Sun; at least that was until I saw Fighting Fear last week. But then again FF isn't your average surf flick.
Starring Maroubra lads Mark Mathews and Richie Vaculik, this Macario De Souza directed flick has an element no surfing film has ever had before – pro cage fighting! And for some strange reason it works.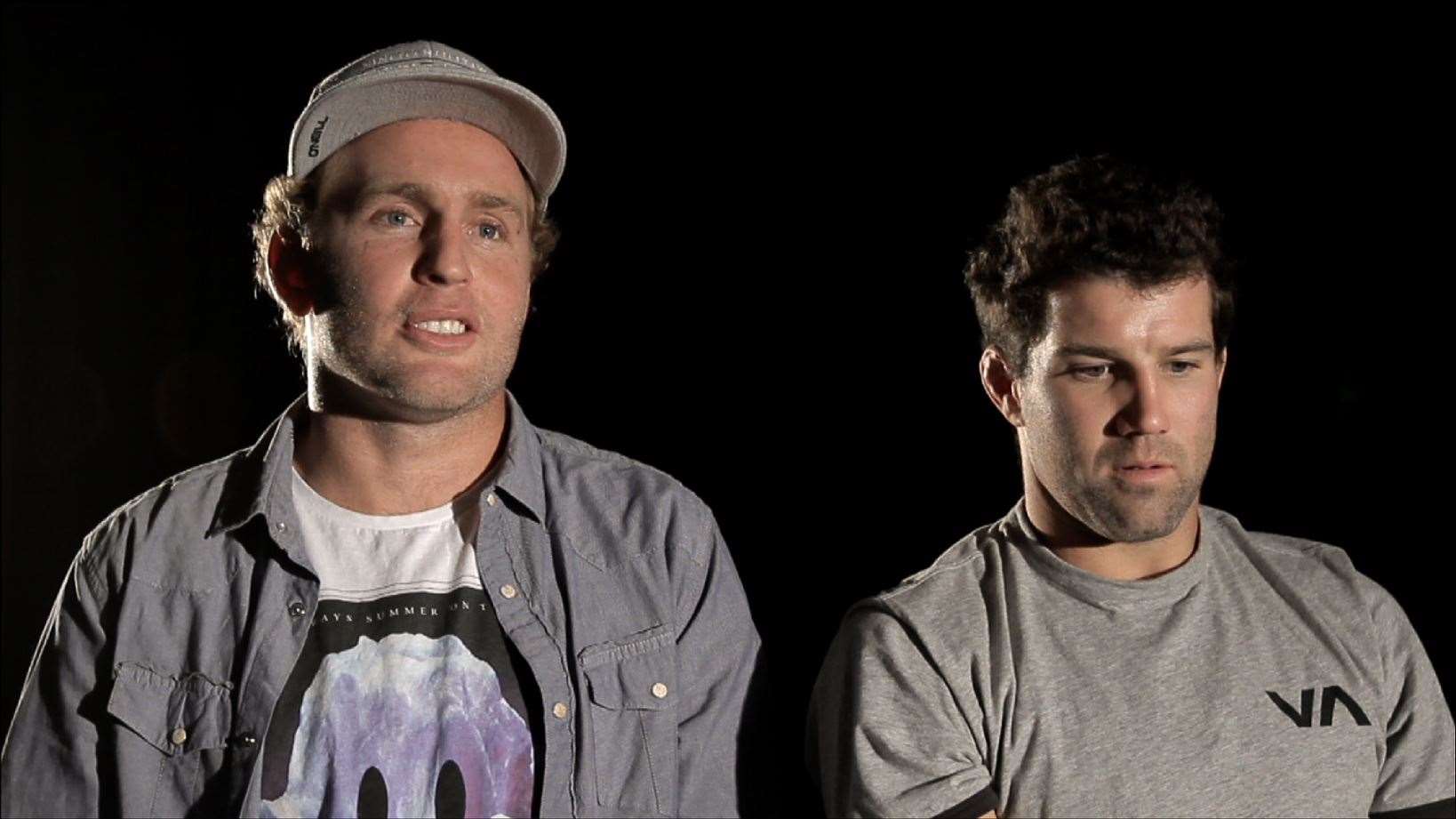 Mark and Richie.
Let me try and explain. Fighting Fear is a movie based on the close friendship Mark and Richie have shared since they were grommets growing up at the Bra. The drama these to have caused in that time could fill a book, or guess what? Form the basis for a movie.
While slightly skeptical of what the film had to offer at first, I was happy to accept an invite to attend a private screening before any official release or premier had come to fruition. Was the whole thing going to be based around the now legendary night shoot at Botany Bay's awe inspiring, Ours? Was it to be a Mark Mathews profile film with Richie playing Robin to his Batman? Neither. This film is a straight up balls-to-the-wall documentary produced to thrill, shock and most importantly, entertain. And that's what I got out of it – pure entertainment.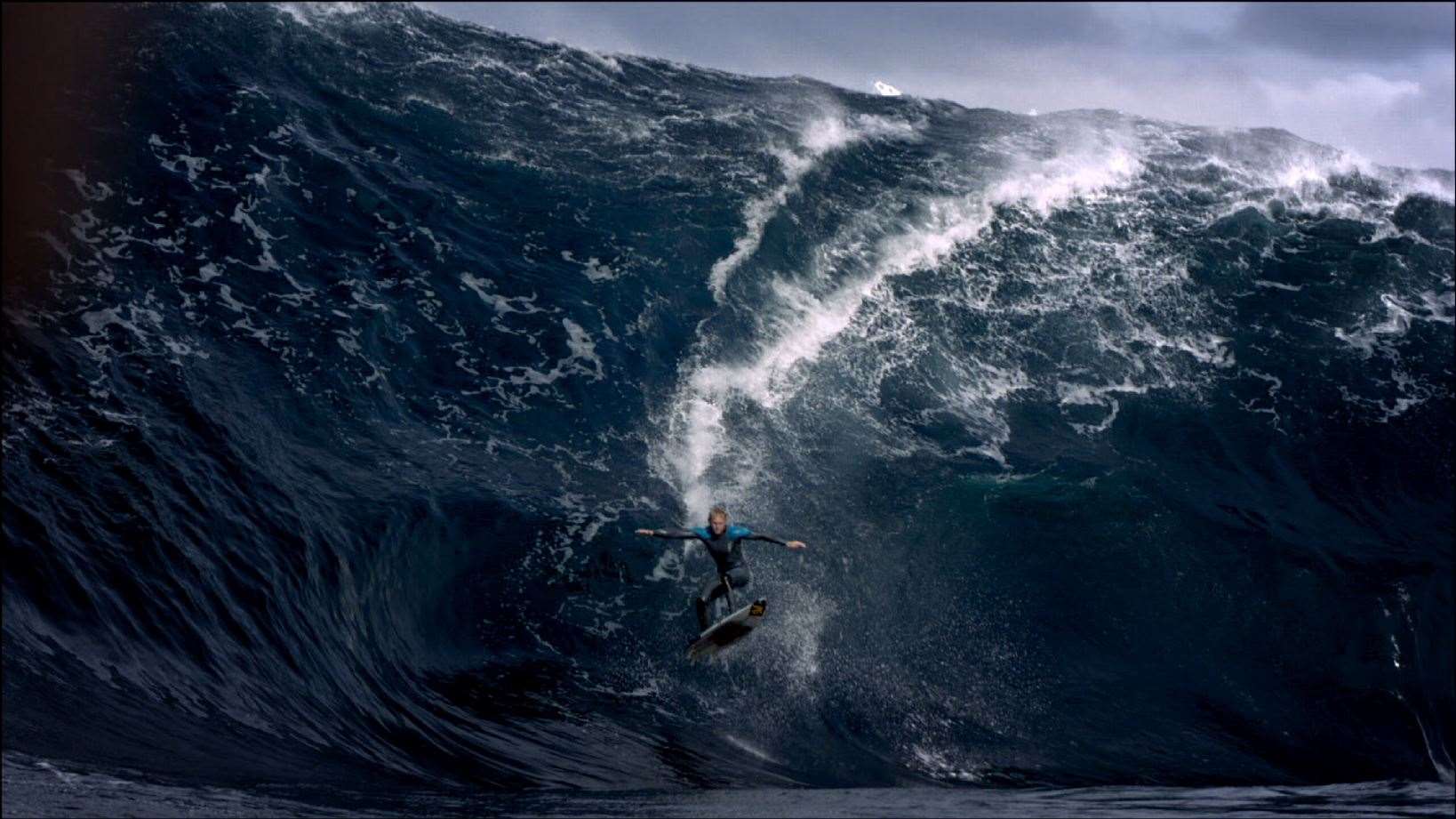 Mark and Richie throw their bodies over the ledge at Shipsterns Bluff for our viewing pleasure.
Now it's no secret that surfing wise both Mark and Richie will pretty much pull into anything. And by that I mean anything. They've been featured in the hallowed pages of Tracks magazine charging crazy mutant slabs time and time again. But in this film, the two friends not only take us on a ride through past experiences in the water, both good and bad, but also on land – even going so far as to purge themselves of all their sins in candid interviews throughout. When was the last time you admitted your failings on camera for all to see? Not an attractive proposition, and almost as brave an act as what they do as athletes, especially Mark admitting he used to be rescued in the surf at Maroubra by his Mum as a grom, and Richie coming clean about, well coming clean (nude), after he has a few drinks.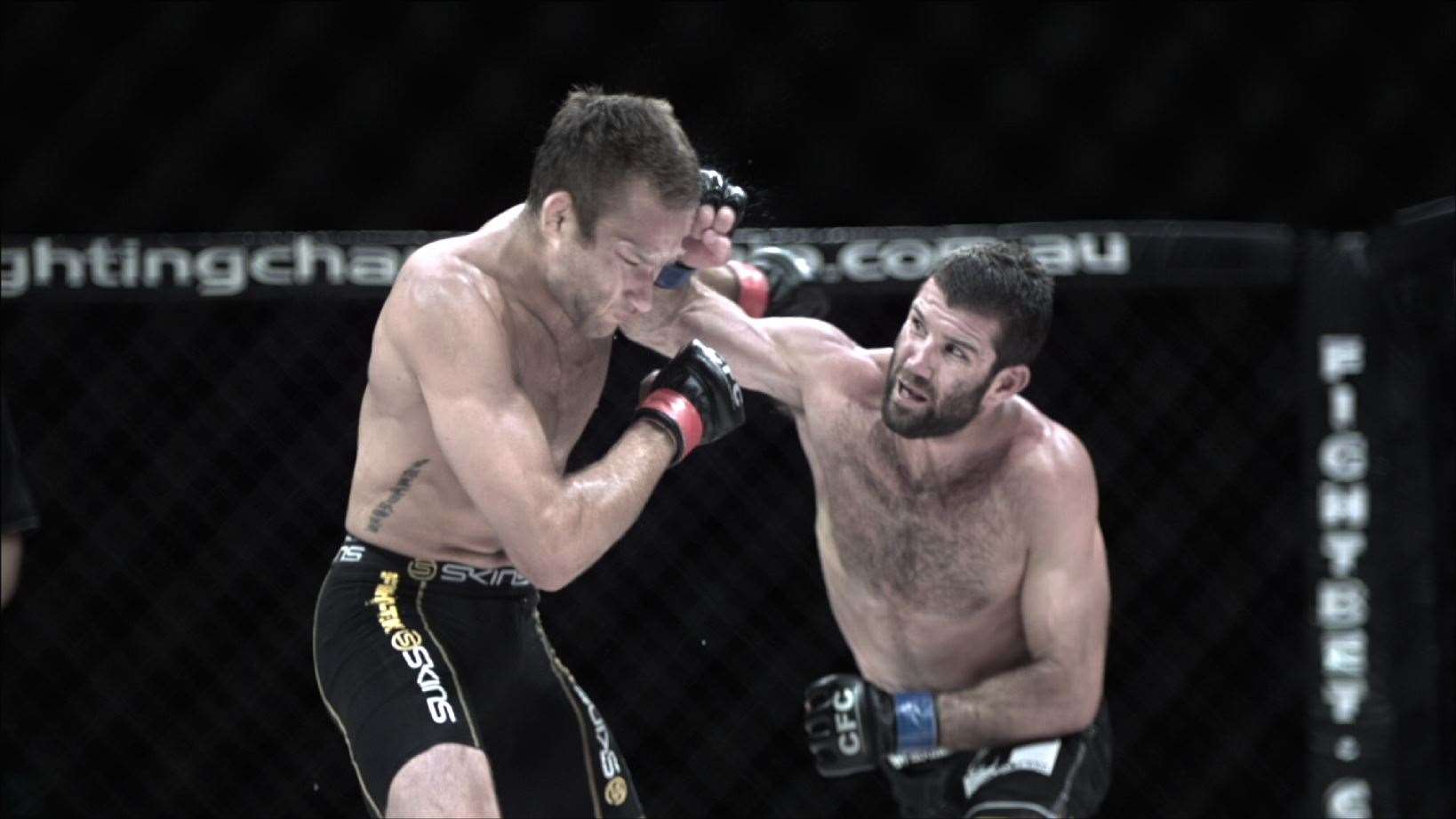 Even non-fight fans will be impressed by Richie's foray into the ring.
Thanks to everything from state-of-the-art phantom camera slow-mo vision to hand-held water cams, we (the viewers) are man-handled out of our soft safe cinema seats and thrust into the heaving hell of places like Shipsterns. Dragged to the bottom, breathless and semi-unconscious, only to reach the surface in time to be spat out onto the canvas of a caged ring for our first one-on-one pro Mixed Martial Arts bout – scary stuff indeed.
While the action is redlining, director Macca (as the boys call him) is quietly reaching for tight the heartstrings too, playing them like 12-fingered harpist. Hopes and dreams are shattered everyday, and fucking up is a part of life, but once a person has seen the error of their way's and attempts to pull up from nose dive, one can't help but grab the stick and lean back in unison praying the fucker doesn't hit terra firma and explode into oblivion. Its human nature, we all want redemption.
Fighting Fear, a film about redemption and best friends.
Like the sub heading says, "A friend can change your life."
Tracksmag.com spoke with both Mark and Richie about the film.
Mark Mathews...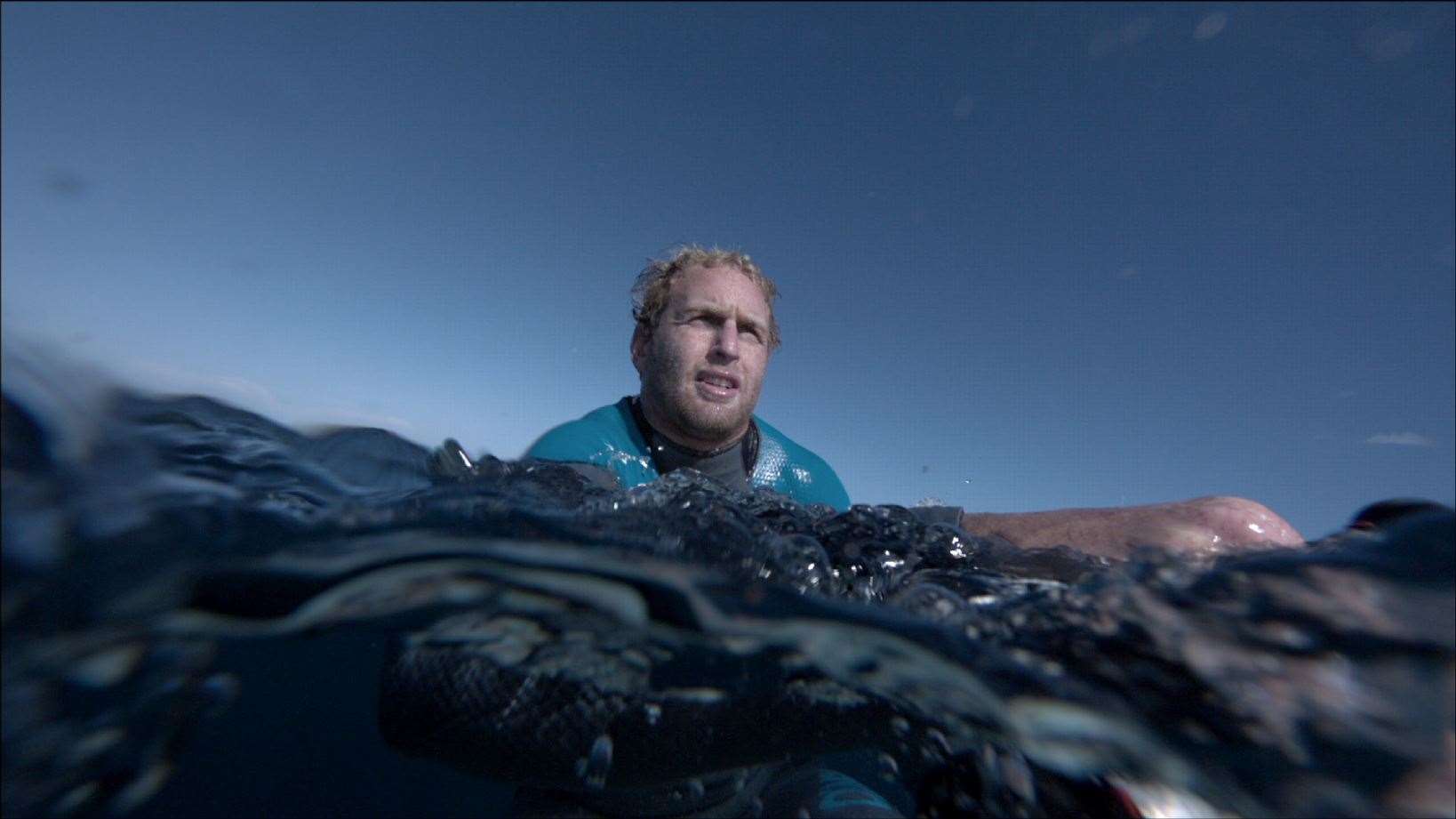 Mark, amazing footage?
Mark: We were lucky to get a lot of the footage that we did, we don't have the million-dollar budget like some big companies do to buy amazing footage, but we used good relationships we have in the industry and filmers we've worked with in the past to get some crazy phantom footage and of course pull off the night shoot...

What about old footage?
We have Brooke Sylvester, who's been shooting around Maroubra for years, and he a good library of footage we could use. On top of that we did a few re-enactments and stuff, like hiring the two grommet actors to play Rich and I when we were groms.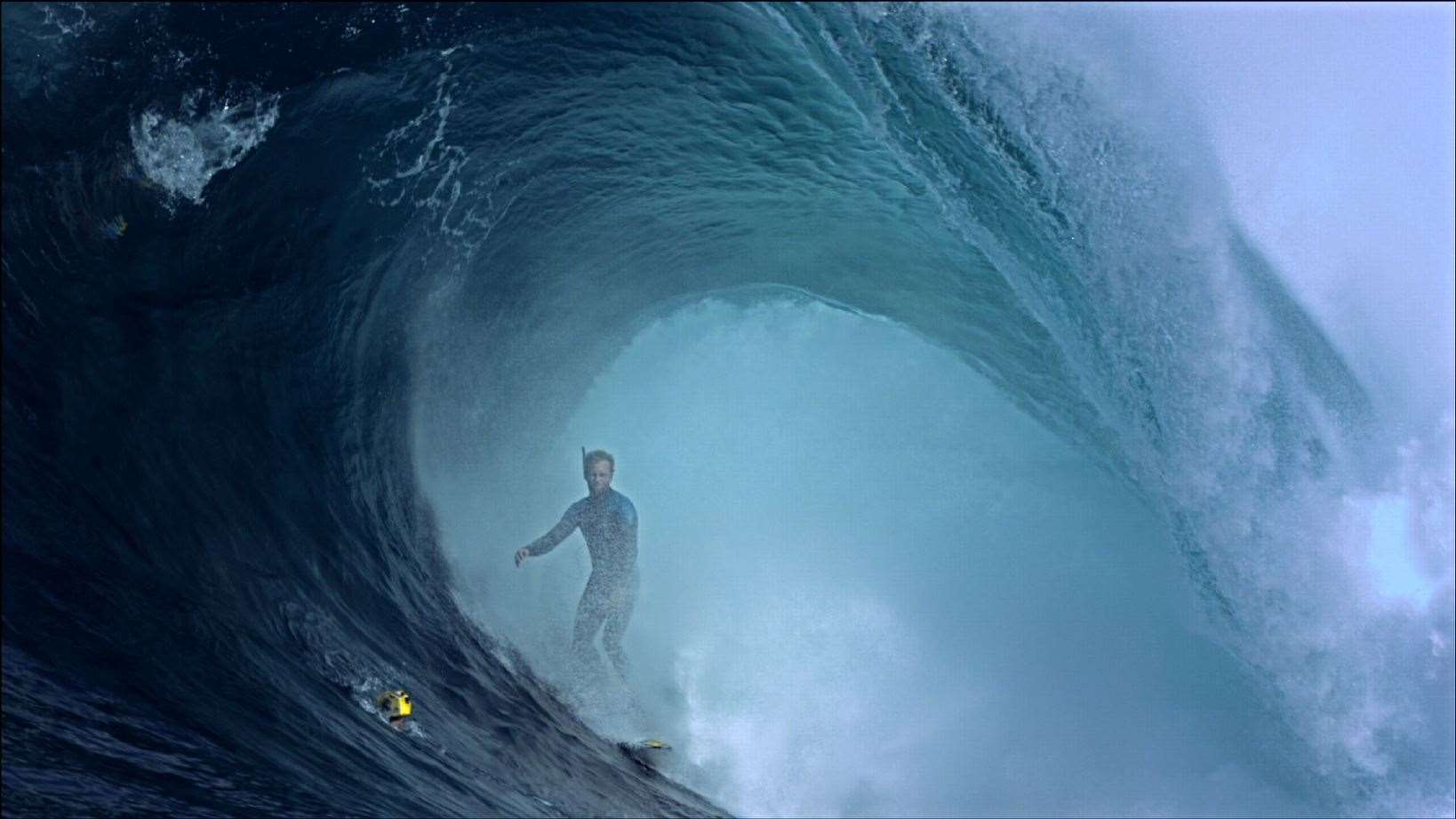 With risk comes reward, Marky, Shipsterns spitter.

Was being so honest in the interviews cathartic?
It was a cool thing, I don't think I'd want to make a movie like this if it wasn't my mate [director Macario De Souza] directing it – it wasn't hard talking about that stuff, with Macca. And it was cool to look back at how you acted when you were young; you certainly learn a few things.

You couldn't make this movie again could you; you talked about everything, the good the bad the ugly and now it's all sealed up in a package?
Exactly, it was a chance to tell my story and how I got to where I am today, and it's cool to tell it, not just about me, but about Rich at the same time. Considering we grew up together and still are best mates, we took different paths but we were the same types of characters when we were young – both ratbags that got in heaps of trouble. It's cool to tell our story together.
The boys fool around in a Hawaiian gym.
Were you more comfortable working on a film where you shared the limelight?
As far as making an interesting film, I said to them [producers] at the beginning, that I'm not interested in a film just about me – and Richie's story is amazing. And it [the film] will now reach a way bigger audience than it would if it was just on me by myself, or Rich by himself.
He really is a freakish athlete, I'd never seen him fight before and I was blown away by his tenacity and will to win?
He archived a lot so quickly in MMA
How do you feel about young kids watching the film?
Starting out, the whole thing about making the film was that hopefully we could have some sort of positive affect on even one kid, or a few kids it would be worthwhile. We fucked up heaps as kids, and we don't want to come across as preachers or anything like that, it's just a simple fact that you can do that stuff when you're young and it can ruin your life. So you have to think about it and see if it's worthwhile – acting like an idiot at that age. For so many of my mates it did go the other way – and it fucked their live's up. We were just both real lucky to get out of a couple of sticky situations. And is it ever worth it? It probably isn't.
All that street violence that we group with, there's a place for that and it's in a ring. If you're too scared to fight someone in a ring, with someone who wants to fight you, then you certainly shouldn't be fighting in the street.
When you're a young man you value totally different things that you do when you get a bit older, and as soon as you get older, and you imagine having kids or whatever, you know you don't want to fuck your chances up by doing stupid things. Cause when you do fuck up, doing stupid things; it makes those things so much harder to achieve.
Macca co-directed Bra Boys with Sunny Abberton, which was the most successful [non-Imax] Australian documentary ever! Which is quite extraordinary?
He's that talented it's unbelievable. What he did with the Bra Boys doco, with Sunny. And there's also Michael Lawrence, who helped fund and produce that movie as he is doing for us too. I was sceptical at first. They had such big ideas about it going into cinemas and stuff and me and Rich just looked at each other like, "We'd be lucky to make it a good DVD?" And now it is going to be played in cinemas and is a way better film than I ever thought it could be.
Richie 'Vas' Vaculik...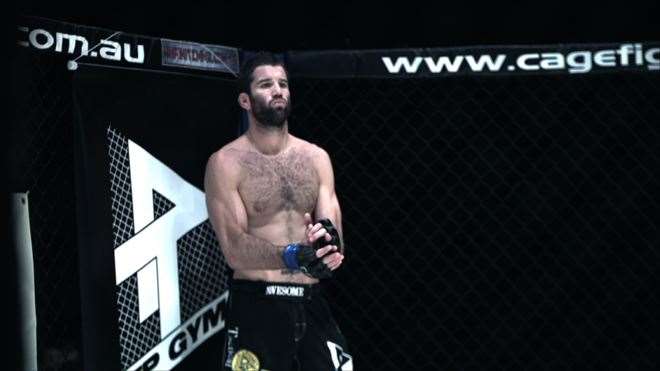 Richie, there's a scene in the movie where your arm is being almost hyper extended by a competitor, how does you arm not snap?
I'm not sure what happened, but it managed to stay intact, so I'm pretty stoked. I squirmed away, every time I hit that point, I'd move just a little, give myself that space... He thought he'd need to re-adjust, to get the arm bar, and that gave me the little window to get out of there. Had I not been full of adrenaline, and it not been the night that it was, I would have tapped out for sure... But when everything's happening like that you find a way to get through it.
I've seen you pull into plenty of slabs, but never seen you fight, it was pretty impressive, are you surprised by the success you've had?
When I first started MMA [Mixed Martial Arts] it was mainly just for the experience, I didn't have any big plans to win titles or whatever, I was really enjoying Jujutsu at the time, and I love boxing, and I love everything about MMA so I thought I'd give it a go and really enjoy the experience. And I did and I won my first couple of fights and it just built from there. Once I made a decision to knuckle down and give it a crack the surprise ended there, I was confident then that if I put my energies into MMA I could do well. To jump in the deep end and win my first fight by knockout was a bit of a surprise, but it changed after that...
I spoke with Mark about the movie featuring the parallel stories of both your lives and how presenting it that way perhaps took the pressure of, sharing the limelight so to speak?
Yeah, exactly, and it juts made the process so much fun, doing it with Mark, recounting things we did as kids, and surfing trips we went on. As you said, you get the time to yourself to carry on and keep doing what you wanna do – nothings totally focused on just you. It's been fun.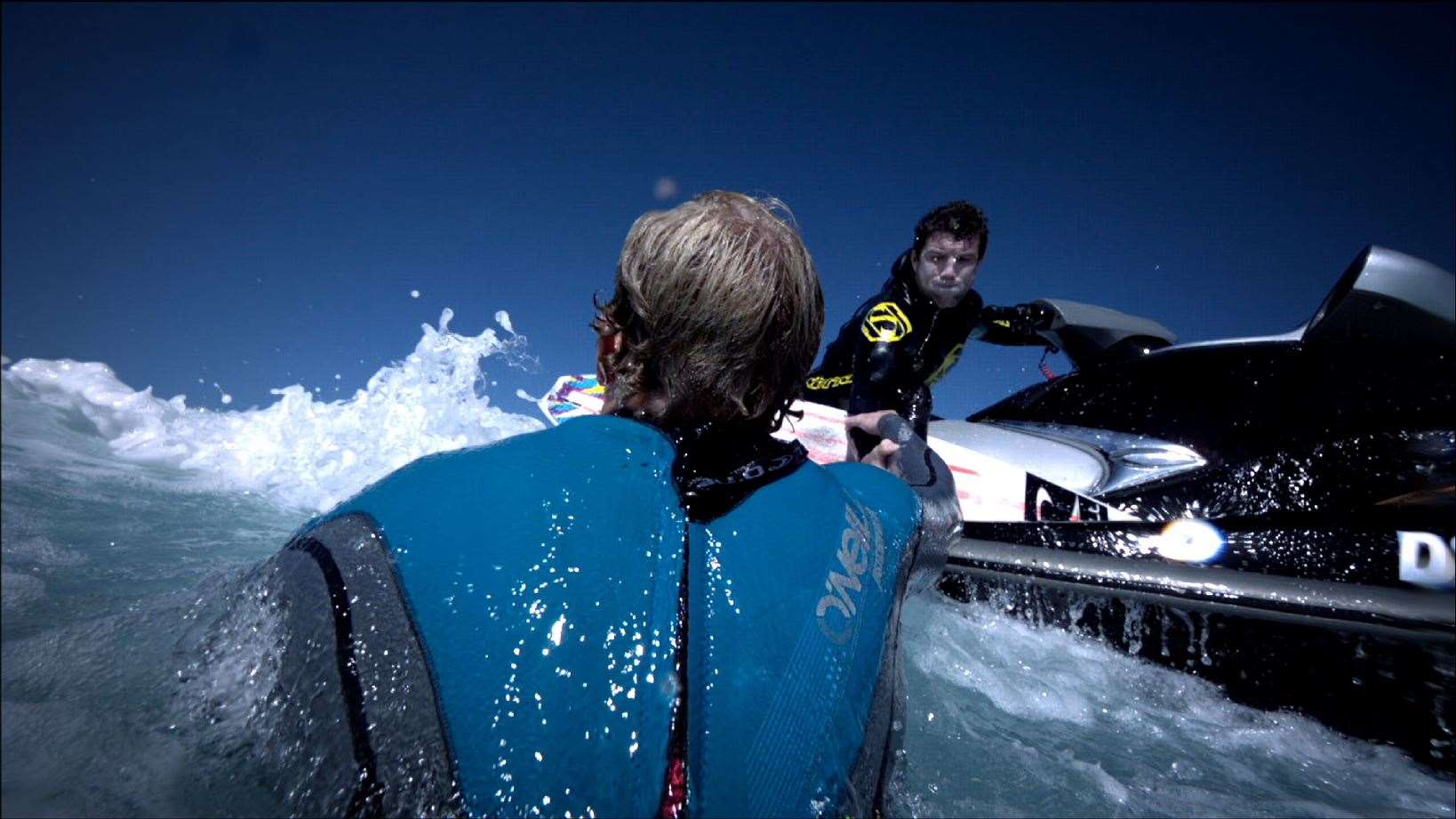 Trust is a must in any tow-surfing partnership.
You both talked through a lot of tough moments, you feeling a lot lighter now with all that weight lifted of your shoulders?
[Laughing] Yeah mate, I guess, umm, we didn't get too deep, but yeah, it was fun, to sit there with one of your best mates and get shit of your chest.
With the duel sports being featured in the film your professional longevity could be secured in both, which must be exciting?
Absolutely. I don't have any plans of stopping either. I mean, when I have a fight coming up that becomes a priority and I spend most of my time at the gym getting ready for the fight. In between fights I look to travel with Mark around Australia or overseas and look for waves. And I really hope that continues. If there is success with the movie and I can focus on doing just that then that would be great.
Dustin Barca from Kauai, is the only other pro surfer I know who is also a professional fighter, could we see a match up between you two?
He's a bit bigger than me, I fight at bantamweight and he fights at lightweight. I watched his fight online the other day and he did really well and got the win.
He's a natural talent that's for sure.
I am mates with Dustin and I am stoked to see him getting in there... I knew he loved MMA, and loved Jujutsu and kickboxing, but with his surfing career he didn't get the chance to have a go at it. Now things have changed a bit and he's grasped MMA with both hands and given it a good nudge. I'd love to see him fight over here in Oz or maybe fight on the same show as him somewhere in the world it would be great.
Back to the film, we see your mum in the film riding the lows with you, but this must be a high point for you both?
Definitely, I'm really stoked with the way things are going, and mum, she's always been proud of me, but with the court cases and that, I'm just stoked that's all behind us in the past now and she can be proud or where we're at today. She's got nothing to worry about, cause I knew it was stressing her out a lot – now she's seen a cut of the movie and got a bit emotional but she can just enjoy the ride with me. Come to the premier and all that.
The film wraps up those years of your life, and as I said to Mark, perhaps lets you look to the future with a new found freshness?
Yeah, that's it mate. In a way I'm grateful for those mistakes I made in the past, and I'm on a track now that I'm really happy to be on. I'm glad I found MMA and thankful for the discipline that's added to my life – being a surfer, as you know, discipline isn't really our strong point. Now to have goals set and staying busy trying to get them done – I'm stoked.
Note: In Australian cinemas 10th Nov 2011 (International release info coming soon).
Watch the official FIGHTING FEAR trailer HERE

Tracks