The Brazilian fly-boy will sit out Fiji after storming the judge's tower.
Filipe Toledo has been suspended for one event by the WSL. The suspension was handed down after Fil attempted to storm the judge's tower when he was slapped with what was a pretty cut and dry interference on Kanoa Igarashi during their round 3 match-up. 
Perhaps Filipe was buoyed by Zeke Lau and Jake Paterson's duel storming of the tower at Bells, in which the duo kindly pointed out that the WSL had made a mistake and got a decision reversed. Whatever the case, it has now become apparent that the WSL does not tolerate trespass into the judge's domain when they have clearly made the right call – as in poor Filipe's case.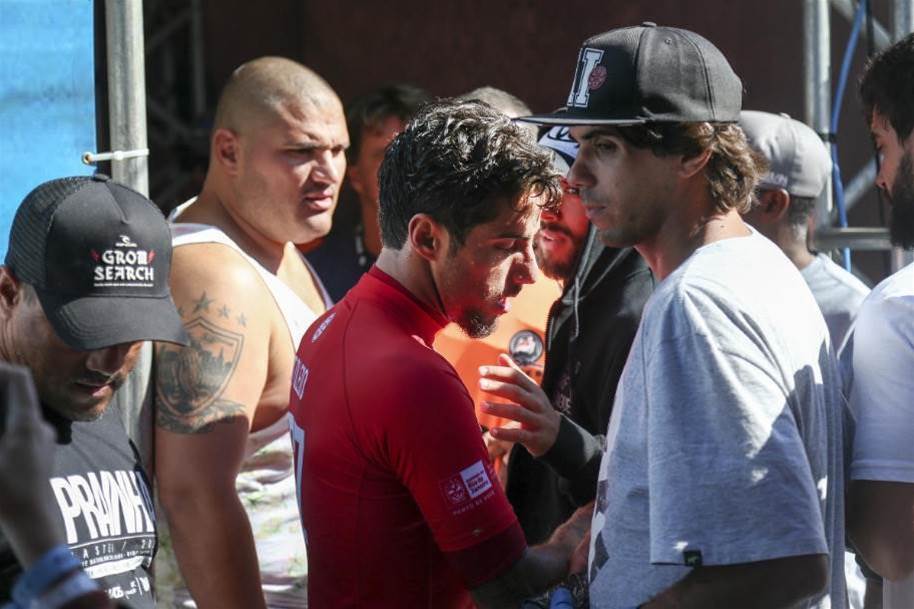 photo: WSL/Smorigo
They acted swiftly and without remorse, handing down a fine and a one event suspension, rubbing salt into the wound already opened up by Filipe's early exit at his home event. 
Today via a WSL press release, Filipe issued the following statement regarding his actions and the ensuing disciplinary action:
"I'm a passionate guy and surfing is my life," said Toledo. "After getting an interference in the third round in Saquarema, I was very upset and my actions after the heat were unacceptable. After cooling down, I realized that I was not myself. I'm very sorry for my behaviour. I want to apologize to the fans, my sponsors, the media and WSL. I take full responsibility for my actions and accept my suspension. I am disappointed to miss the next event, but looking forward to returning stronger for Jeffreys Bay. Good luck to everyone in Fiji and thank you all for the continued support."
The presser also contained this from Deputy Commissioner Renato Hickel:
 "Filipe (Toledo) is a really good kid and an incredible surfer," Renato Hickel, WSL Deputy Commissioner, said. "The WSL is very fortunate to have someone of his calibre on tour and he is constantly progressing the level of surfing in the live arena. It's disappointing when we have to pass disciplinary action for any of our surfers, but that behaviour is not acceptable for the sport. Filipe knows this and we look forward to seeing his talent back on tour very soon."
We will see Filipe return to competition in South Africa.
Tracks