How will the hometown high-flyer perform post-injury?
Tonight (Oz time) the world's most scorned WSL event, the Oi Rio Pro, could kick off in Brazil and with it comes the return of boy wonder himself, Mr. Filipe Toledo. After injuring his groin in the semis of the Quik Pro, the kid's been sidelined for nearly two months, in which time he's missed both Bells and Margies and slipped to a less than ideal 18th in the ratings. But now he's back, and considering the devastating performance he put on when he won in Rio last year, everyone's keen to see if he'll come out swinging or if that injury's going to play further havoc on the young buck's title campaign.
At Snapper he looked near unstoppable. Displaying some newly-added bulk and a vastly improved rail-game, Filipe tore through the draw, and he did it without relying too heavily on his freakish abilities in the air (although when he did put that to use, notably against Joel in the quarters, it was pretty damn impressive). But that was then and this is now, and it's time to see if all those rehab and strength-training sessions that've been littering his Instagram over the last six weeks are going to pay off.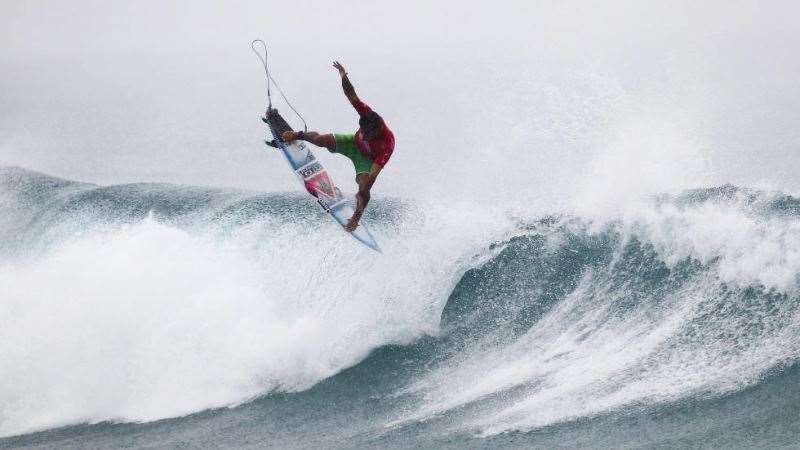 The air that did the damage at Snapper. Photo: WSL/Cestari
According to Bede Durbidge, who, in his own words, got 'smoked' by Filipe in the final of the Oi Pro last year, it's all going to come down to where he's at physically.'If he's not at one hundred percent he could surf tentatively, and as a result, he might struggle because his confidence will be down. A torn groin is actually a pretty bad injury—all your movement happens from the hip area.'
And if he is at one hundred percent?
'Then he's definitely going to have a good showing. He's by far the best surfer in the world in those kinds of conditions. His awareness in the air is crazy and he's a really smart competitor, way beyond his years. He makes great decisions in heats.'
Last year, in an interview with Tracks, upcoming tour retiree and recent Komune Pro winner Taj Burrow had similar words to say. 'His strike rate of landing airs in heats is just so good … I think at that size he can beat anybody and consistently.'
So how's the kid going to fare? Are we going to see a repeat of the mind-blowing performance he put down last year, a performance that culminated in a 19.87 heat total in the final, or is the road to recovery dotted with a few more potholes yet? Well, considering he's in the first heat of Round 1 (against 2014 winner Michel Bourez and fellow countryman Alex Ribeiro), I guess we'll find out when the Oi Rio Pro gets underway at the new venue of Grumari. One thing's for sure though, no one's going to be taking his return lightly.
Tracks