Starring Torren Martyn, Albe Falzon and Simon Jones, Ishka Folkwell's 'Thankyou Mother' is the counter-cultural roots opus surfing needs right now.
Thank You Mother Trailer from Ishka Folkwell on Vimeo.
The opening carve-to-bottom-turn combo says it all. Riding seven feet and nine inches of experimental twin-fin dynamism, Torren Martyn's first turn on a majestic J Bay bowler has echoes of Michael Peterson's immortal Kirra carve and Tom Curren's seminal second wave at Jeffrey's Bay (in the Derek Hynd directed epic, Searching for Tom Curren). It's an apt metaphor to kick off a film full of apt metaphors - a single turn that spans generations, connects the gods, and blends beauty and performance in a way only surfing can.
When the laconic mysticism of surfing's Original Guru (OG), Albe Falzon, kicks in moments later, Thankyou Mother hurtles to the top of the pile of surfing celluloid.
"If you let life take you rather than you take life you'll always find yourself in the right place," says Albe, in what is one of dozens of pure pearls from surfing's pre-eminent wise man.
Torren is the living embodiment of that advice. Stymied by an ocean of uninspiring crafts and the jagged, thrash-y lines that dominated his youth, he let life take him and it delivered him here, to Jeffrey's Bay, where Thankyou Mother was filmed over the course of a month.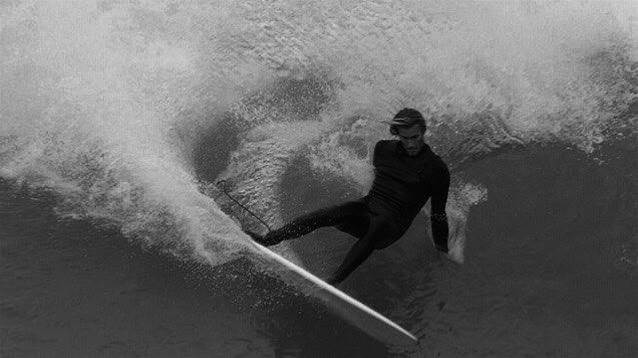 Torren, deep driving.
The film, like good surfing itself, is a simple idea executed perfectly - smooth lines, classic waves, synchronicity with nature, scored by the dreamy atmospheric jams of Nick Bampton, and narrated by the surfer and filmmaker from whom much of modern descended.
Thankyou Mother is dedicated to surfing and nature in its purest essence, delivered, paradoxically, at a time dominated by environmental degradation, corporate interests, mainstream courtship, material obsession, and contests not just for ratings points but waves themselves, often ending in blood feuds on the beach.
"Albe first taught me this: you don't have to try and surf like anyone. Just go out there and stand there and feel it yourself. Put your own into it. You can just stand there and go along if you like," says Simon Jones, the softly-spoken family man behind Morning of the Earth Surfboards - the artisanal hand-shaping business run out of his back shed in the Byron Bay hinterland. Simon is another ingredient in this film's success.
Several years ago, at a time when Torren was at a crossroads in his life and surfing journey, he'd stumbled across one of Simon's single fins hanging in a house at Byron. They were introduced shortly after so beginning a fruitful shaper-surfer relationship that has since become much more than that.
"That stage of meeting Simon, I was at lot more conscious of myself and even subconsciously I appreciated that, it had an affect on me. I look back at it now and I see where my life forked," he says.
It was through Simon that Torren met Albe. Their shaping partnership, meanwhile, has spawned a groundbreaking design trip hallmarked by a dozen or more modern spins on the twin-fin.
From L-R: Torren, Simon Jones and Albe Falzon.
For the filming of Thankyou Mother they took the lot to J Bay - ranging in size from 5'9 to 8'2 and featuring the full gamut of design quirks, from channel bottoms to swallow tails, flyers, various, rail configurations, bottom contours, hull designs, and so on. The end result is surfing that is both old and new, progressive with a nod to tradition, and stripped back in appearance but impossibly technical in reality.
As mind-blowing as Torren's lines are, another of the film's highlights is watching Albe, aged in his 70s now, lock into an effortless trim, providing a vivid reminder, as Albe's narration also serves to do, that surfing is about joy more than anything else. And often that is best achieved by simply standing there, being present, and taking it all in.
"It's pretty easy. People complicate their lives and other peoples lives but it's really simple. If we could realise what we were moving into, we wouldn't hang onto where we are so much. And that's the beauty of the ocean. It's brings you right back into the present when you're riding a wave," says Albe.
Thankyou Mother is an absolute gift. Five Stars. - Jed Smith
Torren and Ishka are embarking US Tour with the film. Tour dates as follows:
La Paloma theatre Encinitas, Feb 7th - 7:30pm
The Water Front, Venice Boardwalk, Los Angeles, Feb 8th - 8pm
Mollusk Surf, San Francisco, Feb 9th - 7:30pm
TBC Whythe Hotel NY Brooklyn, February 12th - 7pm
Florida Film Festival, New Smyrna Beach, Feb 15th - 5:30 pm
Tracks