We all dream of visiting France and Spain but what's it really like?
Southern France and Northern Spain make up the pulse of Basque Country and during late September/early October it needs to move up a peg on your surf trip list. It's the absolute Mecca of surf culture, love, nudity and beach break barrels.  
I spent August in Southern California, and while usually a decent month for surf, the only real swell Cali received I missed out on because I was on a trek up to Lake Tahoe. I needed to get barrelled. On a search for the cheapest round trip flights from LAX I found a very inexpensive flight to London. From there I discovered I had options to hit the beaches of Ireland, France, Spain, Portugal or Morocco, for just pennies. I'd never surfed anywhere in the EU and based on all the surf videos and WSL contests I'd watched in the last twenty years, France seemed like the place to go.
I figured I was headed for trunkable water, parties, thin-lipped barrels, and girls-girls-girls. My expectations proved to be somewhat naïeve. 
Finding a place to rest your dome on a budget in Biarritz is pretty easy, given the plethora of AirBnBs and hostels. I won't lie; I was intent on meeting as many girls as possible, so naturally I took the hostel route. Thirty dollars a night and you're in there. Car rentals to get around were just another twenty dollars a day. Normally most of us bring a quiver, but Hossegor boats an Awayco store, so you can save the $300-$500 on surfboard baggage fees.
The surf was sick!  I spent the first three days getting really fun waves in Biarritz and Anglet. There are tons of uncrowded sections at Anglet and Hossegor to get your beachbreak fix.
In Hossegor, outpost of the Quikie Pro, I found surf that was anything but thin-lipped, playful barrels. Biarritz and Anglet were typically pedestrian from shoulder high to a head and a half, however Hossegor started to get heavy at about head high!  Biarritz and Anglet also featured a regular onshore crumble in the afternoons, which was perfect for those who like to spend lazy afternoons on the punt. Hossegor had light winds all morning while afternoons were accompanied by howling offshores almost every day and yeeewww kids — it was sick, but heavy!  Crowds, yep, it was crowded.
My surf trips tend to be less Gerry Lopez/Kelly Slater and more Chris Ward/Andy Irons if you know what I mean. Needless to say, I was on the hunt for some nightlife. The older surf videos and surf mag stories gave the impression that Biarritz had a vibe of pure hedonism, with the pros on a 24/7 tear. All night benders with guys missing morning heats — It was basically a given you were surfing hung-over through the whole contest.
Night one I was bouncing around Biarritz in the evening looking for a popular bar and girls.  Well, there are still girls everywhere! I just couldn't find a bar that had people standing and drinking.  Every bar I cruised by was populated with tables for 2-10 people. How was I supposed to meet my French lovers?  Disappointment set in. It was three nights of doing everything I could to find a bar where it was easy to meet people. Countless times I even made an excuse to talk to girls walking down the street, only to be told they didn't speak English.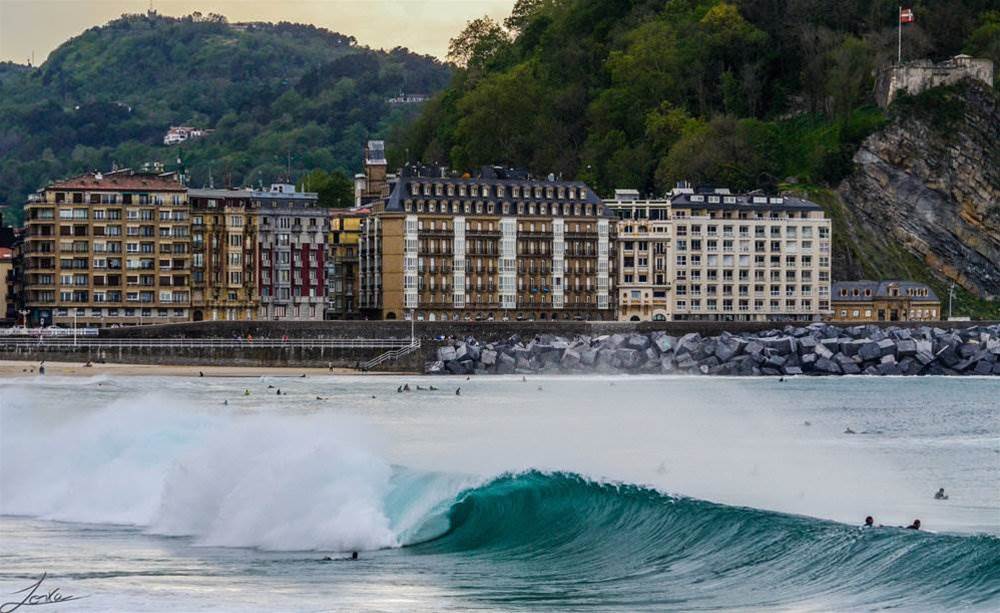 San Sebastian offers all kinds of enticements for the traveling surfer.
By Day four it was apparent that my hostel was not full of the party or surf crowd I expected. An Irish surfer bunked in my room.  He said that he was just on a one night stop, homebound. He'd been traveling around surfing the last month. We get to talking and I told him how good the surf had been here in France, but how the broader reality was very different from my early expectations. The biggest smile came across my Irish brethren's face, "Mate if you want to party with tons of chicks and get waves, I've only got one thing to say to you — San Sebastian."
Just like that, even though I'd already paid for my bunk that night, I was on the road just twenty minutes later. South to the land of the Spaniards. South into the unknown. I hadn't planned on doing anything other than France.  I wasn't even sure if I was allowed to drive my rental car across the border. Never mind all of that, I was on the road south – To surf. To fun. To Love!
I pulled in three hours before dark to a plush Aussie style hostel, $33 in the epicentre of downtown, San Sebastian. Aritz, the guy who owns the joint, immediately told me it was pumping out front, two blocks walk, and that I should leave my bags at check-in and go surf.  And surf I did. Can you say air sections? If France is home to tubes, then Spain is home to air sections and rippable nuggets. The surf didn't vary much the entire four days of my stay. Tasty, little tubes and clean walls in the mornings; air section after air section all arvo, and into evening. If you're looking to improve your aerial attack, then this a worthy joint.
Cute tubes and and good times are in close proximity at San Sebastian.
Night one was a game changer.  My entire hostel surfed and my entire hostel partied, it was wild. I was pretty surfed out, called it an early night around midnight, and came home to find two of the four bathrooms were already taken. One poor guy had drunk too much and was calling dinosaurs, but the other stall was obviously occupied by one guy and two women. The French may have coined the ménage à trois, but it had certainly been embraced in Spain.
The rest of the trip was a blur of all the amazing things I'd hoped for. San Sebastian is a truly international city filled with backpackers, surfers, and party people from all walks of life. The surf never failed to impress. The lineup was crowded at times but it was 98% novices and tourists trying to learn how to surf. I ventured about 200 km south hitting tons of beaches, points, and slabs. Each town had a similar vibe. The further I got from San Sebastian and Biarritz, the further I got from the overwhelming surf culture, but the better waves I continued to score.  
The Basque Country began as a one-time bucket list trip – a 'been there, done that' type of thing. However things have changed. If I have my way, I'll see you in Spain every October for the next decade.
Tracks