With Professor Ian Walsh
"Foiling ain't easy, and they ain't cheap, but they will change your life," Joel Parkinson told me last year in a dark, dingy and expensive, Paris whiskey bar. Apart from name-dropping for the sheer fuck of it, it had me thinking, how on earth do you learn to foil? Then this week I was chatting to Maui big wave surfer Ian Walsh. He too was a recent Foil convert and, like Parko, was an acolyte. He'd recently gone through the steep learning curve and was explaining the steps. Thinking this was a case where someone else could do my research for me, I pressed record on the old Nokia and let Ian explain. 
Avoid Other Humans
"Head to a beach where there isn't a single other person. All you need is the smallest whitewater waves. You don't need to go to a normal surfbreak at all and that's one of foilboarding's biggest benefits. You can go somewhere with no surfers and do your own thing with no one out. As you improve you can try different methods and locations. Except Bondi."
Prepare For Kookdom
"You are going to be a kook at first no matter what level of surfing you already have. It takes time and plenty of spills. But once you are up the feeling is incredible. And for me, now those horrible days when I didn't even want to look at the surf have turned into three-hour sessions. But when you start, leave your ego on the beach." 
Ian Walsh and Kai Lenny now have something else to do on Maui when Jaws is not breaking.
Keep It Simple Stupid
"For my first time I went out with Kai Lenny and just jumped on his boards, so probably it was more of an aggressive set of equipment for a first timer. I've ridden different craft now and there is much more forgiving foils out there, which are easier to learn on. Down the track you can move to more performance style equipment that allows for tighter turns. But my tip is find something simple and don't overthink it."
It's Surfing, But Not As We Know It
"Everything you are used to do doing on a surfboard right away, you need to forget about. Initially just focus on going straight and forget about doing turns. Just try to get the board out of the water, planing and keeping control. Keeping your hips under your body is key. You don't want to go down into a squat position as you get less leverage."
The foils can be sharp, making self-awareness crucial during dismounts.
Move Your Hips
"Unlike on a surfboard you don't want to roll the board onto the rail to engage a turn, because that's when the foil gets all wobbly and high side. All the movements are minuscule ones of your shoulders and your hips. Those tiny movements accentuate the turns. You need to slow everything down."
Riding Powder
"Once you get the hang of it, foilboarding feels like you are riding powder and cruising along. It's a totally different feeling to surfing because there is no friction of the surfboard on the water. When you are up and planing it is so quiet. It opens up totally different parts of the ocean."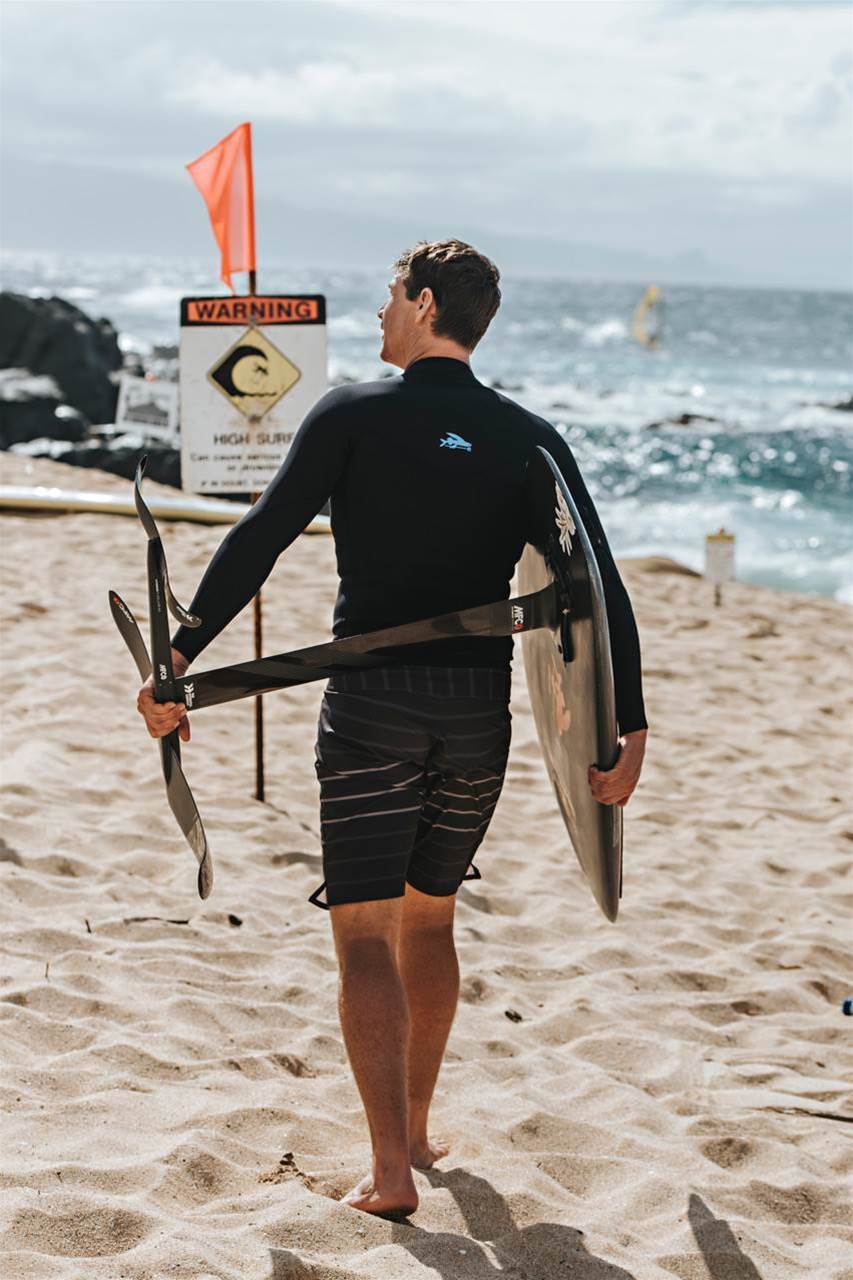 Gone Foiling...
Use The Force
"Advice is always good to listen to but for me personally I like to learn a new skill by just feeling it out. Don't try to fill your head before hand with what you should and shouldn't do too much. Jump on give it a go and you will instinctively work it out."
Tracks