The 36-year-old had been battling depression and various mental health issues for over a decade.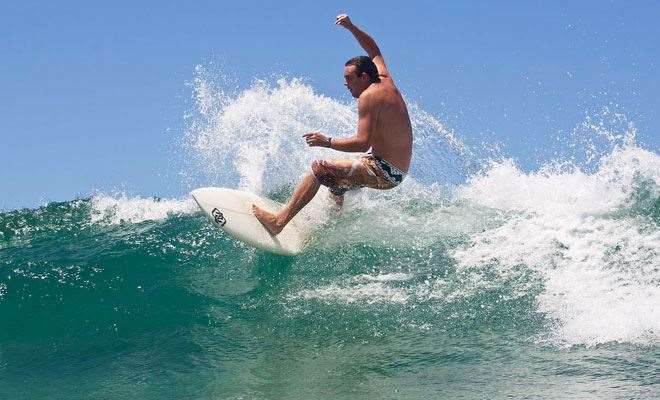 Shaun captured on a good day surfing on the Gold Coast . Pic: Nate Smith.
On Monday former Victorian Open State and World Junior Champion Shaun Brooks took his own life near his home on the Gold Coast. The 36-year-old son of Quiksilver's Rod Brooks, and brother of former World Tour surfer Troy Brooks, had been battling depression and various mental health issues for over a decade.
I (like many others) have great memories of competing against and travelling with Shaun in the nineties. Shaun had a unique surfing style with an aggressive flair that was suited to nowhere better than his hometown waves of Bells Beach and Winki Pop. As a young bloke he even threw himself into the real big stuff further south at 2 Mile. Although tall and skinny Shaun would draw huge bottom turns and loved big old drop wallet lay back hacks. His grinning mug and Gash surfboards have long been missed in the chilly line ups of Vicco, and sadly that's the way it will be for ever more.
There will be a private funeral held on the Gold Coast and a paddle out at Bird Rock in Victoria (another of Shaun's favourite waves) at midday next Thursday.
It's with great sadness that Tracksmag.com reports Shaun's succumbing to his illness and we offer our sincere condolences to the Brooks family and his many friends.
Shaun's brother Troy has requested on behalf of the family in regards to flowers and condolences that, "If you would like to send flowers please consider instead donating what you would spend on this towards a beneficiary of the Brooks families choice, ultimately benefiting Mental Health Illness."
The Quiksilver Foundation will hold these funds until the family can have time to research the best beneficiary. Payment options are below. Please note Shaun Brooks within the information when donating.
Please note the family does not want major donations, just a simple amount as per what you would spend on flowers.
Troy and the rest of the family thank everyone for their kind wishes and support at this time.
PAYMENT OPTIONS
CREDIT CARD Name:___________________________ Credit Card Type: £ VISA £MASTERCARD £ AMEX Card No: ______/______/______/______ Exp Date:____/____CHEQUE:To be made out to Quiksilver Foundation Australia Pty LtdPlease send to: Quiksilver FoundationAttention: Julia Sells27 Baines CrescentTorquay Victoria 3228DIRECT DEPOSIT Bank: Commonwealth Bank AustraliaAccount Name: Quiksilver FoundationAustralia Pty LtdBSB: 063010ACCOUNT: 11974846 Please email remittanceAdvice to: Julia.sells@quiksilver.com.au
Below is a clip of Shaun ripping it up in Victoria (including a wave shared with dad Rod at Winki).
Rest in Peace, mate.
Tracks