A champion bloke and a gifted surfer – gone but not forgotten.
| | |
| --- | --- |
| | A champion bloke and a gifted surfer – gone but not forgotten. Mark 'Sanga' Sainsbury 1966 – 1992 |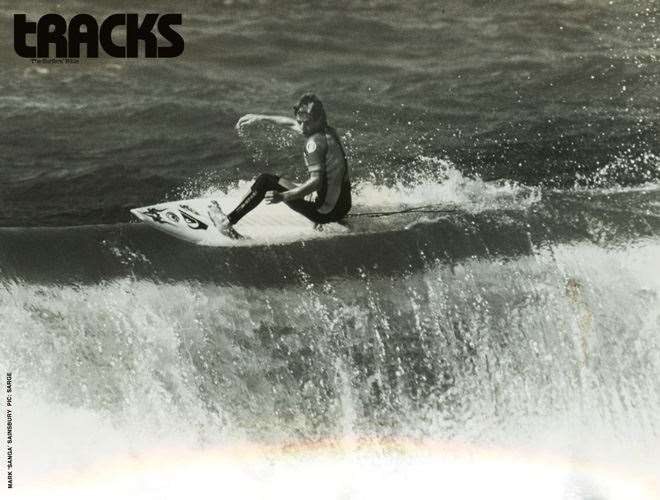 A cream example of the Mark 'Sanga' Sainsbury floater. Pic: Terry Ross
On Saturday, August 4, friends and family of the late Mark "Sanga" Sainsbury gathered at Avoca Beach to remember the man on the 20th anniversary of his passing. Back on this day in 1992 the extremely affable 25-year-old natural-footer jumped off the rocks at this, his beloved local spot, only to be found dead in the water minutes later. Sanga's sudden death from what is believed to have been a brain aneurysm sent shock waves through the local community and the surfing world at large. His was a special place in surfing; not only was he one of the more liked young surfers coming out of Australia at the time, but he had that rare honour of having revolutionised the way surfers the world over looked at a wave thanks to his groundbreaking floaters. Where surfers once only saw big folding sections of cascading lip as obstacles that needed circumnavigating, Sanga saw opportunity; he'd attack the meanest of sections and go up and over the pitching mass of water, ride-the-roof and exit with more speed than he started with. His 'floater' was critical and functional. He was the first, and he was the best. His 1985 win in the Hot Buttered Pro Junior at Narrabeen, where he beat future two-time world champion Damian Hardman, was stuff of legend. Following that win – where he baffled minds with his new 'floater' approach to connecting impossible sections – Sanga spoke of heading to the world amateur championships in England the following year, an event he also went on to win. An older Sanga won the XXXX Pro on Main Beach in Queensland a few years later, looking to make a charge for a higher ranking in hope of cementing a spot in the top 30. Unfortunately it wasn't to be – and he was gone well before his time.
A champion bloke and a gifted surfer – gone but not forgotten
Mark 'Sanga' Sainsbury 1966 – 1992
R.I.P
And as always, if you'd like to download this wallpaper for free and keep it on your desktop simply click appropriate size below and click through to appropriate thumbnail...

For 1600 wide click HERE

For 1920 wide click HERE
Tracks