Keramas rivermouth had high performance clean 1.25m (3-4 feet) surf and the top seeds wasted no time ripping in...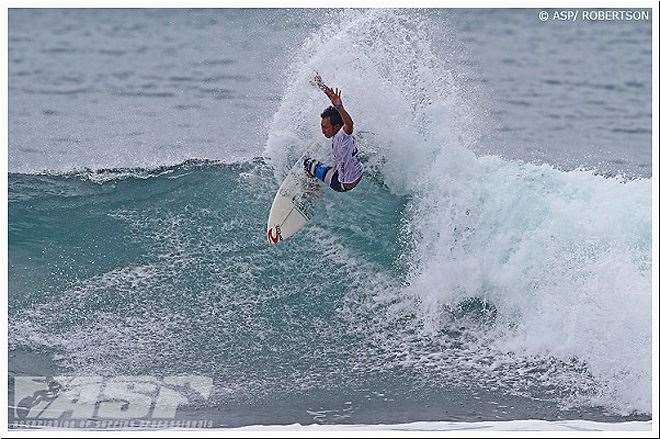 KERAMAS, Bali/Indonesia (Saturday, July 24, 2010) - An ideal day at the Association of Surfing Professionals (ASP) Billabong Pro Junior Asia at Keramas rivermouth with high performance clean 1.25m (3-4 feet) surf and the top seeds wasted no time ripping into the waves with excellent scores throughout the day.
Australian surfers Jack Freestone (Coolangatta/Queensland) and Garrett Parkes (Byron Bay) set the pace early as both surfers scored excellent rides to comprehensively win their heats.
Freestone's heat tally on his two top scoring rides of 18.65 included the day's top scoring ride of a near perfect 9.9 and was the day's best performance.
"I had a good heat and that 9.9 scoring wave really just came together for me," said Freestone who perfectly d two high-degree difficulty aerials on his best wave.
"The wave here is perfect to compete in - it offers everything from barrels to clean well shaped sections so it's essential to go into every heat aiming for high scores," added Freestone.
Japan's top seeds did not enjoy as much success today and many were unlucky going down and eliminated in very close heats.
However three did progress, Kaito Ohashi, Hiroto Arai and Yuto Takahashi.
Young Hawaiian surfer Koa Smith, just 15 years-of-age and surfing on his backhand was again super impressive winning through his heat demonstrating that this wave is just as well suited to an aggressive backhand attack as it is to the forehand.
"I enjoy surfing this wave," said Smith. "You never really know what to expect when you take off, barrelling section of large on-face peaks so you just need to be ready for what-ever it serves."
"I'm here for quite a while to compete and I'm loving all the waves."
The final heat of the day was always the most anticipated and it lived right-up to its promise with South Africa's Beyrick DeVries again "flying' to an impressive win but the shock of the day was the second placed progression in this heat by Putra Hermawan (Indonesia/Nusa Lembongon) who defeated highly seeded and rated Davey Cathels (AUS).
Hermawan d some massive early moves in this heat and despite his two scoring rides being little more than one-manoeuvre rides, he scored highly putting pressure on Cathels who scoured the line-up unsuccessfully searching for a good score throughout the heat.
Thirty-two surfers remain in the event, 27 Australian's, 3 Japanese, 1 South African and one Indonesia.
The next two days are expected to deliver great conditions as the event heads toward the finals.
Tracks