Daniel Bobis was surfing in West Lampung in the south of the Indonesian island when he disappeared.
Missing New York surfer Daniel Bobis.
As reported on longbeach.patch.com/articles/long-beach-teacher-missing-in-sumatra
Long Beach Teacher Missing in Sumatra; Daniel Bobis disappeared while surfing off the coast of the Indonesian island.
Long Beach High School teacher and Surf Team coach Daniel Bobis went missing Sunday morning in Sumatra. Bobis was surfing in West Lampung in the south of the Indonesian island when he disappeared.
Long Beach teacher Jay Spitz said that he received word from Bobis' wife, Rachel, that he had gone missing in the waters of south Sumatra 10 hours ago. His board was located, Spitz continued, but there was no sign of Bobis.
Spitz explained that the "rescue efforts are horrible there" due to the remote nature of the area. He added that Rachel Bobis, whom he has been in contact with, said that the local United States Consulate has been no help thus far. "She was hoping to get some public attention and hopefully someone can get a helicopter out there," Spitz said.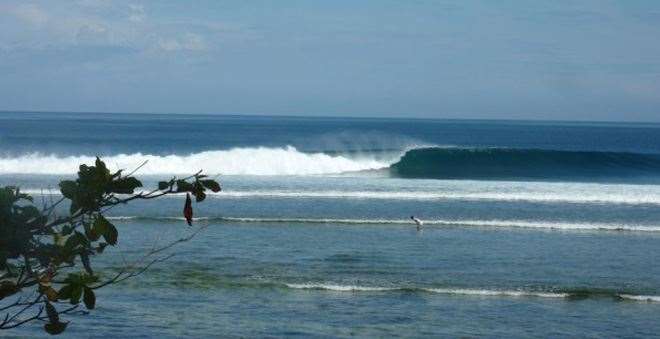 One of the lefts in the area.
Long Beach Superintendent Dave Weiss said that they are "deeply concerned about the safety and well being of Danny Bobis" in a statement released on Sunday.
"We have been in contact with Senator Schumer's office to notify them about the situation and urge them to provide assistance to the local authorities with the rescue efforts," Weiss said. "Our thoughts and prayers are with Danny's family and friends and we hope for his safe return."
"Danny is very popular and well-liked by students and staff, is a well-respected colleague, and a vital part of the school community," he added in the statement.
A math teacher at Long Beach High School for seven years, Bobis is a lifelong Long Beach resident who "is very involved in the community," according to Spitz. Bobis founded the high school surf team, the first competitive group in New York, and advises the surf club. His wife is a social worker at Long Beach Middle School.
"He is just the most wonderful guy," Spitz added.
Friends of the family are asking for help in urging the U.S. Embassy in Jakarta to send a helicopter to search for Bobis. The Embassy can be reached by calling (62)(21) 3435-9000 or visiting their website.
Tracks