Shane Holmes, the builder's labourer who has a knack for sledge-hammering the world's best surfers in heats.
It's a hot Tuesday afternoon when Tracks catches up with Central Coast surfer, Shane Holmes. It's 30 degrees and Shane has just finished a day of builders labouring in Gosford, half an hour away from his local, North Shelly beach.
Holmes famously ran second to Taj Burrow back in 2016 in the Mad Hueys Keramas Pro. The same year he also finished runner-up to Ace Buchan at the Central Coast Pro. However it was his victories over WCT surfers, past and present, en route to the finals that made Holmes a celebrated underdog.     
Now, two years later, Shane can lay claim to taking out the same event he was unable to win back in 2016. In early March, Shane tore through a stacked field of hungry Qualifying Series fiends, to claim the Vissla Central Coast Pro; his first WQS victory after a handful of second place finishes. Tracks caught up with him for the first time since 2016 to see what he's been doing, what it's like to get the monkey off his back and how it feels to claim his maiden win, just down the road from where he lives.   
Tell us, how long have you been trying to win one of these events?
Umm, I've been trying pretty hard for probably three or four years. I guess you always want to win them, but unless you've done them then it's hard for people to know how hard it actually is to even win one heat in any QS event. I actually asked myself a few weeks prior 'fuck, am I ever going to win one of these things?' On the finals day I got to the quarters and I just told myself 'I'm going to win this thing.' Then, it all sort of went in my favour.
Shane celebrating victory in this year's Vissla, Central Coast Pro, which was held at Avoca.
You've come close a few times, talk to us a bit about those moments?
When I got second to Taj at Keramas I had him comboed for the majority of the heat and then he just got a high nine to get himself out of it and then in the last 30 seconds he got another nine to get the win. Then when I finished second to Ace at Avoca he pretty much came out and comboed me straight away. I was definitely pretty rattled at both events.
Talk to us bit more about growing up on the Central Coast. What was it like, where did you start surfing? Give us a brief bio.
I grew up at Berkeley Vale, which is five-or-ten minutes drive to Shelly Beach and I used to play football a lot as a kid and then usually surf after footy games. I also did nippers at Toowoon Bay and my parents surfed so I was always at the beach. When I got old enough I began going out at Blue Bay, which is this little righthander near home. Around the same time I kept getting hurt playing football so I decided I just wanted to stick to surfing. I joined North Shelly Boardriders when I was about 13 and I haven't really looked back since.
Did your love of competing grow from that point onward?
Kinda. I remember the first comp I ever did, which was one of the Volcom VQS comps at Shelly Beach and from memory I didn't even do a turn because I was so nervous. I've always been funny with competing, often I'll go for a freesurf before I have heats. I won't have the best time, but then I put on a rashie and I surf heaps better. It's weird.
Shane stabbing fiercely at the sky on his back-hand.
You get to enjoy a range of different breaks living on the Central Coast?
Yeah, we're pretty lucky living around the Central Coast. We've got beachbreaks, reefs, points and can surf in most winds and swells, so we do get spoilt.
Talk to us a bit about surfing for North Shelly. It's a club that's always held its own, but has probably been in the shadows of other clubs for a long time. What's it like to be part of the  modern charge?
I feel like we're a bit more hidden away or something, I don't know. I guess Avoca has always had good surfers like Shane Powell and Sam Chell and people like that. And even more recently, it has guys like Ace and Wilko who grew up there. And now Wade is on tour, so they're really strong. We've had a few incredible surfers as well, but they didn't make the tour; guys like Russell Molony as well as a fair few more, like Paul Green, Marcus Davidson, Justen Allport, Dan Haggerty and Cam Sharpe. All those guys are still incredible surfers.
It'd be fair to say that the Central Coast surfing community is still pretty segmented. How are all the little crews different? Like how are the guys who surf Norah Head different to say the Macmasters Beach guys?
I think we're all similar, but we all just stick to our own little spots, unless you get a huge swell and south winds and pretty much the whole coast turns up at Avoca. Everyone gets along reasonably well and we all meet up once a year when all the boardriders clubs surf in the annual Kings Of The Coast event. We just like sticking to our own spots when there are waves though.
The Vissla Central Coast Pro at Avoca is as close as an elite professional event gets to your house. Did that make the win that much sweeter?
Oh yeah for sure. It felt like a monkey was off my back, especially after a few runner-up places. It was good sharing a final with Jordy Watson as well. He and I did the juniors together for a few years and it was one of his first events back since having a fair bit of time off from competing also.
What's next, you ended up getting into the QS6000 and 10000 events in 2017, but you were injured for a giant chunk of the year. What are your plans now you've got to start fresh?
I just want to make it back into those high-rated events. I spent most of last year injured and barely made a heat, except for Keramas, where Adriano De Souza beat me in the quarters. If that doesn't work, I'll be doing everything I can to be in the 6000s for the start of 2019.
And where are you off to next?
Off to work (laughs). I'm looking after my body a bit more this year and I've given concreting the flick, so hopefully that helps. I want to do a bunch of the Indo QS events and Cloud 9 as well. We'll see what happens.
For more info check out http://www.visitnsw.com/surfing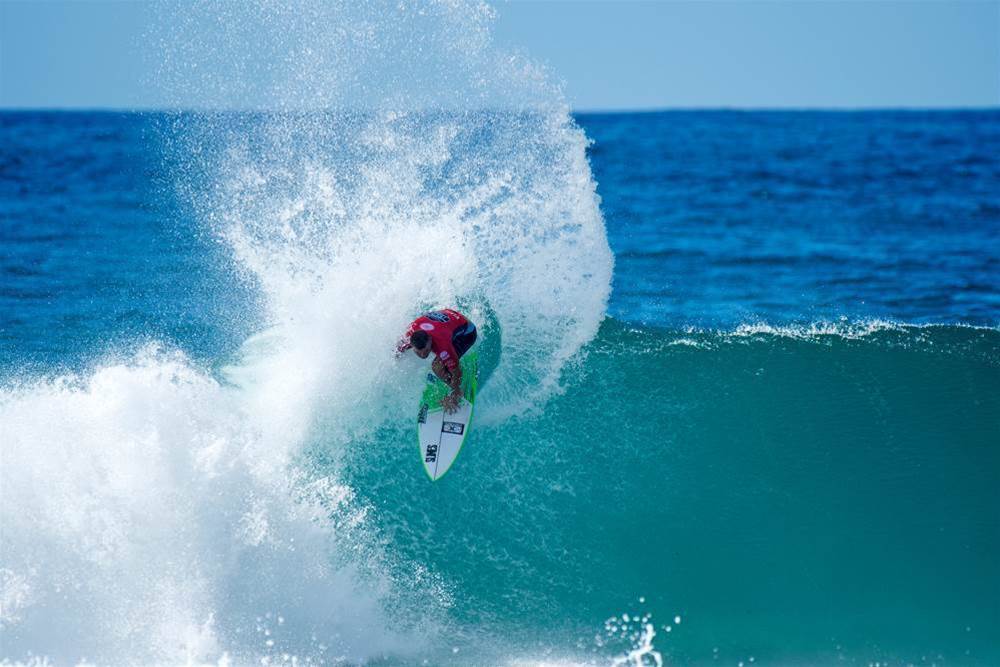 Shane suggests he often does his best surfing when he pulls a singlet on. Photo: Ethan Smith
Tracks