Brett Archibald fell off a surf charter vessel mid Mentawai straight crossing – at night.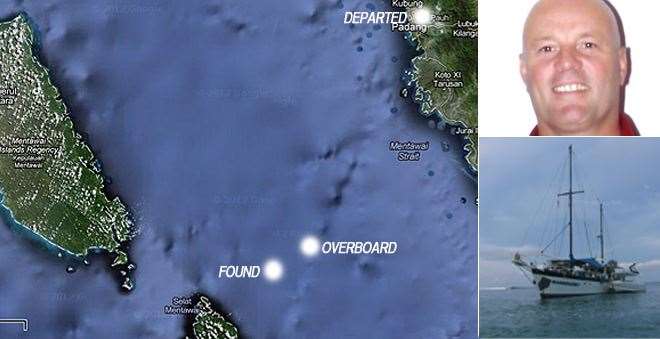 Points of interest, Brett and the Barrenjoey.  
South African surfer Brett Archibald has survived one of the traveling surfers top five worst nightmares – falling off a surf charter vessel mid Mentawai straight crossing – at night. Luckily for Brett, the story has a happy ending. Although things were not looking good for Brett, fate was on his side. After a long cold and frightfully scary 27 hours he was finally spotted and plucked from what many to believe to be one of the deepest stretches of water on earth.
"Brett Archibald bunked with me as cabin mate on our current surf trip to the Mentawai Islands off Sumatra, Indonesia," fellow Durban surfer Jean-Marc Tostee on Facebook. "He was very seasick during the huge storm while we were sailing to the islands through the night, and we think he must have fallen overboard when getting sick on deck while all of us were sleeping. I only discovered it hours later when we woke up at the surf spot and worked out that he wasn't in his bunk, or on the top deck."
People on Brett's boat, the Naga Laut, reported seeing him at around 4:30am (possibly hurling overboard), but at 8am when breakfast was being served he was nowhere to be found. Naga Laut tacked back around and attempted to plod its exact course in reverse.
To discover that your cabin mate had disappeared off the deck someone between Padang and the islands overnight a horror hard to fathom.
As you can imagine a distress call went out to all boats in the area and the search begun (a search that included help from the local coastguard).
As luck would have it the highly experienced pair of John "Bucket" McGroder and Tony "Doris" Eltherington of the Barrenjoey, found an exhausted and dehydrated Brett 12 miles off the eastern coast of Sipora 10 miles from where he'd fallen overboard.
The search had lasted all day and into the night before luck had the relieved surfer safely onboard the Barrenjoey.
It was from the Barenjoey Brett was able to speak to his wife Anita, who was praying for good news throughout the ordeal.
The break though text prior to their speaking read: "barrenjoey mcgroder. And barrenjoey surf charters. John, Belinda and crew Doris and their two sons Finn and Duke (5 + 8 years old) – who also had their binoculars out as well – found Brett."
Amazing.
A big shout out must go out to not only the captains and crew of the Barrenjoey, but all charter vessels and local boats that joined the search so whole-heartedly.
Being "lost at sea" no longer just a metaphor for a wishy-washy state of mind for Brett Archibald; but an actual memory.
Tracks