John John Florence has transformed from grom phenom to genuine world title contender.
John John Florence has transformed from grom phenom to genuine world title contender.
Casual followers of pro surfing might be forgiven for thinking that Kelly Slater, with 11 world titles to his name in the last two decades (maybe making it 12 this year), is so far ahead of his rivals that the others may as well give up. But surfing doesn't work like that.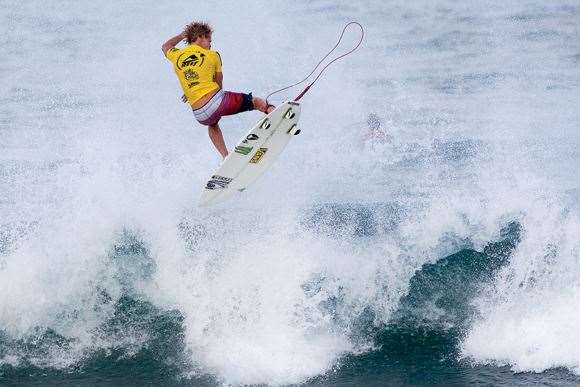 Florence has all the moves and then some, but it's Slater's canny competitive nous and relentless consistency that makes his trophy collecting routine – the bloke doesn't seem to know what an "off day" means. But the Slater era has to end sometime, and aside from the likes of our own two-time world champ Mick Fanning and his Coolangatta compatriot Joel Parkinson, there's a posse of competitors snapping at his heels, including a new school of teenagers: one in particular. In his first full year on the World Championship Tour (WCT), 19-year-old Hawaiian John John Florence has transformed from grom phenom to genuine world title contender. Even if he wasn't even born when Slater first began collecting world titles ...
What's His Story
Florence's rise is already the stuff of legend in surfing circles. The eldest of three boys, he was raised on the famous North Shore of the Hawaiian island of Oahu, the sport's spiritual home.
In the absence of a father on the scene since he was five, it was his mother Alex, a keen surfer herself, who encouraged him to take greater challenges in the waves. The young Florence first surfed the legendary break of Pipeline when he was all of six. He soon became a regular sight among the hardened pros, with his mass of blond locks and weedy figure giving him the image of the quintessential grommet – but from those early years it was clear he was a major potential talent, surfing powerful waves with boundless pluck and uncanny precision, while also developing a repertoire of aerial tricks that he would land with uncommon consistency – the product of the many hours he spent in the local skate park when not in the water. By the time he was 13, he was invited to compete in the Triple Crown of Surfing in Hawaii, culminating in the Pipeline Masters.
He continued to shine in amateur competitions, until his breakout year in 2011. The weedy youngster had grown into 180cm of lithe, wiry, mannish muscle. In December last year, he became the youngest winner in the history of Hawaii's prestigious Triple Crown, a trophy awarded for the best performance over the Hawaiian winter, including a World Cup win in purling waves at Sunset Beach. Those performances cemented his spot on the pro tour in 2012, where he's continued to shine.
As we went to press, he was fourth in the Tour ratings, hot on the hammer of Slater, Parkinson and Fanning, having posted (in the six events so far) a 13th, 9th, 1st, 5th, 3rd, 5th. He also won the six-star Drug Aware Pro in WA in early March during the Australian leg of the tour.
Who's He Like
Surfing judges have for a long time admired, and rewarded, surfers' styles that make the very difficult look easy. The great champions of the sport not only pull the manoeuvres of greatest amplitude, but do so with a casual elegance and "flow".
The John John Florence of the last 12 months has melded the most spectacular of new-school aerial tricks, deep barrel riding, and fearless attack in massive waves, in a style that reeks of utter nonchalance. Other pros surf with obvious physical intensity, attempting to impress the judges with their determination to make the most of every moment on every wave. Florence can follow all the same daring lines while giving an impression of relaxed indifference to the surging mass of wave around him. Where others wriggle and slap their boards underfoot to join manoeuvres together in sequences, Florence bends his knees to trim for speed as he would a skateboard, yet still stands tall from the waist, arms often loose or lazily straight by his sides. He'll merely cock an elbow to instigate a turn where others describe wide flailing arcs. During high-speed turns, he's liable to tilt his head slightly to take in the scene behind him, as if he's smelling the roses rather than rushing to his next manoeuvre. It's a natural style that doesn't alter, whether he's riding one-metre junk or attacking the gnarliest watery caverns of the infamous Pipeline. And it's quite distinctive. His ability to land aerials and ride seamlessly away recalls the expertise of elite snowboarders: it's no coincidence he's accomplished at that sport, too.
Of the current crop of surfers, he's probably closest in that combination of "prettiness" and power to a Joel Parkinson. In front of a camera and microphone, he's pretty much like every other grommet in the surfing universe – modestly "stoked" at this achievements, just happy to be doing what comes naturally, devoted to his mother, and discovering the side benefits of fame that come the way of a cultish superstar on the rise. Watch this space.
What Do They Say?
"John John is going to dominate Pipe for the next 20 years." 
Kelly Slater
"He's so comfortable being upside and inverted from skateboarding, that it's difficult to even comprehend what he's doing. He's so technical and comfortable in such awkward positions."
Fellow WT rookie, Kolohe Andino
Inside Sport November 2012