Someone who truly chose the Surfer's Path
I didn't know Robert Bevern – aka Little Avalon Bob – that well, but like many I was deeply saddened to hear that he died yesterday while surfing Little Av, his own version of Shangri-La.
I enjoyed a few sessions at LA with Bob over the years and he always welcomed me to share the spectacular view from his home, which overlooked the wave. It mattered little that Bob's home was in fact a customised Toyota van parked on the hill at South Avalon. As far as many (surfers in particular) were concerned he enjoyed the best perspective in Sydney – geographically and psychologically. Up on the hill, Bob was always happy to chat about the waves, one of his radical board designs or whatever else was going on. If you pulled up to check the surf and Bob wasn't in the car park or out in the water, there was a distinct sense that something was missing. The permanent absence of Bob in Avalon will be felt by many.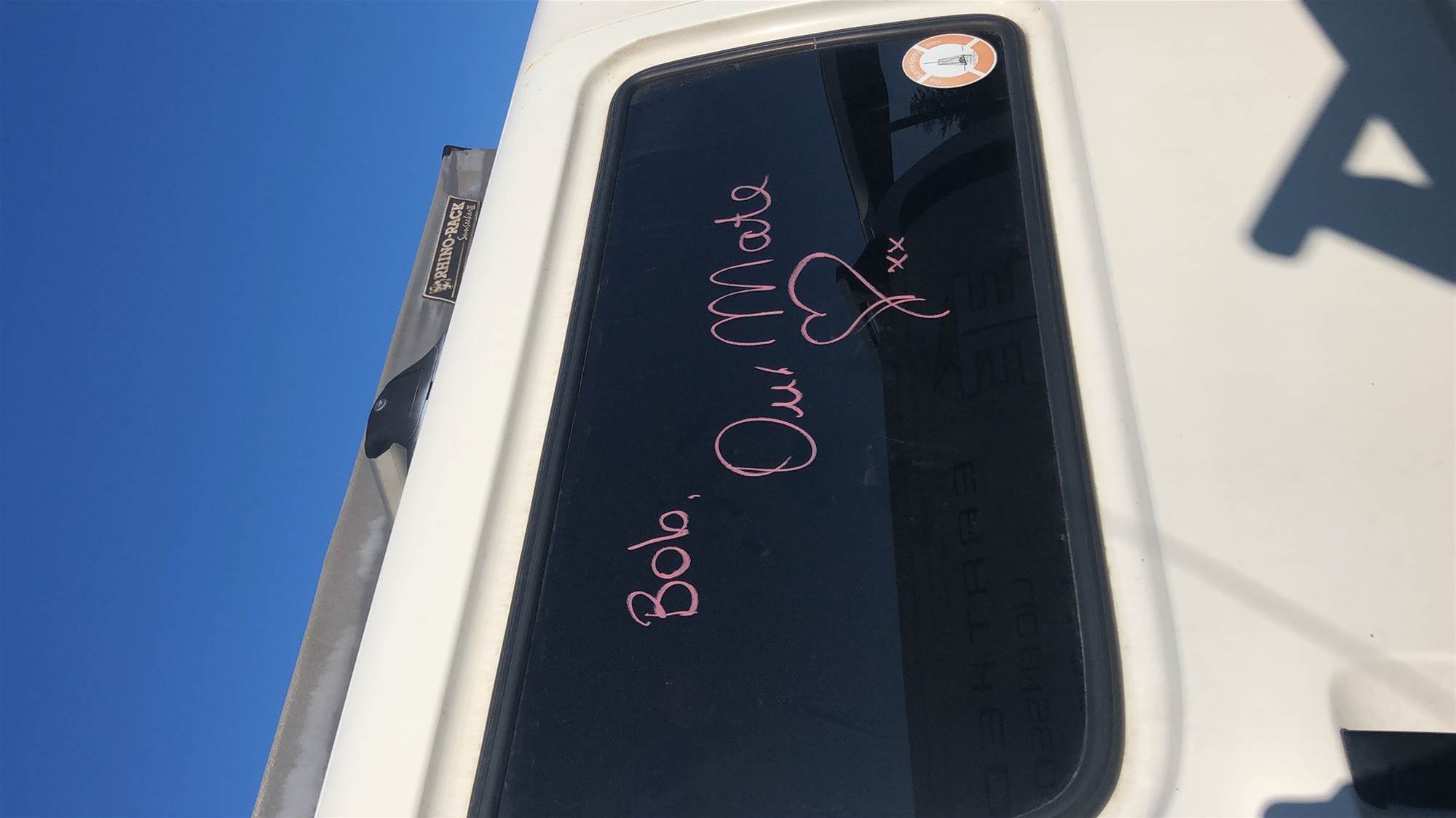 A message left by friends on the back of Bob's van, after his passing. Photo: Spencer Frost
As surfers there is a part of us that longs to abandon all other worldy values and become devoted to the pursuit of riding waves. Most of us are too caught up or cowardly to toss it all in and just go surfing, but Bob followed that path with a monastic zeal. Little Av' was his equivalent of a shrine and surfing it as regularly as possible was his sacred ritual.
Home from Frost Films on Vimeo.
Last year Bob's unique lifestyle and devotion to the ocean were documented in Spencer Frost's short film Home. As it happened Andrew Mooney and myself judged the film to be the winner of the inaugural Fisherflicks short film festival. Spencer's work was masterfully shot, but it was much more than just pretty pictures. When interviewed, Bob proved to be a compelling and refreshingly honest subject. The film left you with a sense that Bob was someone who had taken his own path and committed to it. "The ocean for me is everything in my life," he states sincerely in Home. Perhaps we can't completely uproot our curent situation to simply chase waves, but perhaps we can all take a little from the spirit in which Bob lived his life – to ask ourselves honestly what really makes us happy and then have the courage to go after it, all the while preserving the presence of mind to consider others as we take the ride.
A board overlooking Little Avalon serves as a memorial for Bob. Photo Spencer Frost
The last time I saw Bob was a few months back. The surf was flat so he was happily tucked away in the van at Sth Av, reading a book. In the follow up to Home's success he'd featured in Tracks as part of a story about Spencer Frost and the film. I asked him if he wanted any copies of the relevant issue. Bob suggested that it would be great if I sent a couple of mags to his mum. "She'll be happy to see me doing ok," he suggested. It was classic self-effacing Bob. Not really interested in any glorification of his life, just determined to protect the path he'd chosen and make sure those close to him understood he was just fine.
I'm sorry I won't get to share another session with Bob. I know many who were much closer to him than I feel the same way. It was perhaps tragically fitting that he died surfing his beloved Little Avalon. I'd like to think he had the taste of brine on his lips and nothing but the thought of his next LA barrel on his mind.  
Bob in full flight at LA. Photo: Spencer Frost
Tracks