How a visit to Foster for the NSW Masters reinvigorated my love of surfing and the characters within.
| | |
| --- | --- |
| | How a visit to Foster for the NSW Masters reinvigorated my love of surfing and the characters within. |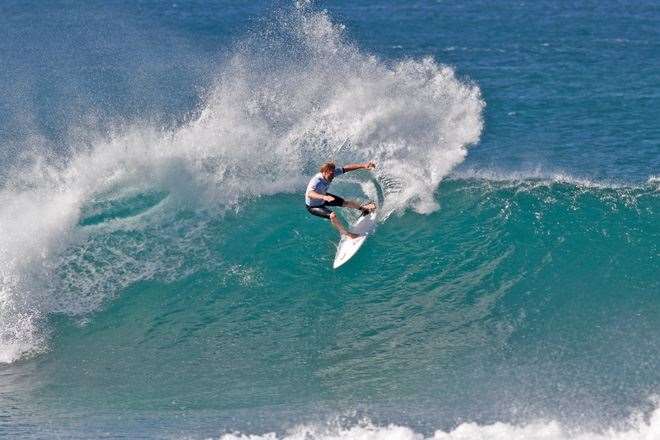 Former Pipe Master and now Cream wax owner Rob Page swooping in the juice. Pic: VBNSWreneeMiller

With my right foot completely off the accelerator our Nissan slowed to a crawl. As we came alongside the fluorescent vested road worker holding the go-slow sign he and I locked eyes. His unkempt salt-and-peppered beard, girthy jowls and slightly rotund mid-section distracted me momentarily from noticing a glint in his eye.
We'd spotted each other earlier in the day (this bloke and I) when he was working the other side of the road. My wife and I were on our way up to Foster Main Beach (Haydens) for coffee, and as luck would have it (for yours truly), a quick surf at the rare right that breaks off the pool there when the swell is 10ft plus and out of the east.
With two baby boys in the back seat and three boards on the roof it was clear I had both my hands full on land but was also to be afforded water time too – my wet dishevelled hair a clear indicator of the latter.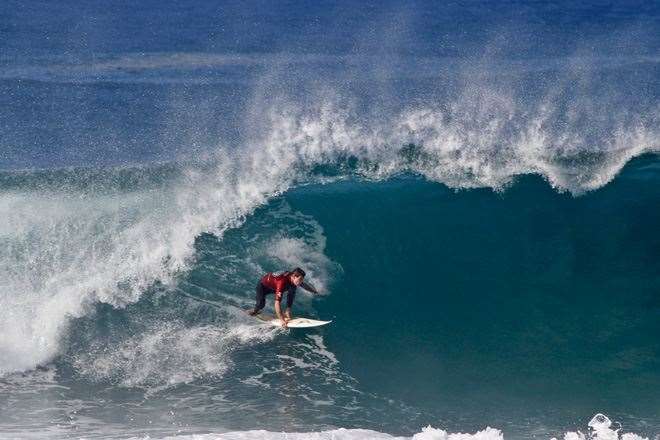 Carl Musker pulls out the pig-dog on day two. Pic: VBNSWreneeMiller
As he signalled drivers behind me to follow suit and ease up, a knowing smile crept up one side of his face. He was a surfer once too. Through that smile I got the feeling he wanted to tell me that in days gone by he'd hit the waves often – but like many others over 40 – he had lost that habit. Work and the pub had his time now. Alcohol does a lot more than blow out your weight – it curbs your enthusiasm. First to go was the winter sessions, then a few years later his summer surfs had disappeared too (I imagined).
His subliminal message? "Don't let the same thing happen to you!"
His smile that day was to stay with me throughout the next four days. And my reenergised quest to get healthy and surf forever was feeling like it was on the right track. His subtle message was also a warning – the fight to continue your relationship with the ocean is as worthy as any you'll have with another human being. For without it, you'll never be the best person you can be. It's certainly that way for me.
With that affirmation fresh in my mind, the time I spent surfing in and around the VB NSW Surf Masters over the next four days certainly wasn't taken for granted. The waves pumped the whole time, from a solid 6ft on the first day to highly contestable 2-3ft when the finals ran on the Sunday.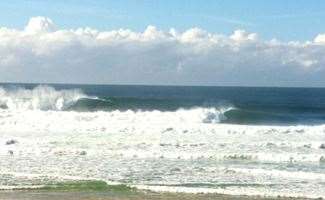 Each morning the tents would be set up an the north end of Boomerang Beach and each day competitors and contest crew marvelled at the beauty of the place as the giant local sea eagle flew its morning reconnaissance mission through the cold winter mist.
Great surf, beautiful surroundings and good people aside, the trip will also be remembered for a blessed introduction to the best surfboard wax I've ever used. When was the last time you were able to say that? I don't think I've said that for 20 years.
Talking with former Pipeline Master and Cream Wax creator Rob Page is a trip. His love of the ocean and its majesty runs deep. Pagey is in every sense of the word a surfing gypsy. South Coast country town hot rat turned international World Tour surfer, movie star then expat living in France and free surfing. He even did time in a Japanese prison back in 1992 for possessing a personal amount of LSD. What a hippie.
Still after all that he's back in the motherland. His nomadic ways see him living on 43 acres near Crescent Head to work on his wax distribution plan. A now perfected product that originally took over 400 different blends and recipes to get right. I had no idea Cream Wax even existed let alone that it was created by this lovable surfing space cadet. "I'm going to revolutionise marketing!" He told me while he rummaged through his van for a sample cake for me to try. "I've only got cool water, my cold water is so-super sticky, it's the best – but cool is going to blow your mind too. Parko's [Joel Parkinson] won World Tour events on this stuff!" At the time I thanked him and quizzed him on what the marketing revolution was all about? "Positive affirmations, Col! Every box has 'em. Look – 'Give a smile – get a smile. Give a wave – get a wave', it's all there. I'm going to change the way people think."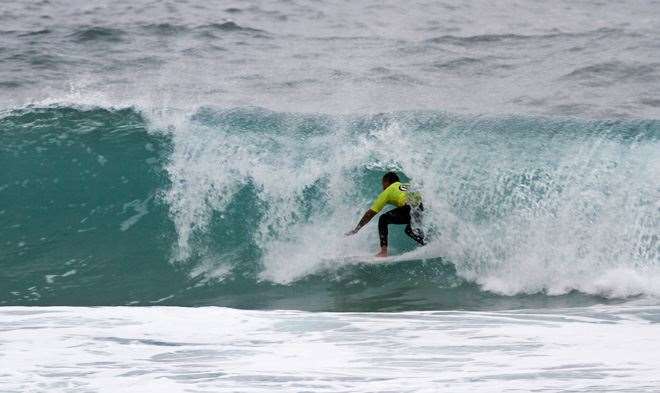 In both the commentary booth and his heats, John Shimooka was ripping. VBNSWreneeMiller
After thanking Pagey again I returned to my car. We'd got word the finals were starting and we both were now running late (unaware of who was up when). Pausing for a moment, I flipped open a box (yep, no plastic wrap – I fucking hate that plastic), and took in a big whiff. Hubba Bubba original bubble gum was what I smelt – genius!
Driving back to the contest, buzzed by Pagey's enthusiasm, I reflected on another side to his gracious personality. Port Macquarie-based surfer and bakery owner Wayne Morrison had told me earlier in the weekend about how Pagey had tracked down his digits specifically to call Wayne and congratulate him on winning the over 28 NSW State Title in 2010. Just another example of the difference between Pagey and your run-of-the-mill human.
Mr perfect ten; Glen Valeire caught in between technically perfect hacks. Pic: VBNSWreneeMiller
Yes, I used the wax for the reminder of the event and yes I'll be using it from now on back home on the Central Coast too. Parko's onto it, the shit is amazing.
Between discovering Pagey's wax and witnessing over 40s and 50s current ISA world Masters Champions Glen Valerie and Rob Baldwin score two perfect tens and a bunch of nine-plus waves respectfully – it was one hell of a weekend for being a surfer both in and out of the water.  Congratulations must go to Jake Spooner who took out the blue ribbon division, the over 35s. Jake proved himself worthy of his former World Tour surfer status.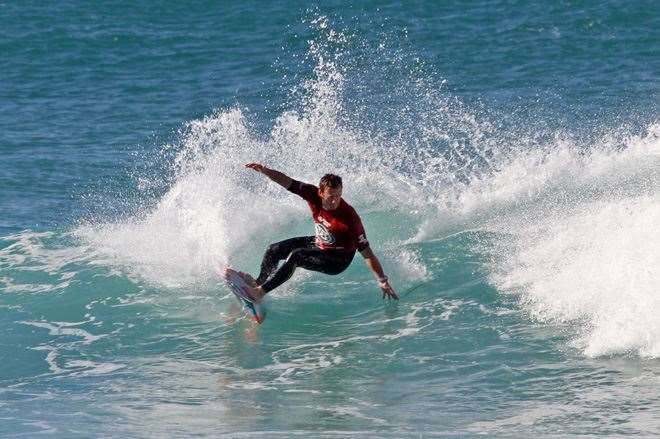 35s champ Jake 'Cold Schooner' Spooner. Pic: VBNSWreneeMiller
Granted there wasn't exactly a hand-painted banner saying "welcome visiting surfers!" strung up on the outskirts of this sleepy surf town on our arrival, still the local people we met were all accommodating. As local Blueys surf shop owner Ken Reynolds told me one afternoon in the little surf shop he and his wife Dale have run for 28 years [Boomerang Beach Surf Co]: "There's always going to be those locals who grumble about a surf contest being held here. But it's these same people that grumble about summer and weekend visitors too." You can't please everyone. Hopefully the presence of this amateur institution of Australian surfing was at least a positive for local business and the presence of ocean-loving greybeard's didn't piss off the those hardy locals too much.
VB NSW State Surfmasters Presented By Mobys Resort

Champions
Over 35s Champion Jake Spooner
Over 40s Champion Scott Schindler (Sawtell)
Over 45s Glen Valerie (Swansea).
Over 50s Rob Baldwin (Copacabana)
Note: Tracks recommends staying at Mobys Beachside Resort when in the Great Lakes District. Check them out HERE

Tracks