The world number one is relaxed and ready for whatever Rio throws at him.
When Tracks spoke to Matt Wilkinson yesterday morning the world number one was cruising with his two dogs after a surf and contemplating where to hunt down a coffee. Today he turns his back on the easy-going Byron Bay lifestyle for Rio's urban jungle, where he will be greeted by thousands of drum-beating, chanting fans who will be eager to remind him that they lay claim to the last two world champions and want to further assert their status as the number one surfing nation. Watching how Wilko deals with these and the other challenges laid before him for the remainder of the year promises to be riveting. Below he discusses what it's like to walk around in the yellow jersey, wave pools, dodging sharks in Byron and practising closeout Reos for Rio.
So you didn't get an invite to go and surf Kelly's wave pool?
No I saw some of those clips. It looked so sick, but I didn't get the invite… it was a strange little group that he chose but it looked like they went pretty mental out there.
Do you think we will see a WCT contest in a wave pool on tour soon?
I've heard lots of people that kind of have no idea mention it but I haven't heard anything through the WSL… maybe not at that one but maybe at future ones that get made. I read a little thing that said it was seven minutes between each wave so it might be a little bit weird having an event there. It would take a pretty long time to run a heat I'd say…
I haven't seen a left at Kelly's pool yet either?
That would suck. Need one that has a peak every minute or two and then boom!
Would you be interested in an event at a wave pool?
Yeah, I think that any more than one event would be a bit weird but one event in a wave pool would be pretty sick for sure. It would be awesome to have one event but to have a whole tour in them would ruin surfing I reckon.
What's it like being world number one now that you have had a couple of weeks of down time to savour it? Dou you ever pinch yourself and think, 'I'm the number one surfer in the world?'
It definitely feels a little bit weird but I've just been working really hard on my surfing in between. I'm getting a few more free coffees and meals than normal and it's pretty funny having random people screaming out on the street screaming "Yeah, bring the title back to Australia!" It's a pretty strange feeling having that kind of on my shoulders at the moment but it's definitely given me a fire to keep working and hopefully keep this thing for as long as I can.
So it does feel like you have a groundswell of homegrown support?
It's pretty crazy to think that I've got so much support behind me. I never really knew that I had that kind of support, so it's great to walk around and have people so psyched on my surfing and how I'm going. It's been a lot of fun so far.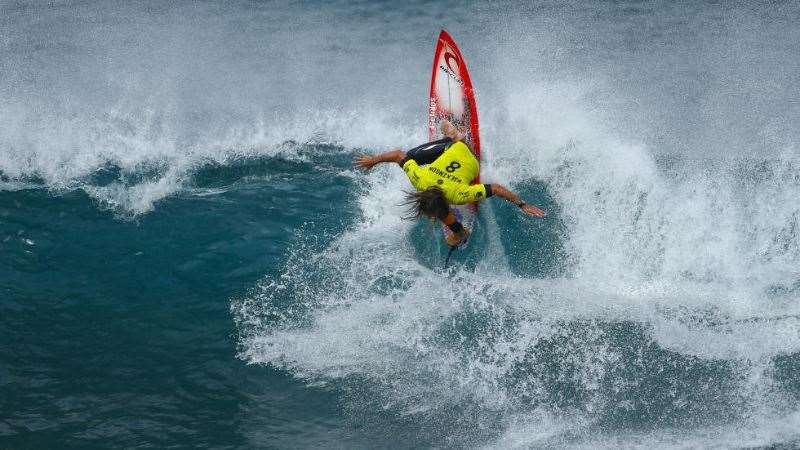 Wilko winds up his lucky stick to 12 o'clock. Photo: WSL/Sloane
What has your preparation involved?
For Brazil we've just been trying to find anywhere that's a dumpy closeout with backwash (Chuckles). Just been working on closeout turns … Hang on our dogs are running away. Mindy, Frankie come here! … Yeah been working on dumpy closeout turns because that's pretty much been key in Brazil and I've been working on small wave boards and with the swell there you also get heavy little barrels. Home's been pretty perfect for it. There's been swell with offshore winds so I've just been surfing the beachies and trying to steer clear of the points as much as I can. This time of year is probably the best time of year to surf up here.
Have you had any shark encounters?
I actually pretty much t-boned one the other day at Tallows. It was by far the closest I've ever been. I was on the inside and a little double-up came through and I went to duckdive it and a few fish swam across in front of me. And as I got into duckdive position there was a shark that was probably a metre ahead of me and just going straight across the wave and I just flipped over and went over the falls. Nick (Filmer, Nick Pollett) was out there swimming and I didn't have time to tell anyone.
I just got myself to the beach and then I was like 'I probably should have yelled at someone then.' I felt pretty bad but it was going the opposite way… it was probably two and a bit metres. It wasn't like a giant, giant shark but it was big enough that it was pretty fucking scary.
 Have you got the magic pink tinted 6'0" DHD in the quiver for Brazil?
Absolutely. That's been pretty much on ice since that heat. (Round five at Bells where he smoked Julian in the final minutes) it hasn't left my board bag.
What it's like surfing in front of a Brazilian Crowd?
It's pretty gnarly there; the crowd are so vocal for their own countrymen. I think it gives you a little bit of fire when you're out there and I don't think it sways the scores too much. You watch someone catch a wave and you hear the crowd go crazy and you're like 'shit they're gonna get a nine, they're get a nine' and then it comes in as a six or seven. It makes it a little daunting withy the whole vibe when you're running down and you've got a Brazilian in our heat, they're not the most supportive of us but in saying when you're also not against a Brazilian they're just so psyched on surfing that they're screaming at you if you do an air and they're psyched on watching it and in the streets everyone is always excited to see you too.
So, just don't draw the Brazilians and it's fine?
Chuckles. Yep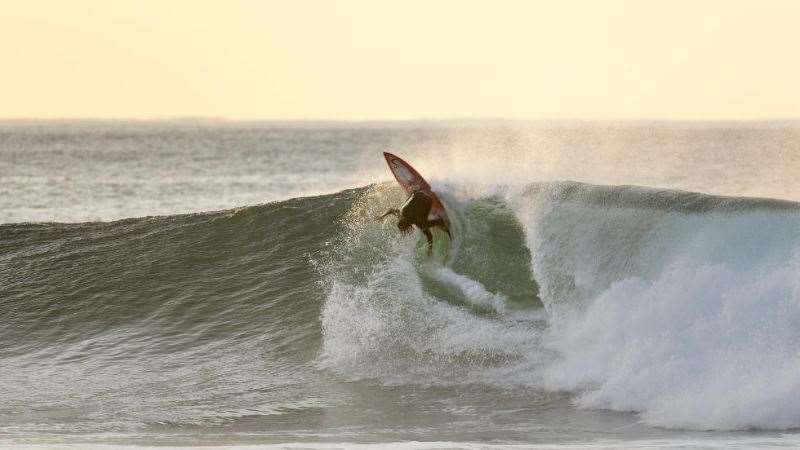 The kind of Backhand flair that took Wilko to number 1. Photo: WSL/Cestari
What are your thoughts on Filipe Toledo returning from injury?
He's unbelievable out there. He' unbelievable in pretty much all conditions but in a beach break with air sections there's no one that can make a score out of a worse wave than him. Yeah, everyone's kind of got him on their mind but I think you just have to go into it thinking about your own game and not everyone else and then once you draw him if he gets nines or tens you've got to figure out a way to do it yourself.
Do you get the chance to explore much of the city?
You get a little bit stuck in that zone where the hotel's like 50 meters from the contest and there are restaurants within a 100 metres. A lot of the time you find yourself doing the same thing day after day… In the actual city of Rio the level of wealth compared to the poor people is a pretty crazy thing to see and they're pretty close together.
You've done all the damage on your forehand so far but are you looking forward to going to Fiji and getting some lefts?
Yeah, I'm looking forward to going and getting some left barrels. I think it's an exciting time of year for everyone to move from all the rock bottom or sand bottom kind of fun playful waves into some scarier, bigger, thick barrels on some reefs.
Would you rather Fiji be held in solid conditions?
Yeah, not a million foot but I wouldn't mind six or eight foot Cloudy. Once it gets bigger than that it moves out and needs to go to maybe twelve foot. Maybe one heat like that would be nice and then six or eight foot for the rest of the comp would be pretty dreamy.
Do you find yourself starting to contemplate who your challengers for the title may be?
A little bit. Somebody asked me the other day who was going to be a threat and I went down through the people who were kind of close to me and then I started going through the rest of the guys of the tour and I realised that it was probably early enough in the year that there's probably 30 other guys that are a threat (chuckles). I think I've just got to take it heat by heat and not really get into that because everyone's so good at pretty much every break that if anyone gets on a role they're going to be a threat.
Tracks