Otis talks honestly about his personal battles and his involvement with the 'We're All Going to Die' festival.
Otis Carey didn't sleep for a long time because there were voices in his head he couldn't control. They were shouting that his 6-year old son would be violently hurt if he slept. He was afraid for the safety of his family, for himself and had the greatest fight of his life not to become a suicide statistic. This was in 2016, around the same time he was inking a three-year contract with Billabong and showcasing his first solo art show, which proved to be hugely successful. So what the hell happened?!
Otis Carey: Last year I was suffering from severe depression and anxiety. The very first counselling session we came to find that it was all stemming from over working myself while going through a few different types of trauma based situations. And all those things combined led me to feel I wasn't good enough. I felt like I wasn't good enough at being a father even though I have a beautiful relationship with my son, I didn't feel like I was a good enough surfer even though I had just signed a three-year contract with Billabong, I didn't feel like I was a good artist even though I just had my first solo show that turned out to be very successful, I didn't feel like I was good enough for anything in life. It was the most frightening time of my life, as I didn't know what the fuck was going on.
Otis on the cover of Tracks earlier this year.
HP: In the macho man surfing industry how did you deal with this? Were you able to be open about it?
Otis Carey: That kind of unknown fear is some of the hardest fear to fight through and conquer. It's not the kind of fear of surfing a big slabbing wave on a shallow reef break either, it's a whole new ball game type of fear. I'm so proud of myself for finding the strength to get past that fear. 
HP: What was the turning point? 
Otis Carey: Luckily for me I had a strong support network around me to help me get through that dark time. The doctors sat me down and put two options on the table. It was either this or that now pick one. So I chose one, worked really really hard at it and got through it. The statistic of suicide for an Indigenous man is that we're six times more likely to commit suicide than a non-Indigenous man and I was on the brink of being a part of that statistic and that's fucking scary.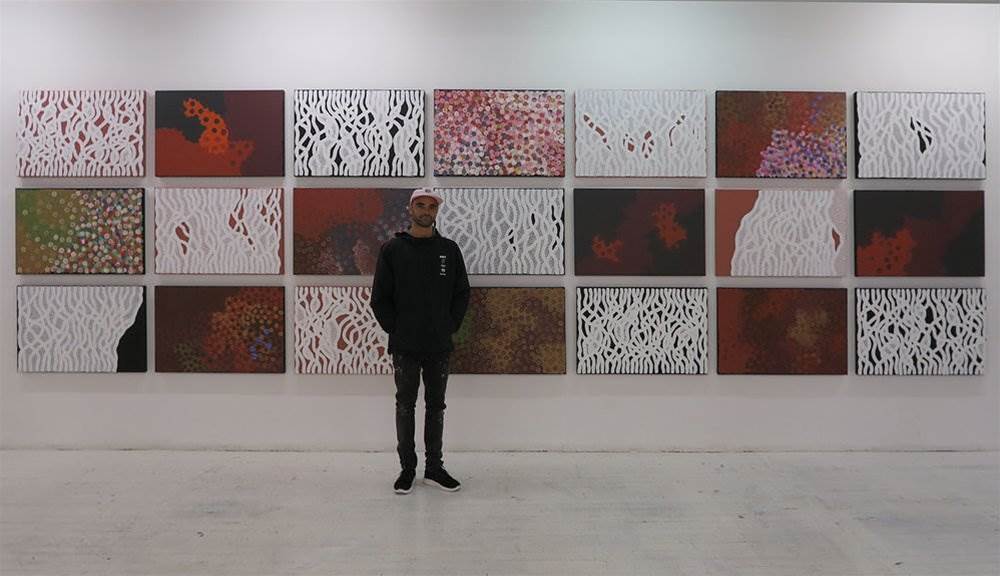 Otis and his creations.
At the time Billabong knew I was struggling, I'm not sure if they knew the extent of it though. They were very supportive, they were ready to put me on the first flight home but of course me being a stubborn work-horse I wanted to stay and finish the job that I had left my family to do.
After my first counselling session I knew I needed help far more than I thought I did and long story short, I had a bit of an episode at home. I went to the doctors for a session and they had messed up and forgot to book my session in, so I was waiting for 50 minutes after being told I only had to wait for 10 minutes (any other situation I would have been totally fine with that but of course my head wasn't straight and I wigged out). I left the doctors without seeing the doctor and went home, luckily mum was home, she knew something was bothering me so she asked and I explained, broke down and walked into the room and sat on the bed. She came in and said one sentence and that one sentence was all I needed to hear to get me through it all. I've never heard that tone in my mother's voice, I've only ever known my mother to be the strongest human I've ever come across, seen or met in my entire life. She said, ''I'm really worried about you Oat, I'm really worried.'' That one moment changed something in me.
HP: Mum's are the best! Once you realised you could beat this, was there a psychological solution or a prescription solution?
Otis Carey: I think the turning point was when I fell back in love with myself, it took about six months. Each day I woke up I was excited to see my friends again, I was excited to go surfing, as each day went on I became more engulfed in painting again, I was finding inspiration in the trees and the ocean again. But it was hard to feel anything as I was on antidepressants. Like, I was excited in my head but I couldn't feel it in my chest, it was numbing me. So I just stopped taking them. Usually you have to go to the doctors and plan with them a schedule of when and how to get off them but I just literally stopped taking them.
Otis celebrating victory in the Australian Indigenous Surfing Championships back in 2014.
HP: How are you coping now? 
Otis Carey: For me, I look back on those moments and I think to myself ''I can't believe I got through that, I can get through whatever the fuck I want. Nothing can ever do something like that to me ever again, I'm too strong now.'' And when I say strong I mean, mentally, physically, spiritually, culturally.
HP: Is this experience why you're a part of the We're All Going To Die Festival?
Otis Carey: I'm so honoured that Stef Hunt wanted me to be part of the WE'RE ALL GOING TO DIE festival! It's so important to be reminded that we could die tomorrow, and WAGTD puts that right in front of us. So put your fucking iphone down, go cuddle your loved ones, go the fuck outside and put your feet in the earth, the ocean, the sand and feel the energy it's feeding us.
Otis Carey is an acclaimed artist, a radical professional surfer, a loving father and a respected man. He'll be painting a tombstone alongside a bunch of other amazing creatives so check https://www.wereallgoingto.com for more information.
Tracks