An insight into how the charming champion went back to back and dealt with the volatilities of life on the women's tour.
On the email train setting up my interview with Tyler Wright, I look up from my dinner and who do I see in my local Thai takeaway? The champ herself! Obviously had to have a little fan gal moment and sneak on over for a chinwag.
Hannah Anderson: To start off what's your Bondi Ricepot rating?
Tyler: Oh 10 it was awesome, I was stoked.
Last year you won the world title for Owen, what's the difference in winning it this way, this year?
I think we went into this year knowing that last year was for Owen it was for my uncle, and for the people, for the people, the people that raised me. I dedicated it to them because yeah they've raised me; it was pretty cool last year. This year was more about doing it for me sticking to what we have been training for. What we believe to be working, with Glen. So, Yeah, the kinda feel was I had a couple of opportunities to bow out and didn't, I just kept doing my thing and yeah, it worked out.
Tyler and Glen, a fine pairing. WSL/Cestari
This year you had your Mum with you at the final event, what did you guys get up to leading up to the event? How was it having her around?
Having mum there was different, I don't usually have anyone at events. Well not anyone but yeah last year I couldn't have her there. It was funny the couple of days before, we had a few meals but I didn't really have too much time between what I actually had to do in a day. The day that I did have off though, it was sick. There was like this walk at the bottom of the cove in Honolua Bay it was all through these massive trees and I made them walk bare foot and it was pissing down rain and it was just heaps of fun, something nice to do.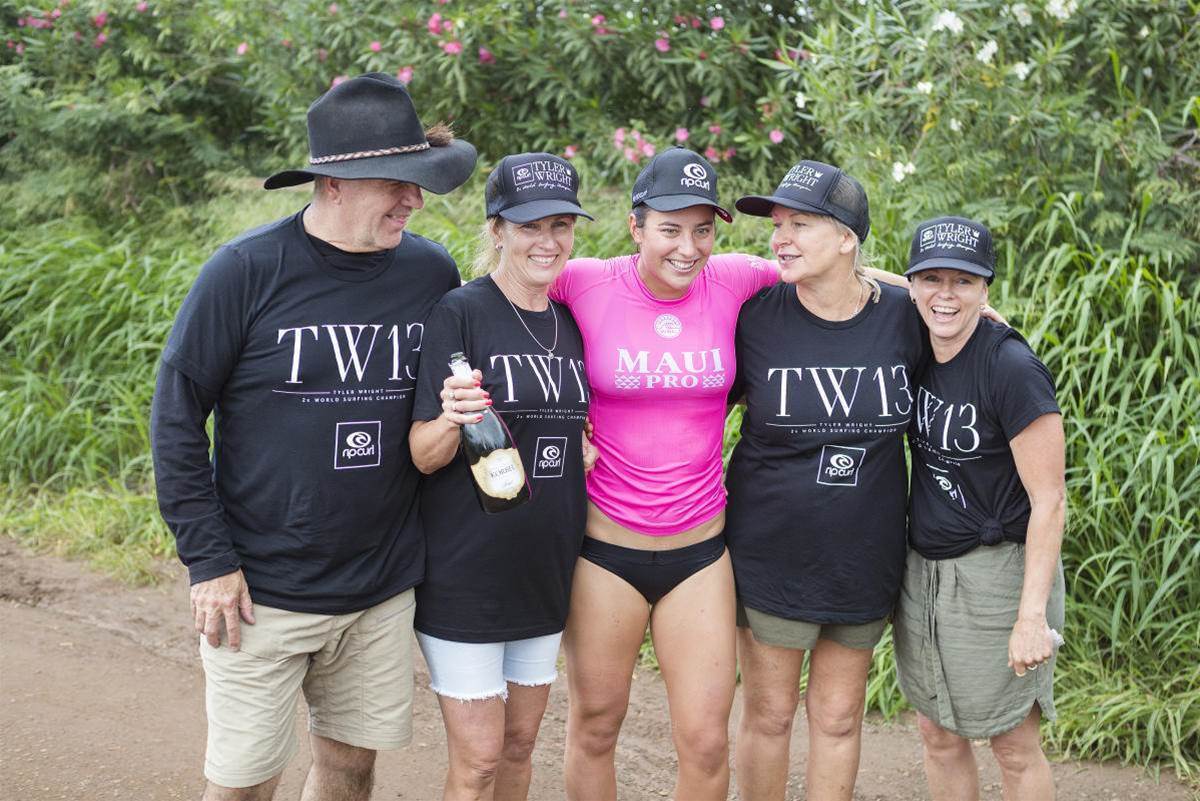 Tyler and family. WSL/Cestari
Something to get your head out of the game?
Yeah, well no not even that. Just something fun to do and I wanted to do it. So I was like you're comin' with me. I dragged my Mum and my Aunties and my Uncle down. They loved it.
What does Micro do to your headspace? I feel like what I observe of his coaching has a lot to do with your mental game?
I think that's a natural product of what he teaches, the conversations that we have. A lot of what is in them, you know even before I won. There was a photo of us on the cliff; I was getting like hell excided. I'm not one to be super excited or be too much. I'm generally really calm about most things, I was like, 'Fuck I'm really excited Glen,' and he was like, 'Yeah, no shit'. Like, look at what you're doing?' And I was like, 'It's pretty exciting ay,' and he was like, 'Just feel it.' He didn't ask me to not feel it; I think that's one of the things. He's never going to ask me to do something I can't do. Um, just it's really hard to explain what he really does but like even the fact that he didn't know [about the world title implications of her quarterfinal heat] and I knew, I think that was one of the coolest moments. It was a super excided moment. I went over and was like 'did you know?' And he was like 'No! I knew shit was going down because there's only two heats to go. But I'm kinda glad I didn't because it made me stick to what I teach you.' I thought that, throughout the whole experience that was just such a cool moment. Just 'cause he didn't know and he was like, 'Did you know?' And I was like, 'Yeah 100% I knew what I had to do. Fuck yeah!'
Enjoying a well-deserved bubble bath. WSL/Cestari
The women's tour can come across as a buddy-buddy friend club. Do you wish there was a bit more fight? Is it really the friendship club it seems to be?
No it's not, like we want to kick each others asses the whole time. That's our job. When you travel all year long there's obviously people that you naturally get along with better and you just hang out with them. It's natural. We have been doing what we've been doing for so long now, it's just natural. But, it doesn't take away from the fact it's our job to kick each other's ass in the water. We go in to flog people because we don't care, and I think that's the side that people are too afraid to talk about because they're like oh it's quite often frowned upon to be like; yeah I want to kick her ass for sure. But, the way I look at it is that I respect those girls on tour so much that, that's what it brings out. Yeah I do want to go out and do my job way better than them. So um, you know I think hopefully in years to come you'll see more of that. I dunno it's hard to explain, it's not rivalry because I don't really like that word, just the nature of what we do and how we can push each other further. I do think too many people are saying they're blessed and just happy to be there, I think that's bullshit, I do think that's bullshit. But if that's what they need to say that's alright, but for me it's bullshit. For me, I've worked really hard to be here I have a great team this is what we do, it's my job to go beat that person, its my job.
Anyone you particularly enjoy beating?
[Sighs… ]Not really my favourite heat of the year was my last one with Steph, just because of how much shit we got to talk. Like we started off the heat and I was on the inside and I was like don't you run at me, don't you run at me and boom she ran at me. I was like ooh God damn it! You'll never hear me say specific names because its irrelevant who it is, my job is to beat them and that's what we are trained to do. 
Tracks