It seemed like the world had played a dirty trick on Hog.
| | |
| --- | --- |
| | It seemed like the world had played a dirty trick on Hog... concerns however have been lifted with news an improved Hog is back. |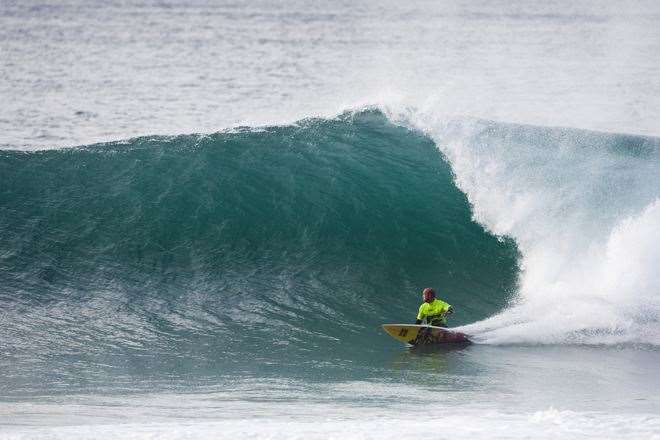 South Africa's Jeffreys Bay plus Nathan 'Hog' Hedge = synergy. Pic: ASP/Cestari

In 2004 Nathan Hedge finished second to a rampaging Andy Irons at the Billabong Pro Jefferys Bay and subsequently shot to fifth on the World Rankings. A lot has happened since that monumental day for the boy from Narrabeen. Firstly, The Hog (as he is affectionately known), exacted dramatic revenge on the three-time world champion a year later with a quarterfinal win in Brazil – a win that handed Kelly Slater his seventh World Title (profiled in the film 'Letting Go') and simultaneously denied Andy a prized fourth. Hog was synonymous with the ASP World Championship Tour at the time, not only for these contributions to surfing folklore, but also for his unwavering ability to utilise classic power surfing to win heats. He wasn't going anywhere – or so we thought? Within a few short years Hog had failed to re-qualify for the elite tour, been dropped by long time sponsor Rip Curl and been rocked by the passing of his father. It seemed like the world had played a dirty trick on the goofyfooter and friends and associates were worried how he'd bounce back.
Well, those concerns have been lifted with news a new and improved Hog is back and sitting at 81st on the ASP men's World Ranking's (thank you very much).
Tracksmag.com caught up with the super fit 32-year-old Australian recently to find out more...
Earlier on in 2012 Hog gave Margaret River a little what for. Pic: ASP/Robertson.

You returned to J-Bay this year and finished 35th, and clocked up the highest single heat score of the event... What did those two results mean to you?
35th means nothing too helpful with rankings points. Highest heat score is next best thing to winning the event!
Was winning the Queensland ACC series the catalyst for this return to the World qualifying Series?
It started out me entering in the M.P. event out of respect. My brother Damien reminded me about when Kerrsy won that event few years' back and how that got the fire back in the belly for him contest wise. I almost won that event (2nd) then won a contest on the Sunny Coast, a few grand in my kick, felt a spark, thought hey, this ain't too bad! Definitely ideal opportunity to start back competing.

More importantly, is this the start of a full on assault to try return to the top flight W.C.T?
Even a journey of a thousand miles starts with the first step. I'll be giving it a red-hot crack!
Dropping off tour after five years must have been a hard, what happened and how'd you deal with it?
I was on the W.C.T tour from 2001 through to 2006, a total of six years. That first year off tour I was pumped to get back on, I won a prime event in Scotland and thought I'll get back on. Next few years it was a case of if nothing changes, nothing changes. With the choices I was making, I got stuck in a place where I lost my gratitude, took my talents for granted, and basically burnt out! I was just doing what I was doing cause that was all I knew. I had a lot to deal with, shit loads actually. Things only started to change when I went from a place of blame to ownership, started living and breathing in the solution.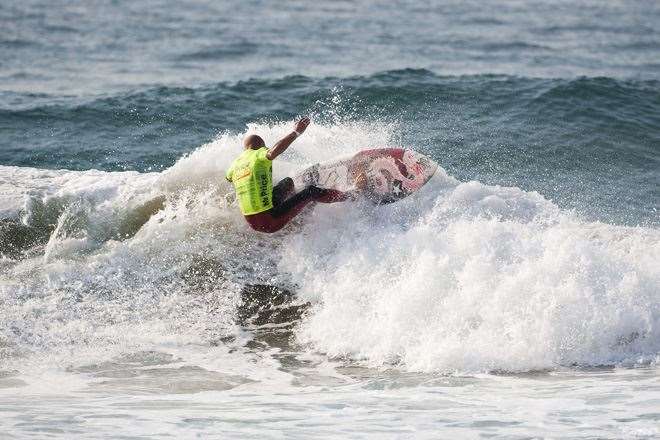 Hog belted his way to a credible ninth at the hotly contested Mr Price Pro 2012 in Durban. Pic: ASP/Cestari
Were you a wise and fastidious investor when you were on the big bucks or did you blow it on gambling and booze?
I've owned lots of different properties, a big BMW 4WD, all the material possessions – none of it worked out being what I needed. Hey those things are nice, but to place your own worth on it is just all back to front. Gambling was never really a big deal for me, booze; yeah I gave it a good nudge.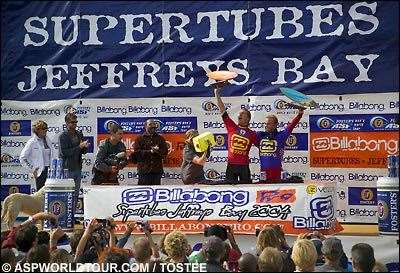 What are the main reasons you're doing this?
With all my experience in and out of the water, I'm keen to see what I can achieve. I have massive amounts of energy; why not channel it into something I love.
Your surfing at J – Bay showed flashes of a new futuristic looseness that arguably you kept on too tight a leash in the past?
Look I think that surfing can be a reflection of what is going on personally, how we approach the waves and ride them. I'm feeling incredible on my surfboard these days; I'm certainly more open minded to trying new things and seeing how far I can push myself. I feel J Bay was a classic case of hard off the bottom, hard off the top, 'bout time we see more of it really. I don't have anything holding me back.
Safe surfing doesn't win many heats these days, does that excite you?
I love competing full stop. I get super excited and back myself when I see a big section coming up. Stoked to see the judging come back in favour of real power surfing. You gotta show up and blow up or you pack your bags.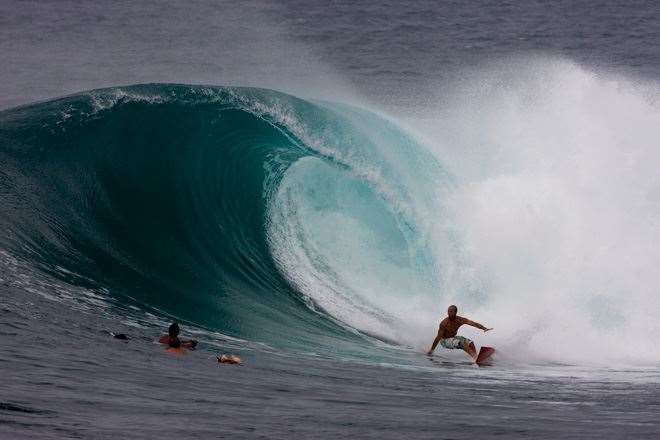 Same style, same power, different wave – Hog does Honolua Bay, Hawaii. Pic: sparkesphoto.com
Is there anything wrong with the tour at the moment?
More Prime events would help and make it fairer for the guys trying to qualify. Also what sucks is when you get one of the highest heat score for the day, but don't get through, maybe we could look at combined heat score totals over two rounds and have a cut off like golf, I think this would push everyone's surfing, could be exciting? Something fresh.
You were born in Brisbane but raised at North Narrabeen, NSW, has the move back to Queensland been a good one?
Moving back to Queensland has been excellent. A positive change (move). It's where I began my journey, back to my roots. Queesland is also where my Dad's resting place is, my mum and bro live there – my backhand surfing has improved for sure! It's been great to experience another unique part of Australia. Surfing and a healthy lifestyle are certainly on offer.
Do you miss the lefts of Narrabeen? And do you still feel like a Narra lad at heart?
Narrabeen will always hold a very dear place in my heart. Growing up there was amazing, I'm so grateful to my Mum and Dad for always keeping me on the beach front at Narra. The surfing that I got to witness and be a part of at Northy was, and still is, world class. If you have dreams and aspirations of becoming a pro surfer Narrabeen's culture and customs will have you well and truly prepared. I've been blessed to surf so many epic left-handers in the world but I gotta say the lefts at Narra on a good day continue to blow my mind. Team events, I'm only a phone call and an hour on the plane away, I'll be there for North Narrabeen Boardriders frothing.
Is the Hog back?
Watch this space.
Get an Inlayz graffic on your board like Hog! Enter Tracksmag.com comp HERE
Tracks